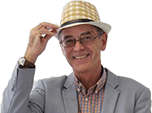 Is the automatic gearbox in my Citroen C3 Picasso faulty?
Four month ago I bought a new Citroen C3 Picasso Exclusive and I must admit that it is an excellent car for my needs. I have a disability so appreciate the automatic box and cruise control. However, the gear change is very dodgy. It gives the impression of a stall and is nerve racking when you need more power to climb a hill. I have taken it up with Citroen who say this is a "feature of the car" and referred me to their dealer, who accepted the problem and demonstrated how to overcome it by using the paddle shifts. I feel this problem should be corrected. To me it is a fault. Any comments please?
Asked on by PB, Caerphilly

Answered by
Honest John
You did not buy an automatic. You bought an automated manual. This has a system of electric motors and actuators attached to a manual gearbox that emulate the action of the driver. But they protect themselves by cushioning the gearchanges, so if you attempt to accelerate hard your progress will be in a series of lurches. Once you learn how to drive it, progress will be smoother. If you can't learn how to drive it then, because it can't be changed, you need to change the car.
Related models

Decent practical upright car. Roomy in the back. Good load capacity. Drives and rides well. Excellent ingress and egress. Panoramic front screen with no blindspots. New 1.2 Puretech petrol engine.