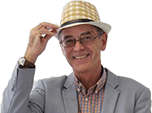 What should we replace our ageing Honda CR-V with?
We have 16-year-old, Honda CR-V. The car has been brilliant, virtually trouble-free, and very useful as we often have trips to the rubbish centre with garden waste. Sadly it's developing some problems which could be costly. I have a budget of £20,000 to spend on a replacement, what do you recommend?
Asked on by Freddieb

Answered by
Andrew Brady
A Suzuki Vitara represents excellent value for money, ought to be very reliable and your budget will get you a brand new one in mid-spec SZ-T trim. It's fairly practical but smaller than your CR-V. If you're happy to look second-hand, another CR-V would be a good choice, or a Kia Sportage.
Similar questions

What is best compact SUV overall for value, performance and economy?

What automatic SUV would you recommend on a budget of £20,000?

I'm looking for a robust, no-nonsense SUV. I don't need loads of gizmos, just a good solid motor for me and my dogs. A working vehicle, that's comfortable on a journey and economical. Is there such a vehicle?
Related models

Very good to drive and comfortable. Lots of interior space. Five star Euro NCAP rating. Relatively economical. Excellent 1.0 BoosterJet engines.