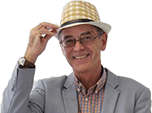 Volvo V60 Drive-E D4 2014 Road Test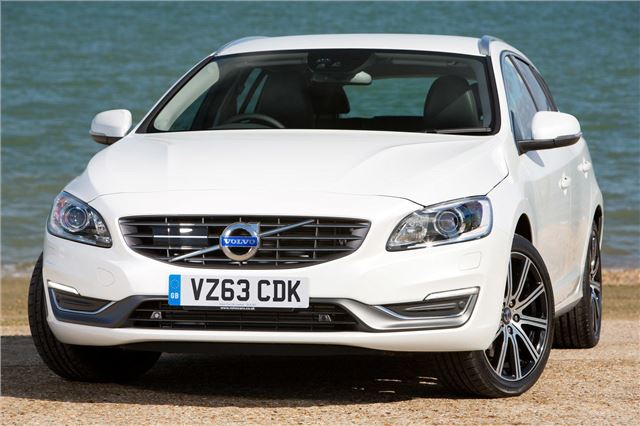 This is not so much a test of the Volvo V60 as a description and test of Volvo's all-new Drive-E D4 diesel engine.
It is the first of a new series of Drive-E diesel and petrol engines that will soon replace no less than eight different engines fitted to Volvos.
The Drive-E diesels develop between 120 and 230PS, and the petrols between 140 and 306PS, depending on how much air is forced into them.
Single and twin turbochargers are used for the diesel engines. Turbochargers and turbochargers combined with superchargers are used for the petrols.
The beauty is the commonality of parts. Just two basic 2.0 litre four cylinder alloy block engines replace eight 1.6 to 3.0 litre four, five and six cylinder engines.
(And a 6-speed manual or new Aisin Warner 8-speed automatic replace eight different transmissions.)
The full list will eventually look like this:
DIESEL
1,969cc 4cylinder single turbo: 120PS, 250Nm torque
1,969cc 4cylinder single turbo: 150PS, 320Nm torque
1,969cc 4cylinder twin turbo: 181PS, 400Nm torque
1,969cc 4cylinder twin turbo: 230PS, 480Nm torque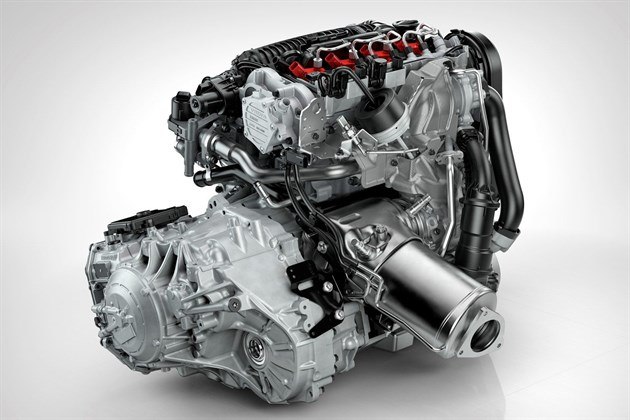 PETROL
1,969cc 4cylinder single turbo: 140PS, 250Nm torque + 30Nm overboost
1,969cc 4cylinder single turbo: 190PS, 300Nm torque + 30Nm overboost
1,969cc 4cylinder single turbo: 245PS, 350Nm torque + 30Nm overboost
1,969cc 4cylinder supercharger + turbo: 306PS, 400Nm torque
The first engine on offer is the new D4 derivation, with twin turbos, 181PS and 400Nm torque from 1,750-2,500rpm.
The frankly astonishing combination of power, torque and ECDC economy of 74.3mpg with emissions of 99g/km is largely due to the I-ART injectors (Intelligent Accuracy Refinement Technology) co-developed with Denso.
It's complicated to explain, but involves a system whereby the individual injectors monitor the pressure and temperature in each cylinder, allowing higher injection pressure of up to 2,500bar compared to a more normal 1,800bar, and more precise injection of the fuel.
The engines also use advanced heat management systems and pumps to concentrate heat developed by the engine where it is needed most after a cold start.
Unlike Renault, Mazda and Ford, exhaust manifolds are not incorporated into the heads and this leaves the DPFs slightly out on a limb.
Before I got to the V60 D4, I also drove a front drive XC60 manual with the same engine, and an S80 with the 8-speed auto.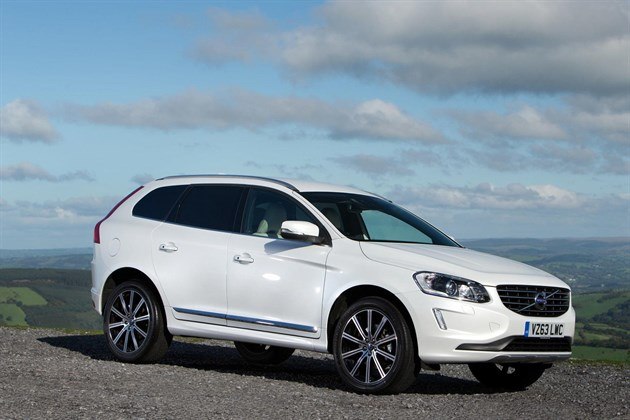 There was a bit of a problem with the gearshift of the XC60. At first, until I practised, I found it very hard to find 5th and 6th. (Since the next guy found it impossible, they later had to take that one away to get the gearshift cables tightened.)
But, once I'd got used to the shift, I had a pleasant 40-mile drive, enjoying the height of the driving position and the comfort of its 235/60 R18 Continental tyres. It averaged 32.8mpg.
Next up, the S80 automatic, an old friend that spends far too much time in the shadow of the Mercedes E-Class in the private hire business.
It was very comfortable, with nice compliant 'Active 4C' suspension, very refined turned in 38.3mpg on the dash meter and, at 113g/km is only £30 a year to tax, which isn't a lot for a limo.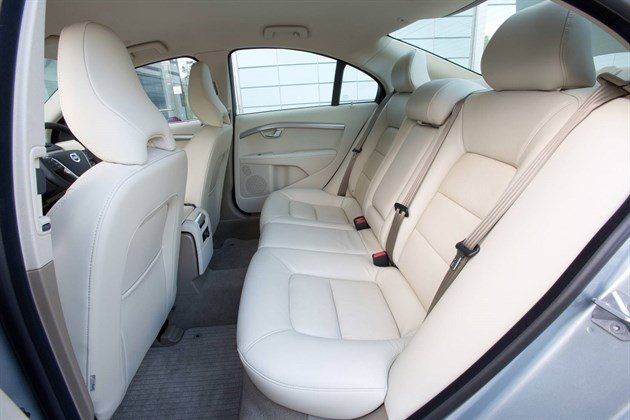 And so finally on to the V60. I tried the automatic of this because I'll soon be getting an S60 D4 manual for long-term test.
On 17" wheels with 215/50 R17 tyres it immediately felt a lot stiffer than the S80, or than 'my' Mazda 6 2.2 Skyactiv D on its 205/55 R17s. Quite a lot of road noise, too.
This one had optional (£150) paddleshifts that worked well to select lower gears when I thought I needed them, then reverted to automatic when I took my toes out of the water.
It definitely felt more powerful and a mite more muscular than my Mazda's 150PS and 380Nm torque.
It's comfortable (the seat squab tilts to give good thigh support), and the satnav system is easy to understand and use, though not as cartoonishly graphic as the Mazda's excellent TomTom system. Unlike the Mazda and the Volvo S80 I drove, it did not have a speed limit warning system.
At the end of my 40 mile ride (involving some severe inclines), it had averaged 36.7mpg.
Now that's about half the ECDC figure, and more than 10mpg worse than my Mazda. So we'll have to see how the S60 D4 manages once I convert it to Shell V-Power Nitro Plus.
Because something I learned talking to Anders Orfus, Volvo's engine man, is that the engines are calibrated and EC tested on the best fuels available.
Which explains why so many drivers who contribute to real life mpg are not getting anything like the ECDC figures.
You won't on cheap supermarket fuel.
More at Volvo