BMW 3 Series Touring (2012 – 2019) Review
BMW 3 Series Touring (2012 – 2019) At A Glance
The BMW 3 Series Touring is the estate version of the country's favourite compact executive saloon. Launched in 2012, it's not the cheapest or most practical car in its class, but it's arguably the most desirable. It edges rivals like the Audi A4 Avant and Mercedes-Benz C-Class Estate thanks to its strong image and excellent handling. Production ceased in 2019, when the 3 Series Touring was replaced by an all-new model. But don't let that put you off, because it remained a class leader, even as BMW was readying its replacement.
The 3 Series Touring arrived in 2012 and enjoyed a long production run until 2019. This means there's a 3 Series Touring for most budgets.
Although many buyers have migrated to the perceived benefits of an SUV, an estate car remains the best choice if you're looking for maximum practicality and a degree of driving pleasure. The 3 Series Touring isn't the most spacious car in its class, but none of its rivals are as enjoyable to drive. It's as satisfying as the 3 Series saloon, which is high praise.
There are a bewildering array of engines and trim levels to choose from, but if you're after the best blend of performance, efficiency and price, look no further than the BMW 320d Touring. The four-cylinder diesel engine is punchy and efficient, especially if you opt for the 320d ED (EfficientDynamics) model introduced as part of the facelift in 2015. On paper, the engine could deliver a remarkable 74.3mpg, although the figure will be lower in the real world.
Elsewhere, you can select from a frugal and characterful three-cylinder petrol in the 318i, fuel-sipping diesel units, or six-cylinder petrol and diesel engines with a performance twist. In M Sport guise, it's as close as you can get – for now – to a BMW M3 Touring.
Rear- and four-wheel-drive (xDrive) models are available, but all cars feature sharp and accurate steering, superb cornering and a composed ride. The ride quality suffers a little on models with larger wheels, but many people will enjoy the sporty handling.
Standard equipment is good, but many of the desirable features are relegated to the options list, so the 3 Series Touring can get quite expensive. Not that this is a problem when you're buying used. Some of the costly options add little or no value on the used car market, so it's possible to bag a bargain. Buy one of the latest models and you'll benefit from BMW's three-year warranty.
The boot isn't the largest in its class, but the opening rear window in the tailgate is a useful feature. All models get an electric tailgate as standard, which on some versions can be opened by waving your foot beneath the bumper. Although it's marketed as a five-seater, the 3 Series Touring works best as a spacious four-seater, as space in the middle rear seat is restricted by the transmission tunnel.
Up front, the driver and front seat passenger can enjoy a classy cabin, with buttons and switches that operate with precision and quality. This is a car that looks stylish on the outside and upmarket on the inside.
Some rivals are cheaper, others are more practical, while some offer more kit for your money. But few estate cars are as desirable as the BMW 3 Series Touring.
What do owners think of the BMW 3 Series Touring (2012 – 2019)? Check out our
Owners' Reviews
from people who live with the car day in, day out.
Reviews for BMW 3 Series Touring (2012 – 2019)'s top 3 rivals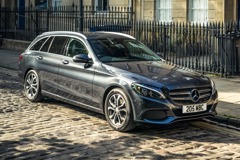 Mercedes-Benz C-Class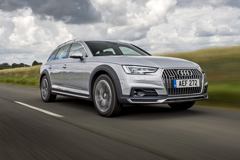 Audi A4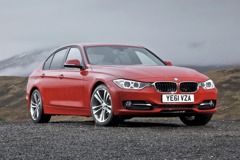 BMW 3 Series
Ask Honest John
Can you recommend a fun 'Jack of all trades' car?
"My 2007 Renault Clio diesel has been a trooper that can handle almost anything but I now need something bigger to handle our dog and other adventures. I usually dislike SUVs in favour of estates due to better handling but don't want to restrict options. The car would need to do 100-mile trips to work twice a week and short town driving, space to hold the two of us and triathlon/kayak/paddle board gear (plus dog in a crate!), be somewhat fun to drive and reliable, to fit a budget of approx £12,000. We'll load it up for holidays in the UK and EU too so any creature comforts are welcome. The Skoda Yeti seems to do the trick but I'm worried about the engine problems I've read on here."
The Skoda Yeti is the definition of a 'Jack of all trades'. It drives like a normal car and has similar runnings costs, but has the interior space of an SUV and some of an SUV's off-road ability. It's easy to drive in town and relaxing to drive on the motorway but, like you say, there are a few known issues you can read about in our review: https://www.honestjohn.co.uk/skoda/yeti/ Cars of a similar ilk include the Volvo XC70 and the Skoda Octavia Scout. I'd also advise having a look at the BMW 3 Series Touring xDrive. It's not got the jacked-up suspension of the Yeti, but it is a brilliant all rounder and will be the best to drive of the bunch: https://www.honestjohn.co.uk/bmw/3-series/2012/
Answered by
Russell Campbell
Should I keep my diesel car if my mileage has dropped?
"I own a diesel 2015 BMW 5 Series estate with 51,000 miles - which I love. However, since retiring, my mileage is very low. A pre-owned 5 Series PHEV is frankly too expensive for me now. What would you recommend considering the driving dynamics of the 5? Or should I keep my car?"
It's likely to get problematic as it gets older if you don't take it for regular runs up the motorway. Lots of short journeys could lead to a blocked diesel particulate filter (DPF). A petrol or hybrid model would be a much better choice. A BMW 520i could be a good replacement, or consider a 3 Series if you don't need a car quite so big. We'd also recommend a Mercedes-Benz C- or E-Class, or a Volvo V90.
Can you recommend a car that fits my long list of requirements?
"I'm looking for a used car, SUV or Estate. I'd like it to have the following: torque converter auto gearbox, spare wheel or spacesaver, decent performance i.e. 0-60mph in under 10 seconds, a decent size boot with a minimum of 500 litres and cruise control. Economy isn't that important to me if I get everything else. I'd prefer petrol but would consider diesels. I have a budget of around £12,000. I know its a tall order but can you help identify something suitable, please?"
A BMW 3 Series Touring or Mercedes-Benz C-Class would meet most of your requirements apart from having room for a spare wheel. How about a Honda Civic Tourer? It's a smaller car but has a huge 624-litre boot and was sold with a reliable torque-converter transmission. There's room for a space-saver spare wheel, too.
Is there a good sporty estate or SUV I should consider?
"I'm a new dad and now want to move from an Audi S3 to a more suitable estate or SUV that I will use as a daily drive but would like something sporty. I have a budget of £15000, what would you recommend?"
If you're looking for something sporty, you'd be better looking for an estate. We'd recommend a Skoda Octavia vRS. It's a very practical estate car that's fun to drive. Although rarer, seek out a petrol unless you cover high miles. Also, consider a BMW 3 Series Touring. Even the 318i is good to drive.
More Questions
What does a BMW 3 Series Touring (2012 – 2019) cost?