Toyota Aygo 2006 Road Test
Tue, 14 Feb 2006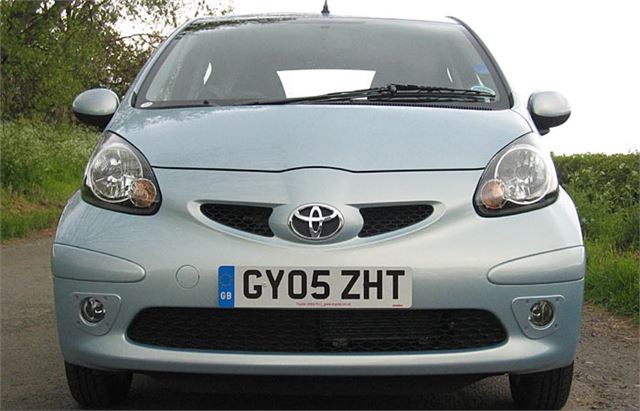 The new Toyota Aygo set me thinking, it must be a tough life being a car designer these days. There you are, refining the styling of the spoiler on your next imaginary supercar when along comes Toyota, Peugeot and Citroen with an impossible brief for a new small car.

First there are all the rules and regulations any new car sold in Europe must comply with: ABS, crumple zones, emissions; an almost endless list. Then there are the crash tests it must pass. Then there's fuel economy and insurance group. Then there's the tiny amount of money it must be built for and still make a profit. And, oh yes, it will have to look good and drive well so people will buy it.

At this point the bad designers jack it all in and slope off to become a dive master on Koh Samui. But the good ones relish the challenge. And Toyota, Peugeot and Citroen must have picked some good ones because between them they came up with the Aygo. Here we have to pretend we're sailors because Toyota wants us to pronounce it "I-go", as in "Aye, aye, captain."

Of course it isn't just the Aygo. It's also the Peugeot 107 and the Citroen C1, all sharing the same basic structure, engine and running gear, and built in the same Czech Republic factory, but with different funky looks to set them apart. First to actually arrive here is the Aygo, which goes on sale in July from around £7,000 to around £8,000.

It's 3,405mm long, 1,616mm wide and 1,465mm high, which in old fashioned is 11' 2" x 5' 4" x 4' 10". Not a lot of car to carry four people in reasonable comfort. Under the bonnet is the lightest 4-seater car petrol engine in the World, an 'all aluminium' 998cc three-cylinder VVT-I petrol engine that weighs just 67 kilos, yet pumps out 67 brake horsepower (50kW) at 6,000rpm and (69lb ft) 93Nm torque at 3,600rpm to pull along a kerb weight of 790-890kg. 'Combined' economy is 61.4mpg. CO2 emissions are 109g/km, which means £75 a year VED. Bolt-on crash boxes front and rear absorb minor damage without affecting the structure, resulting in Insurance Group 1E, the lowest they go. And parts and servicing costs are also reckoned to be lowest of any small car.

There are three grades of trim: Aygo, Aygo + and Sport and a choice of manual or 'MMT' (Multi-Mode Manual) electric clutch semi-automatic. Nest year there will also be a 53bhp 1.4 PSA diesel (not the Toyota diesel as used in the Yaris, MINI and Corolla). There's a choice of two side doors or four, and four doesn't put up cost or weight much because the rear windows simply pop open rather then winding up and down.

At first it all feels a bit flimsy because, to keep weight down Toyota uses thin sheet metal in the tactile bits that don't provide structural strength, like the door skins and the bonnet. But 50% of the bodyshell is high tensile steel and most of it is galvanized which allows a 12 year no perforation warranty at a time when other manufacturers are cutting back their corrosion warranties. The rear seatbacks fold down and that's it, as in the FIAT Panda and base model Citroen C2. The 'parcel shelf' just pop-fits onto a couple of lugs and, to save unnecessary expense, is lifted by just one cord instead of the usual two. The hatchback is simply a big rear window so there is a high sill. And the luggage compartment itself is tiny: just 139 litres, but enough for the average supermarket trip. At least the bags won't fall over.

The steering wheel adjusts up and down and takes the instrument pod with it so nothing ever gets obscured, though some drivers may find the minute mileage display hard to read. All the controls are where you'd expect them to be without having to check the handbook and work well. All trim levels come with a radio/CD player with MP3 socket, while the Sport gets a cute rev counter on a separate pod sprouting out of the main instrument cluster. The seats are okay, for 80 miles at least, which was the length of the test route. There are lots of places to store small items so they won't roll about. The dash top has a high-tech carbon fibre look. And the single pantograph wiper is organised to clear the drivers side properly.

Get going and the variable assistance electric power steering is very light, yet still transmits reasonable 'feel'. The gearshift seems a bit sloppy at first, but I never mis-shifted so it's precise enough. Handling is cheeky and cheerful, like a Panda's. No nasty surprises there, with more grip as you press on rather than less. Ride quality is very good on the standard 155/65 R14 tyres.

The engine isn't exactly a fire-breather but with maximum torque at 3,600 rpm and very sensible gear ratios you can overtake safely. 2nd is good for more than 50 and 3rd for more than 70. From 3rd you can pop it straight into 5th in normal driving. In fact it changes very neatly from 3rd to 5th, almost as if it was designed to. On the motorway it cruises happily at far greater speeds than are currently allowed, with minimal wind, engine and tyre noise, and doesn't get blown about.

A week later I got to drive it on famous Millbrook proving ground hill route, which shows up the finer points or weaknesses of any car's handling better than any other track in the world. To the Aygo's immense credit, it really shone here with no nasty traits at all. So there are definitley going to be a lot of people driving Aygos with smiles on their faces.

You can have any colour you like as long as it's solid Chilli red, or, on the Aygo + and Sport, optional extra-cost Ice Blue or Carbon Quartz black metallic.

Other options include air conditioning, a Travel Pack, which is a Samsonite glovebox bag with CD pocket, a trolley bag and a rucksack. And a Navigation Pack consisting of a Tom Tom Go touch screen portable satnav system covered by 3 years of warranty and mapping updates.

Toyota asks buyers to think total running costs rather than low list prices, which is fair enough. The Yaris has shown how well small Toyotas can hold their value. And the fact that Citroen and Peugeot will offer their own slightly different versions adds to the attraction and makes the cars easier to service.

The factory is capable of building 300,000 a year. So you can expect to see a lot more of this cute little car.

Aygo MMT

I had a chance to drive this 9 months later. MMT is an electronically controlled electric clutch manual posing as an automatic. The shift pattern is very simple. You just move it across the gate for standard auto. Then to change manually push forward for downchanges and back for upchanges.

Left in auto the change from 1st to 2nd comes with a lurch until you learn to lift the accelerator to help it. Other changes are generally smoother. It works best changing manually. I found myself naturally leaving it in Drive when I wanted to be lazy and changing manually when I needed to get a move on. Though not as smooth as a full automatic or Honda's excellent CVT it is at least acceptable for people who need an automatic but don't want to go to the expense of one. It's also more economical on fuel than a full automatic. Over 300 miles or so, mostly motorway, I averaged just under 50mpg.