Skoda Rapid and Spaceback 2017 Road Test

The best way to think of the 2017 Skoda Rapid and Skoda Rapid Spaceback is as Dacias or FIAT Tipos. VAG's 'value for money' cars.
They make great taxis.
They are both hatchbacks. But while the Rapid 'notchback' has a 550 litre boot, the shorter Spaceback's shrinks to a still useful 415 litres, which is big for a car of its size, though neither are as big as the 573 litres of the Dacia Logan MCV.
Another advantage for anyone who keeps their car in a garage is that they are both only 1,706mm wide (or 1,940mm with the mirrors out).  Comparative dimensions for the Logan MCV are 1,733mm and 1,994mm. That puts than about 3 inches narrower than a Focus while also providing a lot more luggage space.
Changes for the 2017 facelift versions include the adoption of VAG's 90PS 3-cylinder 1.4 diesel and the excellent 3-cylinder 1.0TSI with 95PS or 110PS. In the Spaceback (but not the Rapid) the 1.0TSI 95 is available with a 7-speed dry clutch DSG.
Outside, there are new lights front and rear, LED DRLs on SE and SEL trim levels. Inside is pleasingly high rent, improved for 2017 with décor inserts, better buttons and a 6.5-inch radio touchscreen instead of 5 inches.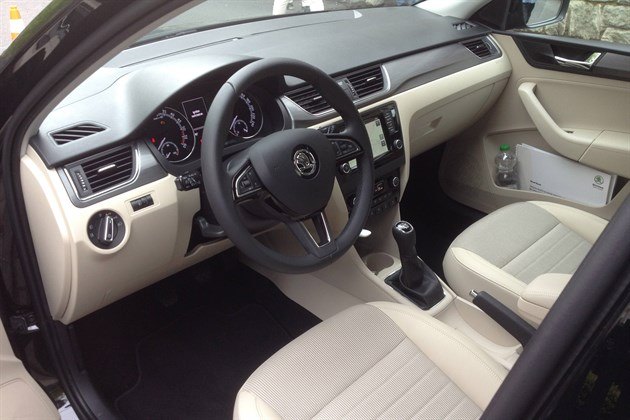 An optional Wi-Fi connection means passengers can be permanently online. ŠKODA Connect services consist of Infotainment Online for information and entertainment, and Care Connect services for assistance and services. Infotainment Online services include real time Online Traffic Information, petrol stations and fuel prices, parking spaces, current news and weather reports. Care Connect services support the driver with automatic Emergency Call, which connects to an emergency call centre when the airbags have gone off and allows the driver to make Breakdown Call directly to Skoda garages. Using the ŠKODA Connect app, the driver can, at any time, remotely access information about the car and check on its status.
There are two USB ports in the rear to charge phones, plus 19 other Skoda 'Simply Clever' features in the cars as standard or optional,  including an ice scraper in the fuel filler flap, a double-sided boot liner with a carpet and a rubber side, a high-vis-vest holder under the driver's seat and an umbrella in a compartment under the passenger seat.
We drove a Rapid 1.4TDI 90 and a Spaceback 1.0TSI 95 DSG.
Unsurprisingly, with just 90PS and 230Nm torque, the 3-cylinder 1.4TDI proved as stimulating as the BA Economy Class flight that took us to Frankfurt to drive it. But economy minded drivers won't sniff at its NEDC 72mpg, and in Real MPG readers report an average of 60mpg from the Fabia with the same engine. We drove it in the Rapid.
The 3-cylinder 1.0TSI  DSG Spaceback, on the other hand, was enjoyable to drive. Not as good as a Suzuki Baleno or Swift 1.0T Boosterjet 6-speed auto, but perfectly fine up steepish hills and round the corners. 179mm (7-inches) shorter than the Rapid it seemed to handle better despite the same, simple twist-beam rear suspension.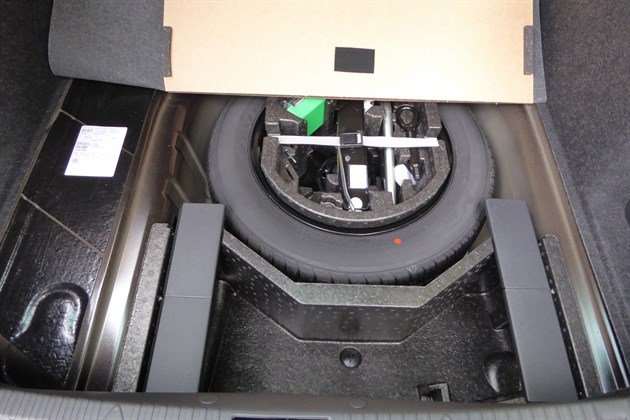 A full size spare wheel is optional, but these two photos show that the difference in length is all behind the rear wheels.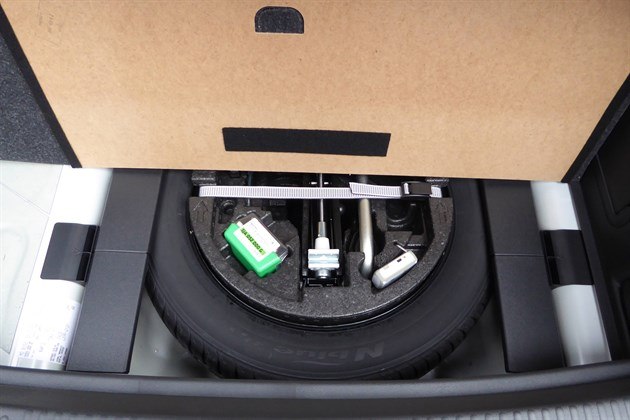 Prices are up a little bit, still starting at £14,410 for a Spaceback 1.0TSI 95 S, but almost £1,000 more for the extra seven inches of the Rapid and you can now pay just over £20,000 for a top spec diesel DSG if you don't negotiate.
But the cars start at £2,500 less than the cheapest Octavia and if, like most people, your garage hasn't grown, the fact that you can get decent rear legroom and a big boot in a narrow car is very appealing.
Advertising people wrack their brains to find Unique Selling Propositions. The Skoda Rapid and Spaceback give this to them on a plate.
More at Skoda