Peugeot e-208 2019 Road Test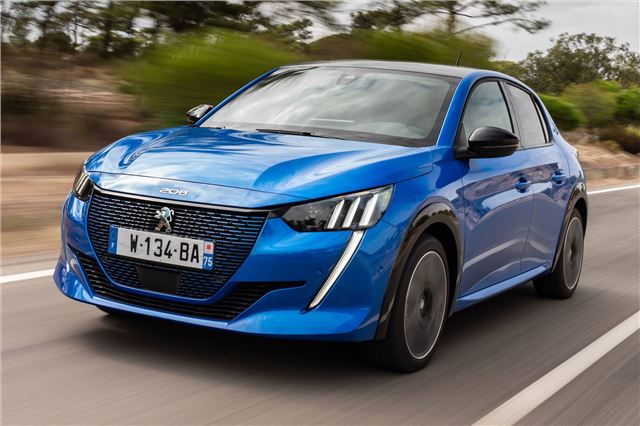 Electric cars are starting to make a lot of sense for an increasing amount of people, and you no longer need to be an 'early adopter' to drive one. That's especially true for the Peugeot e-208 which, aside from its electric powertrain, feels just like any other 208. And that's a good thing.
In fact, Peugeot is so confident of the e-208's appeal that it reckons it'll account for around one in five 208 sales in the UK. And with a range of 211 miles from its 50kWh electric motor combined with a 100kW battery, it's easy to see why the French carmaker is so bullish.
Cosmetically, you'll struggle to distinguish the e-208 from the rest of the range. There are no exhaust pipes, obviously, and the Peugeot logo on the front grille is a different colour. There's also an 'e' badge on the C-pillar. Other than that, there's very little to identify it as an electric car.
While it might look just like a petrol or diesel car on the outside, the e-208 is noticeably different the second you set off. It'll drive away in silence, with all its 260Nm of torque available instantaneously. That means it's got a surprising amount of pick-up the second you hit the throttle. Not unusual if you've driven an electric car before, but impressive if you haven't.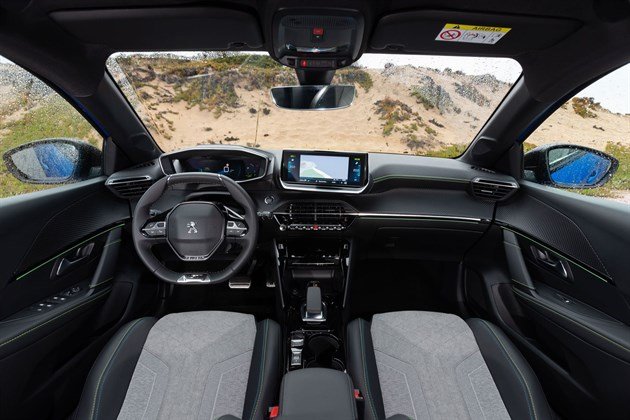 There are three drive modes (eco, normal and sport). Hitting sport mode will allow it to accelerate to 62mph in 8.1 seconds - doing so isn't something you want to do if you're looking to achieve its maximum range potential but it's good fun and useful for overtaking.
Like other Peugeot models, the e-208 features a tiny steering wheel which makes it feel very agile, if a bit darty at motorway speeds. The steering doesn't offer much in the way of feedback, but it corners perfectly well under normal driving - thanks in part to the batteries positioned under the rear seats where the fuel tank would ordinarily be, lowering its centre of gravity.
The batteries add 300kg of weight over the heaviest petrol model and this is noticeable when it comes to ride quality. The standard 208 rides pretty harshly anyway, but the extra mass of the batteries makes it even firmer. We're yet to drive the e-208 in the UK but we suspect it'll be more suited to smooth tarmac than potholed British roads.
On the plus side, the location of the batteries means the e-208 is very practical for an electric vehicle of this size. The boot is a very reasonable 311-litres, while there's enough space in the back for kids. You can drop the rear seats, too, should you need more space.
While other electric cars often have fairly sparse interiors, the e-208's is quirky yet premium, with lots of soft-touch materials. The high-spec GT trim level (exclusive to the e-208) features all the gadgets you could wish for - including a 10-inch navigation display, heated front seats and various driver-assistance aids. It's expensive though, nudging £30,000 after the Government's plug-in car grant.
The e-208 is available in a number of trim levels mirroring the standard car, and even the Active model feels fairly plush, with a seven-inch media display, DAB radio and numerous USB outlets in the front and rear as standard.
One complaint that some might have about the e-208 is the i-Cockpit. This is Peugeot's idea of a combining a small steering wheel with a configurable digital display where you'd normally find conventional dials. Some people - particularly taller drivers - might find that the steering wheel blocks some of the view of the digital display. Aside from this, Allure models and above feature a 3D version of the digital display which Peugeot says will reduce reaction times by a fraction of a second. We're not sure about it, though - it looks fuzzy to us and is needlessly complicated.
We admire Peugeot's strategy of offering its 208 with petrol, diesel and electric engines. The e-208 is predictably expensive - something that'll put off some buyers - but Peugeot reckons its lower running costs will compensate for that within a few years. If it makes sense for you, it's very good to drive, with impressive levels of refinement, and we like that it doesn't feel particularly abnormal. It's just a small hatchback with a future-proof engine.
The Peugeot e-208 is on sale now with deliveries expected from early 2020. Prices start at £25,050.