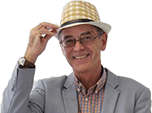 Mazda 3 2014 Pre-Production Road Test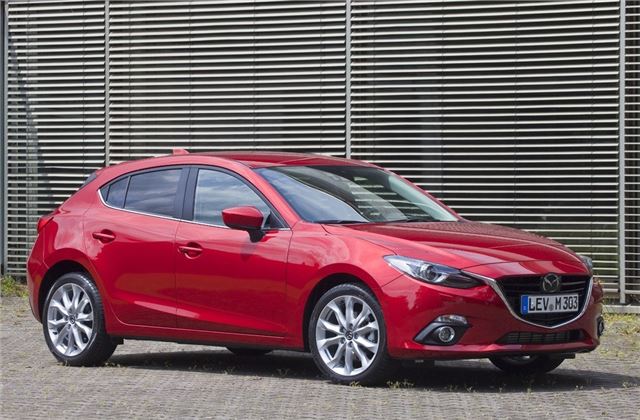 The Mazda 3 enters its third generation, and continues its maker's desire to tread its own path in a crowded market dominated by the Ford Focus and Volkswagen Golf. But this engineering-led company believes that by offering a sleek looking cars with carefully-crafted interiors, and powered by a range of efficient engines, it will attract new buyers, as well as retaining existing Mazda drivers.
It certainly looks the part. Mazda stylists might describe the 3's overall design as being the result of the art of Kodo, the 'soul of motion' and will happily say its latest car is inspired by a leaping panther, but behind the designer-speak, there is a genuinely good looking car. In hatchback form, the bonnet is long, the roof line is low, and its profile is a million miles apart from the boxy mainstream. Arguably, the saloon is even more handsome, with its tapering rear end and more flowing roof-line.
Inside, the new Mazda 3 is also striking, The instruments are available in two configurations - the standard models get a large speedometer flanked by a small digital revcounter and computer display, while in the more luxurious models the central dial is a tachometer, with the speed being relayed digitally, inset within the revcounter and via head-up display. The rest of the control set is handled by the seven-inch multimedia screen's controls mounted logically in the centre console. Storage space is plentiful within the cabin, although bizarrely, there are no door pockets.
As the new 3 is wider and has a longer wheelbase than the outgoing model, it's no surprise to learn that there's more interior room. A six-footer can sit behind another six-footer, although in the rear, head room is slightly limited. But in the front, it's airy and has plenty of room. As for the boot - it offers a 350-litre capacity, which isn't bad considering the new car's shorter overhang.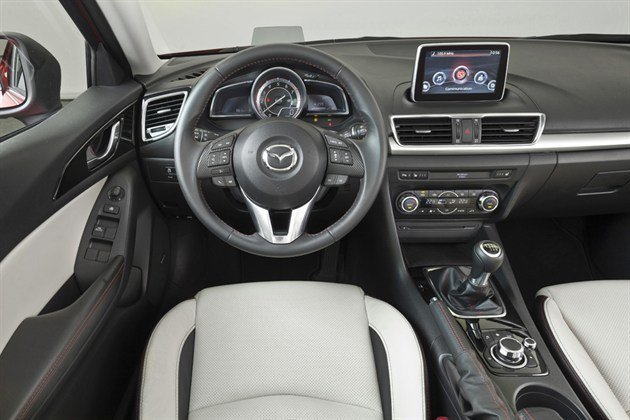 But it's undoubtedly the engine choices that mark out the 3 and Mazda engineers work hard to convince you that their way is the correct way. What we mean by that is that many competitors are now moving to downsized engines and forced induction in order to delivery efficiency, This is most evident in Ford's three-cylinder 1.0-litre Ecoboost engine, which currently powers the Fiesta and Focus, and is also terrific fun.
Mazda's all chain-cam Skyactiv engines are far larger than what is rapidly becoming the class norm now. There are four options - the Skyactiv-G petrol in 1.5 and 2.0-litre forms (100PS and 120PS or 165PS standard and high power), or 2.2-litre Skyactiv-D with 150PS. They're all low-friction designs, which - remarkably - share the same 14:1 compression ratios, regardless of whether they're petrol or diesel.

In terms of figures, the Skyactiv-D puts in an impressive performance. Considering its size and output, a 104g/km CO2 output, allied with a claime 72.4mpg and a 0-62mph time of 8.0 seconds is absolutely remarkable - but the 2.0-litre petrol models aren't exactly lagging that far behind, even if none of these come close to matching the Ford Ecoboost's stellar sub-100g/km performance. But Mazda would counter that with the potential for much closer real world figures thanks to the 3's much longer gearing, greater torque and much less need to buzz the upper end of its rev range.
We tested a pre-production prototype Skyactiv-D 2.2. This model is expected to be the most popular model with business users and fleets - and it seemed fitting that our test route included heavily trafficked and streaming wet autobahn as well as busy city driving.
First impressions are very positive. Both the engine and gearbox feel superbly engineered. Throttle and clutch response is sweet and light, making smooth driving very easy indeed. The steering is positive and well-weighted, and cabin noise levels are very muted. The much vaunted sat-nav and infotainment systems had been disabled, so we can't comment on these, although the centre console-mounted control knob certainly feels as if it should operate very efficiently indeed.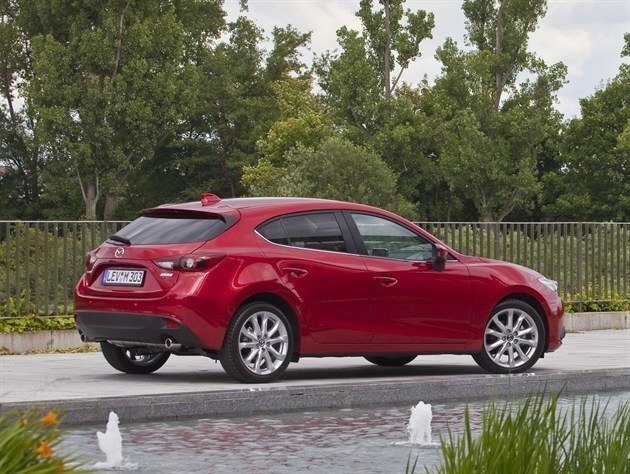 In town, the 3 feels agile, and would be near perfect if the visibility were better. The main problem is the windscren pillars, which although slimmer than the previous 3's, also seem more intrusive, thanks to their more horizontal angle. But as the speeds rise, and we hit the autobahn, the Skyactiv-D 2.2 feels almost GTI-like in terms of pick-up and mid-range acceleration. In sixth gear and around 80mph, it's spinning at a touch more than 2000rpm, and this is ample for immediate acceleration.
Ride quality isn't bad, even though the test car is riding on 18-inch wheels and 215/45 tyres. Bumps and ridges are dealt with well, and although you do feel them, they're well-enough damped not to jar the driver. On twisting country roads, the 3 is capable and composed and doesn't put a foot wrong, thanks to high levels of grip and accurate, albeit light steering - but it lacked that last two per cent fun factor that marks out a hard-driven Ford Focus.
We also managed a briefer drive in the standard Skyactiv-G 2.0 in automatic form. Much of what we said about the 2.2D holds true about the petrol powered car, although in a lower trim level (these will be fully confirmed later, along with prices), the instrument package worked less well, not only because it's lacking the head-up display, but also because of the comedically-small LED rev counter.
But there are fundamental differences in the way they drive. The petrol engine needs revving to get its best, but it works well with its responsive six-speed automatic transmission and is reasonably hushed. Although it's slightly frantically geared on the motorway, it's a nicely responsive set-up, changing down when you back-off, generally leaving you in the right gear for approaching corners. 
For the full picture of the the 3, we'll have to wait until the prices and trim levels have been announced in September. But priced correctly, it will be a competitive and likeable addition to the ranks of the Golf and Focus. We like the fact that Mazda's perserverence with Skyactiv technology is really bearing fruit, and its good looks really do set it apart. These qualities alone make the 3 well worth adding to your shopping list.