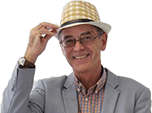 Mazda 3 2003 Pre-Test
Thu, 28 Aug 2003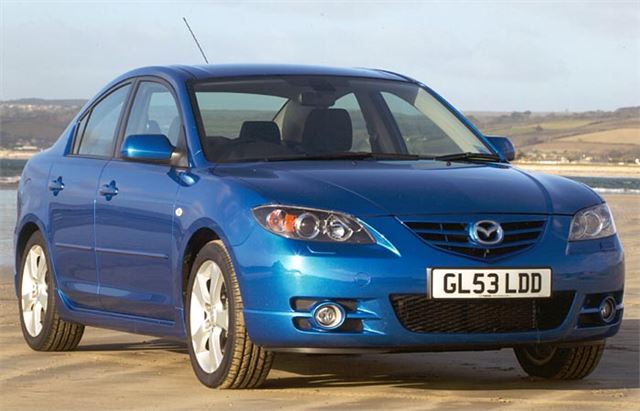 In about three week's time, after I've actually driven the car, this is going to turn into a road test of the new Mazda 3. Meanwhile, here's a pre-brief with as many technical details as have been released. 
Apologies if what follows reads like a précis of a verbose tome groaning with overblown superlatives, but that's exactly what it is.

The car will be launched with a 105 PS 1.6 litre engine or a 150 PS 2.0. An improved 5-speed manual box is standard and an optional four-speed automatic available with the 1.6 only. Later engines coming in 2004 will include a 1.4-litre petrol, along with two derivatives of a new 1.6-litre common-rail diesel.

MacPherson strut-type front suspension and multi-link rear suspension based on the Mazda6 are tuned to ensure a good balance between handling stability and ride comfort. The 2.0-litre model has electro-hydraulic power-assisted steering (EHPAS) and the 1.6-litre hydraulic power-assist.

The cars all have four-wheel ABS with electronic brake-force distribution (EBD) and mechanical brake assistance, along with optional dynamic stability control (DSC) with traction control (TCS). A 10-inch single vacuum booster enhances brake effectiveness and response by ensuring linear increase in deceleration as pedal travel increases. The result is one of shortest braking distances for a compact car, from 100 km/h of only 37 metres.

Body structure features Mazda's unique Triple-H design, which provided a strong passenger cell that resists impact deformation and disperses impact energy. Inside are dual-stage front airbags, seatbelts with pretensioners and load-limiters, standard front side airbags and optional curtain airbags. A collapsible steering column, collapsible brake pedal, energy absorbing pillar and roof side trim materials make Mazda3's passive safety package one of the best in its class. Mazda's own tests have indicated that the new Mazda3 will receive a 4-star Euro NCAP rating or better.

The Mazda 3 has one of the largest glove boxes for a compact car with eight litres of storage. The glove box lid incorporates a holder with approximately three-litre capacity, making total glove box volume capacity about 11 litres. Between the driver and front passenger is a large double-bottom centre console box. It features an upper tray with space for a mobile phone or other similar-sized items, and a lower box with 3.6-litre capacity, sufficient for 13 CDs. The front section of the console box has two multi-size cup holders with a flip back lid. Other passenger storage features include large front door pockets, rear door pockets and a pocket behind the driver seat.

Rear seats fold 60/40, with seatbacks and cushions shaped to provide a flat load floor when folded down to carry larger items. Locating the rear suspension coil springs beneath the floor allows 1050 mm between the rear wheel wells, an excellent luggage compartment volume of 300 litres with the rear seats up, 635 litres of cargo volume with the second row of seats folded down, and a cargo length of 1,385 mm. Beneath the luggage area floor is a handy compartment for storage of car-care products or other items.

The audio system is expandable to incorporate future developments. Audio information is given by a horizontal digital display near the top of the centre stack where it can easily be seen. Four or six speakers, depending on model, ensure quality sound for all passengers, with two full-range speakers in the front and back doors and a dome tweeter located in the mirror trim. In the centre of the instrument panel is a flip up cover that conceals the seven inch display screen for Mazda3's optional DVD-based navigation system. DVD-based is superior to a CD-based system, with far greater capacity and does away with the need to change disks every time you cross a border. One disk holds a pan-European map with data for visual indicators and voice prompting in six languages (English, German, French, Italian, Spanish and Dutch).

The 1.6-litre and the 2.0-litre MZR petrol engines are designed, not only to deliver driving fun and use less fuel, but also to produce fewer toxic emissions. Both engines feature a reversed intake-exhaust layout - with intake at the front of the engine and exhaust at the rear. This shortens the distance to the catalytic converter, allowing it to be directly attached to the stainless steel exhaust manifold, which results in quick catalytic heat up for superior emissions performance. Its advanced EGR system also contributes to fewer overall emissions by introducing exhaust gas into the induction cycle to suppress NOx emissions. As a result, both engines achieve a Euro Stage IV emissions rating

The Activematic's downshift from fourth-to-second is optimised to enhance the engine's responsiveness. First-to-second upshift timing is short. The Activematic also includes slope control for smooth deceleration on downhill gradients to assure more confident driving. On uphill gradients, slope control inhibits upshift if there is insufficient reserve power, preventing unwanted gear-hunt. The transmission also has slip control that extends the fuel cut-off period during deceleration to enhance fuel economy and lower CO2 emissions.