Hyundai i30 Fastback N Prototype Road Test 2018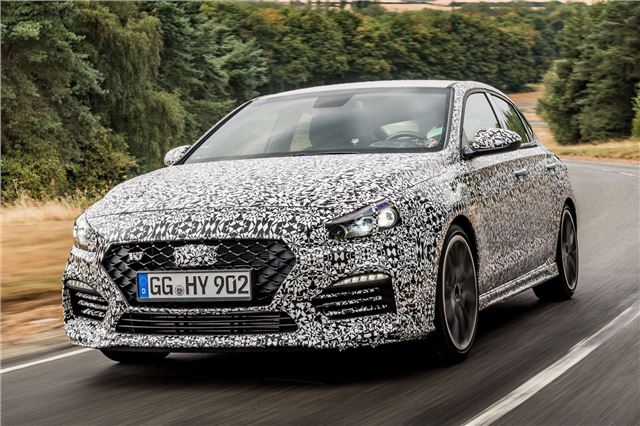 Hyundai launched its first proper performance car in the UK early in 2018 - and it went down a storm. We rated the i30 N hot hatch five stars, dubbing it a genuine alternative to the Honda Civic Type R and Volkswagen Golf GTI. UK sales have so far beaten expectations by around 190 per cent. Not bad for a first attempt.
Not one to bask in the glory, Hyundai's been working on round two - an N-badged derivative of its i30 Fastback. Broadly the same recipe as the i30 N hatchback, the Fastback combines a turbocharged 2.0-litre petrol engine (producing 250 or 275PS depending on whether you spec for the standard or Performance Pack variant) with a five-door coupe body.
Set to be revealed at this year's Paris Motor Show before going on sale in 2019, the i30 N Fastback is, on paper, a niche model - but one that could take on the popular Skoda Octavia VRS in the practical hot hatch league. Hyundai's engineers are still tweaking the sporty Fastback, but invited us along to an early prototype drive at a top secret test track in Bedfordshire.
One area in which the conventional model has attracted some criticism is the firmness of its ride - and we also complained of the slightly choppy ride in our road test of the standard i30 Fastback. Hot hatch buyers are usually happy to put up with a degree of bumpiness, but Hyundai's aiming to make the i30 Fastback N slightly softer than the five-door hatch.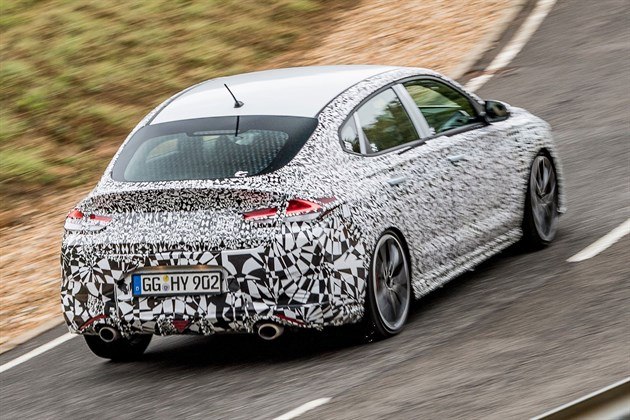 Is it possible to notice a massive difference during a few laps of a test track? Not really, but Hyundai says it's not finished tweaking the suspension anyway.
Like the regular model, the Fastback will feature five drive modes: eco, normal, sport, N and N custom. Engineers tell us that they're taking feedback from the original i30 N on board and are considering making the Fastback's suspension more forgiving when normal mode is engaged. For UK roads, that's probably wise - the N's been developed at the Nurburgring test facility in Germany. And that doesn't translate to a cosseting ride on our broken road surfaces.
The prototype model we've driven here is the 275PS Performance Pack variant. Performance figures are yet to be announced, but its acceleration feels every bit as savage as the hatchback's 6.1 second 0-62mph time. It's a car that's happy to rev - not a given in today's hot hatch market - while the Active Variable Exhaust System pops and crackles when you lift off the accelerator in a childish yet hilariously addicitive manner. There's no danger of the i30 Fastback N being too grown up, pleasingly.
The steering is every bit as lovely as the standard car. It's heavy, in a good way, with lots of feedback. The limited slip differential will tidy things up as you exit a bend, meaning there's little in the way of old-fashioned torque steer - even in the wet (it was a very soggy day when we drove it).
Our prototype test car was covered up inside, but it won't be that different to the i30N. Like the standard model, it will be relatively understated in hot hatch terms (similar to the Skoda Octavia vRS), aside from a thick leather steering wheel and unique gear lever.
Of course, the big advantage of the Fastback over the ordinary i30 N is the extra space on offer. There's 450 litres of boot space with the rear seats up (compared to 395 litres in the standard car), although there's a high lip which makes loading the boot difficult and taller rear seat passengers will complain about the rakish roofline.
The i30 Fastback N isn't massively different from the i30 N on which it's based, but it does offer slightly more practicality and more grown-up looks which will appeal to some buyers. Engineers are polishing an already convincing car and, pleasingly, these changes will also be transferred across to the 2019 model year version of the standard i30N.
Prices for the i30 Fastback N are yet to be released, but the standard Fastback commands a £500 premium over the 5-door hatchback model. The Hyundai i30 Fastback N goes on sale early in 2019.