Audi A3 Saloon 2013 Road Test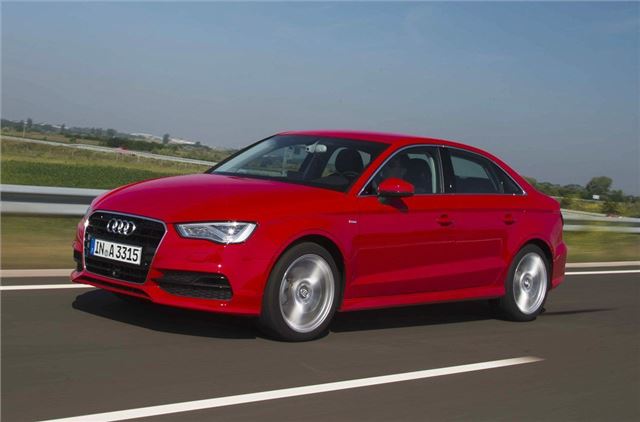 Small saloons aren't very popular in the UK but they sell well everywhere else, in fact they're the biggest market sector worldwide. You see plenty on the continent but it's no real surprise to learn that China and the USA have the biggest appetite. This fact goes a long way to explaining why there's now an Audi A3 Saloon.
This premium small saloon isn't alone of course, there's the new Mercedes-Benz CLA and don't be surprised to see a BMW equivalent in the future. The Audi may not be as flamboyant as the CLA but it's more than just an A3 with a boot. Well, it is that, but in fact we're assured that nearly every panel is new, including the bonnet and front wings.
Small saloons are rarely good looking but the A3 Saloon is an exception. It's well proportioned and even has a sporty feel to it with that high boot and the integrated spoiler. It follows the typical Audi understated design which some appreciate and others think dull. We like it for its clean lines and unfussy appearance. Audi is only offering Sport and S line models in the UK so you won't see any lower spec models on small wheels.
Inside it's identical to the A3 hatchback with the same precisely finished and well designed cabin. It's one of the best interiors around with a simple but user-friendly layout with details like circular air vents and a neat row of buttons across the dash. The MMI system is excellent and intuitive while the seats are comfortable yet supportive. It's roomy too and features like the electric parking brake free up space. The A3 may be a relatively small car but it feels like a much bigger one from behind the wheel.
Of course being a saloon rather than a hatchback means you do sacrifice some practicality but the boot is still big with a 425-litre capacity - that's 45 litres more than the A3 Sportback and not that far short of an A4. Usefully the rear seats fold down as standard and you can actually fit in a lot more than you'd think. There's also decent space in the back although if you've got a tall driver, there's not much legroom left behind.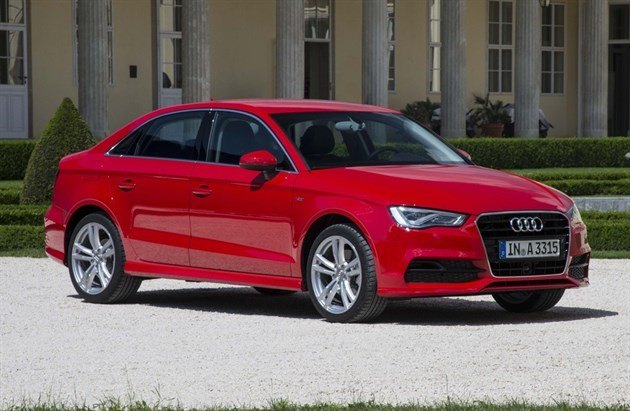 You won't be surprised to find out that the A3 Saloon drives much like an A3. It uses the same lightweight body design and with short overhangs plus a rigid structure it's incredibly impressive through corners. It's about 20cm longer than a standard A3 and has a slightly longer wheelbase too which means great composure and a surprisingly nimble feel. The steering has a good weight to it and it's a car that's easy yet enjoyable to drive - everything from the clutch to the manual gearbox works with real precision and quality.
But perhaps the A3's real forte is comfort. Thanks to its impressive suspension set-up it's incredibly quiet and comfortable, while on the motorway its refinement shines through with barely any wind or road noise. That's even more impressive considering the 15mm lowered sports suspension and 17-inch wheels of the cars we drove. Sport and S line versions come as standard with this set-up but can be switched onto standard suspension as a no cost option. The S line can also be switched onto S line-specific sports suspension which is 25mm lower than standard. Having driven an A3 hatchback with this suspension we know it's noticeablly firmer but not uncomfortable, however, we'd recommend sticking with the Sport set-up which is a good balance.
From launch there will be three engines available - a 1.4 TFSI, a 1.8 TFSI and the 2.0 TDI with 150PS. The frugal 1.6 TDI will follow in later this year and in mid-2014 a higher powered 2.0 TDI with 184PS will join the range. These engines are now familiar across the Volkswagen Group range and while most will go for the strong yet economical TDI engines - the 2.0 TDI is ideal for long distance drivers - the turbocharged TFSI petrols shouldn't be overlooked.
The 1.4 TFSI with 140PS is our favourite. It may seem small but it doesn't feel like it with great pep and real get-up-and-go when you want it. It gets from 0-62mph in 8.4 seconds and with a buzzy nature is great fun on small and twisty roads. That's not to say it's noisy on the motorway though and it will happily cruise along at 70mph as quiet as a diesel. There's no big sacrifice in economy either with a claimed average of 60.1mpg, helped by a clever cylinder on demand system which shuts off two cylinders when the engine isn't under load.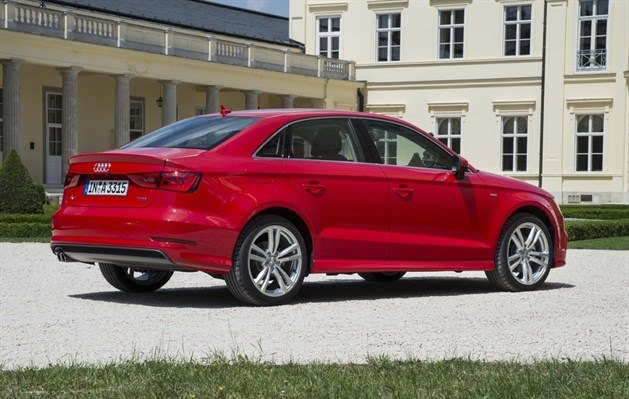 Initially the 1.4 will come with the seven-speed S tronic gearbox (Audi's equivalent of Volkswagen's often maligned DSG gearbox) but the good news is that a six-speed manual will be available later in 2013 and we'd certainly recommend waiting for it.
If you want more power then the 1.8 TFSI is the engine to go for - at least until the S3 Saloon with 300PS arrives next year. It has 180PS but actually the same 250Nm torque as the 1.4-litre version. In everyday driving it doesn't feel that much quicker than the 1.4 but you will notice the extra horsepower at higher revs. This is also the only model that will be available with quattro all-wheel drive - all the others are standard front-wheel drive.
In terms of price the A3 Saloon is about £1800 more than an equivalent A3 Sportback, although there isn't as wide a range of engines and trims with the four-door. That does seem quite a big difference for what is a booted version of a very practical hatchback. For most UK buyers the A3 and A3 Sportback make more sense - and both are cheaper.
But coming from a different angle, if you're looking to downsize from something like an A4 or even an A6 then the A3 Saloon certainly has an attraction. Inside it feels like a big car and it has the quality you'd expect from an Audi. Small saloons may not have been that popular in the UK before but perhaps the arrival of the A3 Saloon along with the Mercedes CLA may just change that. The A3 Saloon is available to order now with the first cars arriving in September.