BMW 2 Series Coupe (2014 – 2020) Review
BMW 2 Series Coupe (2014 – 2020) At A Glance
The current BMW 2 Series Coupe is the final throw of the dice for this compact rear-wheel-drive car. A new model, coming soon, will see it replaced, leaving a big gap in the marketplace. With handsome styling, a truly engaging driving experience and a strong engine range, the 2 Series is a joy to own. There are downsides, notably the stiff ride, especially on M Sport models, which is caused by a sportier suspension setup. Space for passengers in the rear is also very limited, although the boot is more generously proportioned.
Good looking and even better to drive, the BMW 2 Series Coupe has found plenty of fans since launch in 2014. It still holds plenty of appeal now, with time having not dulled its handsome lines, and the rear-wheel-drive layout continuing to win over enthusiastic drivers. 
The intended replacement will be a front-wheel-drive and four-door Gran Coupe, which does not quite have the same instant kerb appeal.
Compact premium coupes are a rarity to begin with, making the 2 Series an endangered species. An Audi TT lacks the same level of driver involvement, while a Toyota GT86 is far more spartan on the inside. 
Buyers have clearly loved what this car offers, with more than 750,000 examples of the 2 Series Coupe and its Convertible cousin sold so far. Sharp styling and balanced proportions on the outside have undoubtedly persuaded some to buy, while a test drive is likely to convert those still wavering. 
Although it proves to be more accommodating than the 1 Series Coupe it replaced, this is still a compact car on the inside. Front-seat passengers will be fine, but the back seats are notably short on space. Trying to cram adults into the back is likely to result in arguments, leaving them for use with child seats at best. The boot is at least generously sized, with 390 litres of luggage space beyond the saloon-style opening. 
The interior itself is a lesson in German restraint, with plenty of solid-feeling trim, but not much in the way of excitement.
Standard levels of equipment are at least generous, with automatic air conditioning, DAB radio and a 6.5-inch iDrive multimedia screen included on all cars. Metal and gloss black trim elements add a touch more interest to the cabin, but the emphasis here is firmly on the driving experience. 
Thankfully, the 2 Series Coupe really delivers on the open road. All models, from the base-specification SE through to the range-topping M240i, offer a degree of driver involvement rarely found at this price level.
Crisp and precise steering allows the car to be placed accurately at speed, and will make threading a series of bends together feel genuinely rewarding. Yet it remains a usable, everyday coupe, just as happy to slog up and down the motorway as commute through town.
The only drawback comes with the stiff ride, caused by the sporty suspension. M Sport models have a particularly unforgiving ride when fitted with larger alloy wheels, but it should not be enough to put many buyers off. 
Engine options range from economical diesels to the wild petrol M240i, The latter uses a turbocharged straight-six engine, and has the pace to scare pukka sports cars. BMW's xDrive four-wheel drive can be added to certain models, while the eight-speed automatic gearbox is excellent. 
What do owners think of the BMW 2 Series Coupe (2014 – 2020)? Check out our
Owners' Reviews
from people who live with the car day in, day out.
Reviews for BMW 2 Series Coupe (2014 – 2020)'s top 3 rivals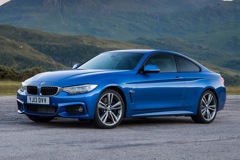 BMW 4 Series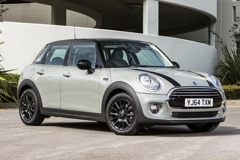 MINI Hatch 5-door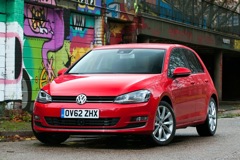 Volkswagen Golf
Ask Honest John
Have you heard of any problems with the BMW 2 Series 218 Sport?
"Have you heard of any problems with the BMW 2 Series 218 Sport?"
This is all so far: http://www.honestjohn.co.uk/carbycar/bmw/2-series-coupe-f87-2014/?section=good/
What's the best sports coupe for £30k?
"I'm thinking of trading in my Volkswagen Scirocco soon and am considering what to get next. The shortlist is another Scirocco, Toyota GT86, BMW 2 Series coupe, or Audi TT. The budget is £30k or so. Which car/model would you go for?"
Not a Scirocco because it's close to end of life. The current TT is vastly improved over the previous one, but still not a precision instrument. The GT86 has wonderful steering and handling, but lacks torque and can need 5th or 4th even on motorway inclines. BMW2 Series coupe good, but the six-cylinder is now way north of £30k.
How can I improve the ride in my BMW?
"How can I soften the ride of my BMW 218i Coupe. I don't want to drive it fast, just comfortably on our potholed roads. If changing tyres/wheels and/or suspension parts, will the warranty and insurance be affected?"
Depends on which wheels and tyres it is fitted with in the first place. The smallest wheel and deepest tyre combination is 16-inch wheels with 205/55 R16 tyres and I'd recommend Michelin Cross Climate tyres for the best combination of 'feel', comfort and quietness, as well as all weather capability. Your car might be on 17-inch wheels with 225/45 R17s or 205/50 R17s, or it might be on 225/45 R17 fronts and 245/40 R17 rears.
What's the best method for fixing a paint chip?
"I have a very small paint chip on my two year old BMW 2 Series. It's only 2mm in size, what's the best method for repairing it? "
If it's very small you might be able to do a DIY fix using a paint stick from your BMW dealer. That's two paint sticks: colour coat and lacquer.
More Questions
What does a BMW 2 Series Coupe (2014 – 2020) cost?