Christmas gift guide: Keeping a petrolhead's car clean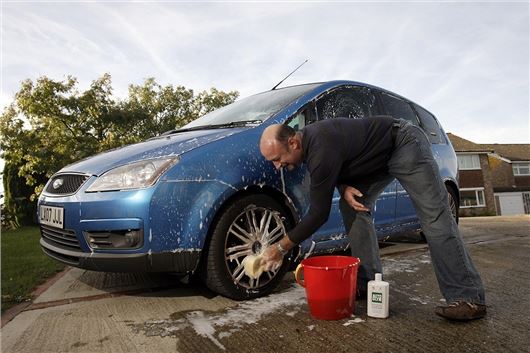 Published 11 November 2014
A car lover will spend unreasonable amounts of time keeping their pride and joy spotlessly clean. That means they need a lot of gear; shampoo, polish, wax, cloths, chamois leathers, pressure washers… there's a lot to choose from, which means plenty of great gift ideas. So what do you need?
The essentials
There are a few essentials and they are pretty simple. First of all a bucket – no need to get too fancy there – along with a big, soft sponge, microfibre cloths and a chamois leather. Chances are your family petrolhead already has those, but if not you can pick them all up together from more or less anywhere.
There are a few more basics that are less common and worth sourcing though – particularly brushes. You can get brushes designed specifically for various jobs – Muc-Off, for example, has four different kinds of brush, with designs suited to different bits of car. For the most dedicated car washers these are ideal for cleaning up engine parts and wheels.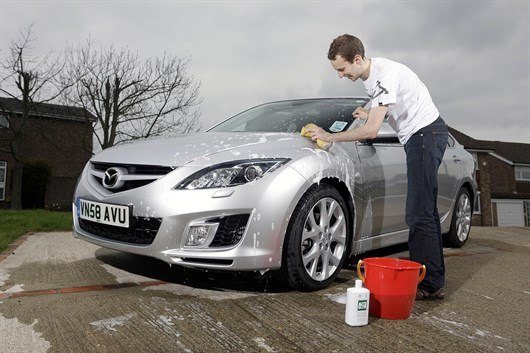 You can also get specific applicators for waxes, along with various polishing cloths which can be priced pretty steeply – but again, the basics don't have to cost much. You can get a full set of more or less everything you need to clean up a car bundled together, priced from £20 up to whatever you're willing to pay. An Autoglym kit for interior, exterior and wheels will cost about £50. 
Shampoos
Things start to get complicated when you get to shampoos – prices start at a few pounds for a basic car shampoo but it's possible to spend a lot more. As with most things, paying for a well-known brand is a great way of getting the best product, so look out for famous names like Meguiars and Autoglym.
A dedicated car-cleaning aficionado will want to carry out every stage of the wash properly, so it's probably best to avoid all-in-one products that claim to wash, polish and wax all together. A lazier car washer can go for something like Demon Shine, which does everything all at once and is generally said to work well. 
Polish and wax
Polishing a fairly new car is probably a bad idea – polish effectively grinds away the top layer of grimy top coat to reveal some lustre hiding below. If there is already lustre there then there is no point using polish because it will just thin out the paint finish. That said, for older, drab looking paintwork a very high quality polish can do a great job.
Again, it's worth spending more money to get the best quality so look for brands you recognise the name of. If a car needs a proper, thorough polish then it's well worth investing in an electric polisher. Manual polishing is exhausting and difficult to do well. An electric polishing mop will take the effort out and give a great shine – but follow the instructions or you can do more harm than good.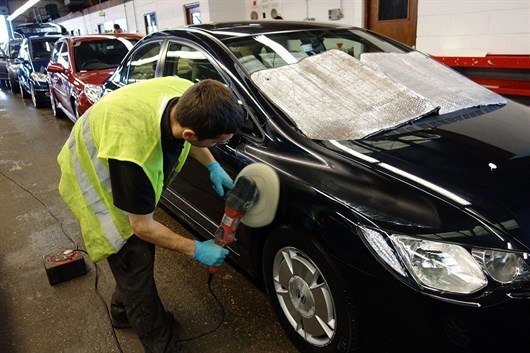 Waxes are the finishing touch, keeping the car glossy and repelling dirt. However they can be tricky to apply well and the quality varies wildly. You can buy waxes for hundreds of pounds but they're not worth spending on unless you're a professional supercar valet expert. For most, spending £25 or so on a wax is the best solution. Again, go for recognised brands like Turtle Wax and Simoniz and take the time to follow the instructions.
Extras
There are lots of products out there besides the usual and these might make the best gifts of all - after all a car nut probably already has most of the car cleaning gear they need. A small, 12v in car vacuum cleaner costs from around £20 and is a nice little addition to a fastidious car owner's boot - and they're not likely to have one already.  
Another gadget almost any car owner will appreciate is a pressure washer – and there's pretty much one brand that everyone respects: Karcher. Prices for Karcher pressure washers start at less than £100, but it's better to spend a bit more and get one with a bit more power and some car cleaning attachments. Karcher also makes steam cleaners, which can be used to clean up dirty components and engine bays. 
Comments
Author

John Slavin
Latest