Toyota GT86 (2012 on)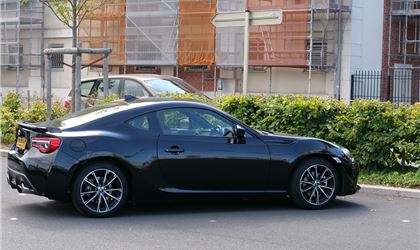 D4S Auto
reviewed by ColB on 22 October 2020
3
Tax/Insurance/Warranty costs
4
Cost of maintenance and repairs
5
Experience at the dealership
5
How you rate the manufacturer
Surprisingly practical fun car that can be used for touring as well as everyday.
I bought this to replace a Porsche Cayman 981 that was just silly money to maintain - like £3k for a new steering rack nearly a grand for new tyres etc. It is interesting to compare the two cars. Obviously the Porsche is a lot quicker and has more status but that's about as far as it goes. The roadholding of this Toyota is quite amazing and it is tremendous fun to drive on B roads. The autobox is set up to allow the engine to rev and it is as responsive as a DSG box for down changes. The major difference from DSG is that it is durable and will last the life of car, with no huge service costs. The auto has a higher top gear ratio than the manual and cruising over a distance will get 38mpg. This is 10mpg better than a Cayman so a day's driving means one less fuel stop.
For touring with other half, there is a good sized boot and the rear seats (suitable for small people only in an emergency!) fold down to get an amazing load area for such small car. The ride is unexpectedly good, helped by tyres that actually have sidewalls and at 70 mph it is quieter than the Cayman, so that driving 300 miles in a day is quite comfortable. The list of features includes Sat nav, Dab, radio, heated seats, led headlights (which are superb) and with a 5 year warranty and a space saver spare wheel you have a great little sports car that can enjoy without loosing your licence.
The motoring journos all look down their noses at the automatic version of this car but auto enables the engine to rev without you having to row the car and in practical terms it makes it just as fast in everyday driving. In my view they spend too much time checking out 'soft plastics' and don't consider things like warranties or reliability in their assessment of cars.
reviewed by Warfstaff on 23 April 2015
reviewed by crackers81 on 1 January 2014
Write your review
About this car
| | |
| --- | --- |
| Price | £28,275–£30,285 |
| Road Tax | G–J |
| MPG | 32.8–39.8 mpg |
| Real MPG | 100.4% |
Just reviewed...