Suzuki SX4 S-Cross (2013 on)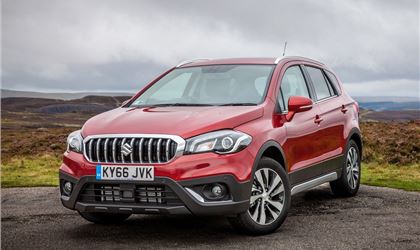 1.0 Sz-T Boosterjet Auto 5dr
reviewed by Anonymous on 27 May 2020
4
Tax/Insurance/Warranty costs
5
Cost of maintenance and repairs
5
Experience at the dealership
5
How you rate the manufacturer
Reliable, economical and a very high spec for your outlay
I've now had the car coming up for 2 years and it's due the 2nd service once the Corona virus situation allows it. In that time the car has been totally reliable, the only issue was picking up a screw in a rear tyre sidewall after 6 months- alas, unrepairable. I bought it at a good discount and added side mouldings to protect from those car park knocks from careless door opening by others. The dealer threw in a set of car mats but i've since added a set of rubber mats for winter use.

Many reviews bemoan hard plastics, a stiff suspension, a noisy CVT box and lack of rear headroom. I've not found any of this a problem; yes it's a firm ride but I prefer that and coupled with a decent, adjustable seat and high driving position, a smooth gearchange (unless you're going to drive like you were 18 again) and overall comfy cabin it's a great ride. Even the front passenger seat is height adjustable! As for lack of rear passenger headroom, that's only applicable if you go for the panoramic sunroof.

Economy wise, i'm averaging 43 mpg and the best i've achieved is 48 mpg on mixed motorway, urban and rural roads.

Gripes? Well, i didn't like the standard bottle of tyre foam only for any punctures so bought a spacesaver at extra cost. A minor annoyance under certain light conditions is that the silver bezzles on the air vents reflect in the winscreen and side windows, and my Motorola smartphone isn't yet able to mirror on the infotaintainment system until such time as a system upgrade happens. Also, much like my old Honda Jazz the front windcreen pillars can obscure approaching cyclists/motorbikes so care is needed to look twice at road junctions.

In summary then, you get an awful lot of car for your money along with the usual Japanese reliability. The Suzuki was in fact both my wife and I's preferred choice on our final shortlist of two, over the Peugeot 2008. The other point worth making is that the Suzuki dealer network isn't as extensive as some other manufacturers so that may be a consideration for some. We purchased 30 miles away but since then a new dealer has started up much nearer home.
reviewed by coopshere on 3 March 2019
reviewed by Anonymous on 8 November 2018
reviewed by Legion Rider on 4 September 2018
reviewed by H.Glover on 9 January 2018
reviewed by Bill Loneskie on 12 April 2017
reviewed by Anonymous on 1 April 2017
reviewed by Bill Gilroy on 10 January 2017
reviewed by Legion Rider on 16 May 2016
reviewed by older and wiser on 7 April 2016
reviewed by Anonymous on 28 August 2014
reviewed by jhlb on 3 June 2014
reviewed by Anonymous on 13 January 2014
Write your review
About this car
| | |
| --- | --- |
| Price | £17,493–£26,243 |
| Road Tax | B–F |
| MPG | 37.1–68.9 mpg |
| Real MPG | 92.2% |
Just reviewed...