Subaru Impreza (2006 - 2007)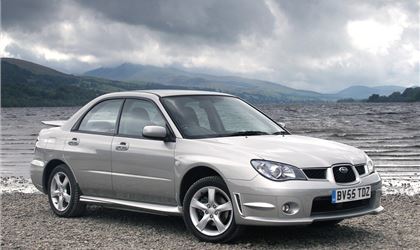 2.0R AWD Sports Wagon Hatchback
reviewed by leftfield lenny on 7 September 2015
2
Tax/Insurance/Warranty costs
3
Cost of maintenance and repairs
4
Experience at the dealership
4
How you rate the manufacturer
Good but high running costs.
I was a bit disappointed on initial purchase. I had a oil pressure switch fail just as I took delivery of the keys and the complete exhaust fell off after 3 weeks (non standard rear box caused that). The rear discs were 50% contact effective (sticking callipers?) but it passed it's MOT! It's seemed more expensive to maintain than the mark one (classic) and mark 2 (bug eye) models that I had before i.e the dreaded cambelt change cost me £680 which included the cambelt tensioner and a pulley. However, the car officially services once a year @ 10,000 miles. Unlike the earlier versions @ 7500 miles. The other good side of it is that the famed traction, roadholding and pace is there (a 158 bhp quad cam 16 valve engine is now under the bonnet which is turbine like smooth) Interior build quality is good, along with space and comfort. And a footnote to the Honest John review of the cars stereo being weak. It's not the stereo that's weak, it's the shoddy built in glass amplified aerial that's the weak link. I've proved the case by swapping out the original unit before on my previous Impreza's with the external aerial and the reception was fine. On this model, even my JVC and Sony DAB/FM (on FM and AM) units struggle to pick up a third of the stations that I used to get previously.

At the moment I'm only doing about 25 mpg around town, 31 mpg on a run. I'm beginning to suspect that the non franchised dealer that I bought the car from never service the car properly. They didn't even bother to change the air filter. Although they were forced to change the oil and oil filter in my presence as they tried to put out the oil warning light.

A year and a half on. Still reliable and it now stops as it should, now that I've changed the rear discs. Quick with excellent traction, 25mpg around town (where 80% of my driving is, unfortunately) and 30+ on a run (depending on the pace it's driven at)
My car dislikes supermarket unleaded fuel (see the forum posting about hesitation in the rev band), so now I run it on Shell, Texaco, Esso and Murco petrol (I haven't a clue who supplies Murco, but my car runs fine on it's unleaded and super plus) The car also runs well on Tesco's high octane momentum petrol. Road tax is fairly high at £156 for 6 months or £285 annually, but as from November 2014 payment can be spread monthly.

I've had both the classic and bug eye models of Impreza before and know that both do respond economy and performance wise to mild tweeks, i.e. a k & n or pipercross air filter and a stainless steel exhaust system. So I'll be chipping this car (Viezu do the only one for the 2.0 160ps engine) and a stainless steel exhaust in the near future. That is about all that can be done for the N/A engine on this model of car.

Stainless steel back box fitted. Sounds like a Subaru should now and do I now detect some improved economy ;D

Update: The latest Subaru Impreza will be coming to the UK as a 4 door saloon (WRX version) and a 5 door hatchback a la XV. Unfortunately, Subaru UK are only going to import the 1600cc version of the 5 door model as well as the 4 door WRX - bizarre way to do business Subaru UK By your rational thinking, the the original 1600, 1800 Impreza and Justy should have been a roar away sales success story, and they weren't!

The new Subaru Levorg seems like a natural successor to the 2005 - 2007 year hawkeye model Impreza. A five door 1.6 turbocharged estate with very similar performance to the old quad cam N/A 2.0 petrol engine.
reviewed by joc on 11 December 2013
reviewed by hotdoris on 10 March 2013
Write your review
About this car
| | |
| --- | --- |
| Price | £12,522–£16,752 |
| Road Tax | I–K |
| MPG | 31.4–35.8 mpg |
| Real MPG | 92.6% |
Just reviewed...