Subaru Forester (2008 - 2013)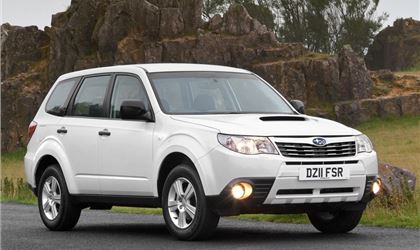 2.0 DX
reviewed by David B on 29 November 2011
4
Tax/Insurance/Warranty costs
4
Cost of maintenance and repairs
5
Experience at the dealership
5
How you rate the manufacturer
Highly recommended all-wheel drive for rough and every-day use, with comfort and economy.
This is my third attempt on this web site to lodge a review of the 2.0 litre Boxer Diesel powered Forester and so indicates my desire to help other readers to evaluate its characteristics for their own driving needs.
Bought in March 2010, it follows 3.5 years of driving a thrilling and much enjoyed Impreza WRX STi Spec D. With affordable and acceptable running costs, insurance premiums and trouble free motoring, it was a difficult and long drawn out decision to give up this car.
I was looking for greater comfort over the pot-hole lined roads of south Yorkshire, and the back-ways of my native Peak District. Better fuel economy in my retirement was also a factor, as well as ease of access for my wife who has a prosthetic knee. Long distance comfort was necessary over journeys to the south coast of England and east & west of Scotland, for holidays and family visits. With offspring in their own homes and my DIY credentials, it has to double as a bulk load and family luggage carrier.
Over its accumulated 18,600 miles it has returned an overall, actual, fuel average of 44.4mpg. This has peaked at 57mpg (over the average-speed monitored 15 mile section of the M1 during its long period of upgrading, passing Nottingham) and an easy 50mpg on a touring holiday around the Argyll peninsula. Good fuel economy is most easily achieved in 5th gear. That's because of its eager response to the gas pedal in 6th which comes at the expense of fuel economy. 6th is fine provided you can resist hard over-taking or just unquestioningly, maintaining your uphill momentum. It is certainly not a noisy diesel engine, unless, like white-van-man, you insist on driving it like a petrol engine from cold, whilst climbing a steep hill. But once warmed up you can drive it that way, if you must, and the cabin noise will not test your ear drums at all. Indeed, on a motorway it drives and sounds like a petrol saloon in the socio-economic AB vehicle driver group. Luggage space is large, although not too deep with the retracting, soft, cover-up in situ. But with the rear seats folded you can get a couple of deep freezers in there. The floor is a bit high but what can you expect when it has the high ground clearance to support its off-road credentials?
Its passenger comfort has been proved over a day-long journey of 450 miles; its heated front seats are a real boon on cold mornings and have proven physiotherapy benefits for back-pain sufferers; two pregnant daughters-in-law have appreciated its reclining rear seats, and two child seats plus one adult in the rear is quite OK on the school run. There is plenty of adjustment for the comfort and convenience of drivers between 6' 2" and 5' 2". The ride height, large door mirrors and reversing sensors enable HGV style of manoeuvring into spaces assigned to family cars; and even with the wasp-sting, roof-mounted antenna up (it does fold down) it goes into my garage with its standard height, up-and-over door (it has to be reversed inside due to the high roof line at the rear end).
I live on a 1:6 'S-bend' hill which does not get gritted by the council. In winter 2010/11 all other residents left their two-wheel drive cars at the top of the hill and walked home. The Forester climbed through 15" of virgin snow and later compacted ice, like a normal wet day in the Peak District. Coupled with the huge low-end torque, it does this, wet or dry, without needing other than a slight tickle of the gas pedal. Climbing and descending this hill in those same conditions on its standard 215-65-R16 Bridgestone Dueler tyres was unflustered.
Unlike the other review here on the Legacy gearbox, I don't have any more difficulty with the one in my Forester than the six-speed one in the Impreza; and it was devilishly important to know where you were in that rocket, I can assure you. As for wanting to set off in 2nd, I can't think why anyone would think it useful or desirable in a vehicle like the Forester.
I mentioned its precursor Impreza STi and a comparison with its performance was done with some trepidation. I should not have been so circumspect. The Forester has good acceleration, a top speed that can cause you to lose your licence as a result of a single conviction, and no unnerving roll in fast cornering over cross-country roads in the Scottish Borders. It has brakes that do not have you wondering anxiously about the obstacle in front; road and tyre noise at motorway speeds is hardly present, normal levels of conversation being easily achieved.
With its 12,000 mile service interval, CO2 emissions category, fuel economy, insurance premium and low tyre wear over its 18,600 miles to date, this is an affordable running-cost vehicle.
One observation about its off-road utility; I parked on some rough ground and opened the rear door. When I came to close it, the catch was far out of alignment – says something about the rigidity of the shell structure.
reviewed by geinternational on 22 June 2010
Write your review
About this car
| | |
| --- | --- |
| Price | £23,120–£29,120 |
| Road Tax | G–H |
| MPG | 37.7–47.9 mpg |
| Real MPG | 95.0% |
Just reviewed...