Skoda Octavia (2020 on)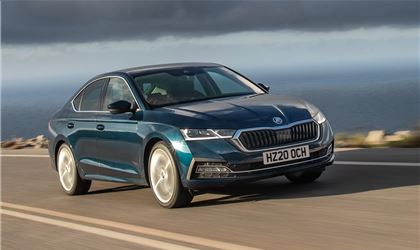 2.0tdi 150bhp DSG
reviewed by Anonymous on 18 February 2021
5
Tax/Insurance/Warranty costs
5
Cost of maintenance and repairs
5
Experience at the dealership
5
How you rate the manufacturer
Great family car / Very comfy and economical
Coming from a 400bhp Subaru and 200bhp Seat Ibiza FR i was very surprised how good this car is.

The new Octavia is very comfortable car. In town is great, viability is okay, parking is easy with the parking aids. Infotainment system is great. All the toys you will ever need. Android auto - apple carplay / sat nav / DAB. Takes a bit longer to learn how to go around the system but with a few Youtube videos to assist, once you learn where everything is then its easy.

Love the interior. Very flashy and modern. New gear selector is so fun to use. Ambient lighting is really nice makes the car feel posh and at a higher class.For some people the shinny plastics and the 10inch screen will be annoying as they do pick up a lot of finger prints. Personally it doesn't bother me.

Rear seats have a decent amount of space. 2 adult will be more than comfortable there. Rear armrest with the cup holders is okay.
Boot is great. 600L plus a full spare tire. Can fit more inside this family car than my mates VW Toureg.

Engine is lovely. More quiet than last model. More eco as well. Around town you can barely hear it which is great for a diesel. Very economical. Around town i will get more than 40 MPG with stop start traffic. On the motorway (bare in mind the car has around 200 miles on the clock) i managedd 60mpg at 86mph / 140kmh (speed limit in Bulgaria) with cruise control on. At lower UK / EU speeds 70/80 im sure the MPG will be even better.

Negative points:

Wind noice at high speeds is really annoying me. When i was test driving the car we only spend 5/10 mins on the motorway with music on so i didnt notice the wind noice. When you go out to test drive it, shut the radio and do a proper noice check before you go ahead and buy one. I will most likely add on another layer of 3M door seal tape myself to reduce the wind noice as its mostly coming from the B pillar and around the wing mirrors. That was at 86mph. At 70 the noice will be a lot less.

Lane assist and front assist REALLY annoying. Front Radar / Sensor is way too sharp. When the car gets a tad dirty at the front the sensor start picking up things wrong and start beeping inside and warning lights start coming on and its really annoying, car puts the brakes on for no reason. I might take the car back to Skoda to get it checked as its too much. At one point i had to stop 2/3 times along my journey with a wet wipe to clean the sensor / radar at the front to stop all the warnings and brakes being applied for me.

You cant turn them off permanently. Every time you start the car if you want them off, you will have to gid into the menu (which is long) and shut them down which is really annoying. Plus im not a fan of the start / stop system. Cant permanently turn that off either. So those 3 every morning i have to manually turn off.

Front seats are a bit too sporty and firm. After a 3 hour journey my back and bottom were quite sore. So again do a longer test drive and see if the seats are good for you. I expected more comfy seats for a family car. My Seat FR model has similar sporty firm seats which i font see the point in having on a family Skoda Octavia.

2 x USB C ports which is annoying. No standard USB ports. Had to buy adaptors which wobble and will most likely break easily at the front. No 12V socket in the front only in the boot. Expensive optional extra for the rear passengers as well.

All in all im loving the car as i can live with the annoying bits of it. More positives than negatives won me over. Plus the price was great. I managed to get around a 20% discount from the dealer as they had the car in stock (didn't have to order new one and wait 3 months). Skoda gave me a set of premium winter tires as a present which is another big money saver as they are mandatory in Bulgaria.
Write your review
About this car
Just reviewed...