SEAT Exeo (2009 - 2013)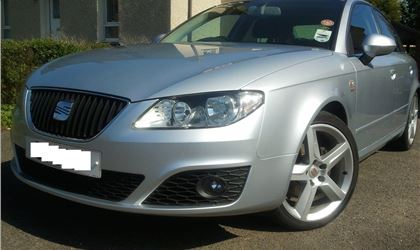 Sport 2.0 TDI (143) saloon
reviewed by StarskyQC on 27 June 2013
5
Tax/Insurance/Warranty costs
5
Cost of maintenance and repairs
5
Experience at the dealership
5
How you rate the manufacturer
The full package of comfort, quality and refinement.
I have deliberately delayed giving a review of my Seat Exeo to give more time for an accurate impression once the initial "wow" factor wore off. Three years on, it's still there!

I bought my Exeo from W. Livingstone in Uddingston, Glasgow. I have dealt with that dealer before and, as a family run firm, quality of service is second to none. They could not have done any more to make the deal more appealing to me.

The car itself is a 2.0 (143) TDi Sport saloon which I bought at little over a year old and with less than 7,000 miles with Seat UK being the first owner. It is now over four years old and at 30,000 miles. In that time, I have to commend the accomplished and solid handling of the car. The car never feels unsettled in corners and the particular engine in my car has ample torque and power for even more spirited drives. Splitting hairs, the ride is a little hard, but that was expected when I bought the Sport model.

The quality of the interior is impressive; it is simply an Audi inside and out. The level of equipment is staggering and I personally find the sports seats very supportive. The drivers' seat of the Exeo is a very comfortable and enjoyable place to be. In fact, I have looked at the new Toledo in comparison and the interior has nowhere near the quality feel of the Exeo.

I prefer budget brand tyres and have long since replaced the originals at the front at 13,000 miles. Now at 30,000; the replacements still have lots of life left. Also, with RFL at £110, it's not an expensive car to run.

The down sides I have found are that the back seat area can be a little snug but my car is a 2009 model and the seats were changed after this. That and the MPG figure I have seen returned are between 35-40, with my driving being a near equal mix of motorway and town. Family and friends have other VW products, a Golf and a Jetta, with (allegedly) the same engine but all have commented on just how powerful the Seat feels in comparison. Having driven both, I prefer the extra power in the Seat and am content to accept the economy figures.

Now that I've considered a car change and been offered a silly amount for the Exeo it looks like I will be keeping it longer…and I couldn't be happier.
reviewed by Bycro on 24 March 2013
Write your review
About this car
| | |
| --- | --- |
| Price | £20,040–£25,400 |
| Road Tax | C–G |
| MPG | 40.9–62.8 mpg |
| Real MPG | 87.1% |
Just reviewed...