Renault Clio (2019 on)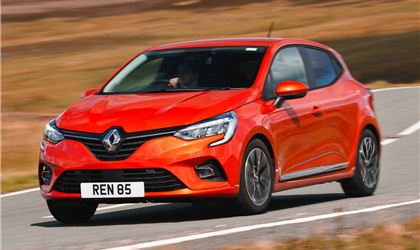 S model
reviewed by brijon on 15 March 2021
5
Tax/Insurance/Warranty costs
4
Cost of maintenance and repairs
5
Experience at the dealership
4
How you rate the manufacturer
Lots of playthings, firm ride, quite nifty, fuel consumption approx. 45mpg with auto box. Good on a long trip.
I had to wait an extra 3 to 4 months for the car due to last years Covid restrictions. I was pleased to get it as, at 80 + years of age I wanted a car to last me out my driving years in comfort so I opted for the 1.3 automatic S version which basically gives you the RS minus some cosmetic and seating options.

The main thing which has struck me are the electronics. As someone who traded in a 7 year old Merc B Class to get this car I was surprised at the numerous controls which are selected either through the infotainment screen or steering wheel switches. After a year I am still not au fait with all the selections. However I am not one to sit in the car going through the guide books.

Which brings me to question why manufacturers put out a single info book for all models of a vehicle? By the time you have flicked through pages to find your particular model you have lost the will to live!

Driving the car is a pleasure. There is plenty of oomph even when two people have plenty of luggage. We have not carried any passengers on long journeys but we did go down to West Cornwall from Dorset pre last lockdown and the car behaved well. The infotainment screen has controls for Satnav, radio, car systems etc but the air conditioning has its own three dial control which makes it very easy to get the internal climate you desire.

One thing has caused me a little anxiety. The electronics. The car failed to start one morning and under the RAC/Renault recovery a new battery was fitted which appeared to fix the problem. However subsequent to this there have been several glitches in the instrument panel, speedo disappearing, dim lighting and other annoying instances which have usually cleared themselves. The RAC man who attended me the second time simply undid the main battery connection, reconnected it and solved the problem.

I have discovered that on getting into the car let the keyless system fully connect to the car indicated by the info screen and instrument panel fully displaying and these problems do not occur.

The ride is firm, a bit on the sporty side, but it matches the car's performance. It is easy to park (rear camera), reasonably frugal which may improve with time as I have only covered 4000 miles from new due to Covid restrictions.

To finish Renault have recently changed to a 5 year warranty with a 3 year free breakdown recovery so for the next few years all the main problem areas seem to be covered.
Write your review
About this car
| | |
| --- | --- |
| Price | - |
| Road Tax | A–E |
| MPG | - |
| Real MPG | - |
Just reviewed...