Porsche Panamera (2009 - 2017)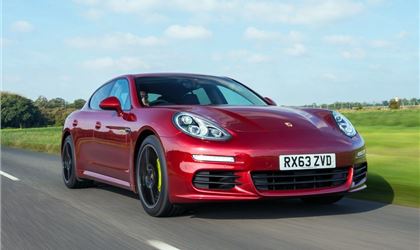 Panamera S e-hybrid
reviewed by Anonymous on 1 October 2019
2
Tax/Insurance/Warranty costs
3
Cost of maintenance and repairs
4
Experience at the dealership
5
How you rate the manufacturer
Wonderful.
I think this car (in Rhodium Silver) looks stunning. The rather 911 looking 2016 rear end with its clean lines looks much better than the latest Panamera design, which reminds me of an Audi rear - I think the newer model has lost that classic Porsche 911 look.

The e-hybrid is definitely the way to go, for the next few years anyway. I recently parked for 8 hours in central London (Borough of Westminster) for 56 pence, because of the electric plug-in label and there's no congestion charge. There is no road tax to pay either.

On a long run I can get over 40 mpg at motorway speeds. Driving locally I can get 39 mpg easily. The tank when full, combined with electric power usage gives over 600 miles range - unbelievable.This car is a Grand Tourer par excellence. The ride on the air suspension is wafting, while the sport button awaits to convert the car into a speed machine. I much prefer all the buttons, readily to hand, to navigating around a computer menu - so distracting. I have come straight from owning a Boxster S so much of the Panamera is familiar - the controls, instrument layout, satnav, multi-media etc.

The interior is very comfortable and the two back seats are like two front seats for space and comfort.

This car, with its substantial road presence is a joy to drive - slowly or quickly.
reviewed by the1beard on 13 November 2010
Write your review
About this car
| | |
| --- | --- |
| Price | £60,272–£132,092 |
| Road Tax | A–M |
| MPG | 22.6–91.1 mpg |
| Real MPG | 60.9% |
Just reviewed...