Peugeot 308 (2014 on)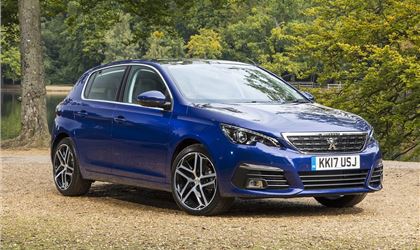 1.2 Puretech 130 Allure EAT6 Start+Stop 5dr Hatchback
reviewed by Meteiro on 13 October 2019
4
Tax/Insurance/Warranty costs
3
Cost of maintenance and repairs
5
Experience at the dealership
2
How you rate the manufacturer
Great small family car with punchy engine, shame about the breakdowns...
We've owned this for nearly three years as a second car and overall happy with how it drives.

Pros:
- 1.2 130ps petrol engine is a little gem, especially when the sport mode is engaged.
- Reasonable economy for a torque converter petrol auto used mainly on shorter trips.
- Comfortable over longer distances.
- Cheap to buy, tax and insure for what it is.

Cons:
- Too small inside for a family hatchback.
- Economy not brilliant given it is very light and a 1.2
- Had an engine failure due to manufacturer defect under 4 years old
- Have had lots of other small reliability issues

Overall a great car let down by constant breakdowns.

UPDATE: I experienced a number of breakdowns in the car, which necessitated transporting to dealer. Ended up being a cracked injector head. Fixed under warranty, though they misdiagnosed it twice.

Whilst they did fix it, and happily has done another 10k without incident, it does make me wonder how long the car will last.

Also, rear suspension making squeaking noises, turns out it needed a recall for beam modification. Heard absolutely nothing for months, and when I chased was told "awaiting news from Peugeot". In the end I went to the dealer in person and was told the fix had already been done once before I bought the car and there was no need to do it again according to Peugeot (we bought it nearly new).

So effectively the beam had failed within a year, and then 'failed' again after that, and apparently this time it was safe. Disappointing that we had to chase for the confirmation, and very confusing explanation. Not feeling the confidence Peugeot...

Great car, bit fragile.

UPDATE: recent engine failure which was traced to manufacturing defect. Replacement with superb support from dealer.
reviewed by Mark Sperrin on 12 October 2019
reviewed by A.Ward on 5 February 2019
reviewed by Christopher Brougham on 23 December 2018
reviewed by Anonymous on 20 July 2018
reviewed by Anonymous on 12 June 2018
reviewed by Anonymous on 15 March 2018
reviewed by CC1 on 13 February 2018
reviewed by Anonymous on 13 September 2017
reviewed by Reginald Darge on 14 June 2017
reviewed by mailliw88 on 8 December 2016
reviewed by Aistwulf on 20 August 2015
reviewed by Devonducky on 5 April 2015
reviewed by Anonymous on 5 January 2015
Write your review
About this car
| | |
| --- | --- |
| Price | £23,014–£24,114 |
| Road Tax | A–E |
| MPG | 48.7–91.1 mpg |
| Real MPG | 72.3% |
Just reviewed...