Peugeot 206 CC (2000 - 2007)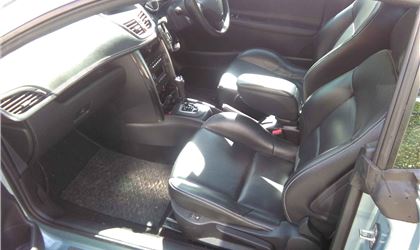 207cc VTI Auto 1.6 Allure
reviewed by Skinhead on 3 May 2017
3
Tax/Insurance/Warranty costs
2
Cost of maintenance and repairs
3
Experience at the dealership
2
How you rate the manufacturer
Fun but expect the unexpected.
Having owned this car for nearly five years I have had to come to the conclusion that Peugeot and French cars on the whole are still plagued with electrical gremlins and faults. I will list the problems that it has suffered and in some cased recurring:-

1: Failure of the auto box, various warning lights came on and it proved to a major bug in the software that Peugeot charged £260.00 to clear and reprogram. No more fault on this.

2. Tyre Pressure Monitor System (TPMS) is pretty useless, gives false alerts and when I did have a actual flat it said nothing! Ongoing fault. I have now had this disabled!

3. Constant problems with the Pollution management system the message "Pollution System Faulty". This can be cleared after a blast down a motorway at 70mph in 3rd gear for fifteen minutes.

4. Air con failure at 38000! Worked one minute and not the next. This is on-going problem with various garages trying to resolve. Reasons told are anything from a faulty compressor (checked out ok), dodgy wiring (likely) or a fault sensor (most probable). On Going. Also the a/c will blow a small quantity of warm air regardless of settings! This is now fixed with a new expansion tank at the cost of £430.00!

5. Discs totally shot at 39000 even though I am not heavy on the brakes and barely go above 60mph. Also pads needed doing twice. Cost £1023 inc a service!

6. Oil burning. Despite been serviced every 10000 miles it burns a good pint oil every 2-3 months.

7. Tyres...eats them despite driving carefully. As these are special low profile 17" tyres that are over £500 for a reasonable set.

Other than that...it ain't too bad but don't expect a race car with the auto box. Go for one with cruise and limiter. Mine has heated leather seats and the country light "see around" corner headland which is perfect for country roads. 2 seater only. Back seat for luggage only. Dreadful MPG around town (expect 20-25), Motorway is ok at 37-46mpg.

New faults on this include seized front brake caliper and the upgrade of the wiring loom which can get trashed with oil from the engine sensor. With the Prince engine this is a common problem and it can be fixed using the purpose made repair kit from BMW/Mini which uses the same loom.

I would recommend you service it every 10k miles. Also changed the auto fluid every 30k.
reviewed by dave46 on 28 April 2012
reviewed by nam on 4 November 2011
reviewed by zoco on 26 September 2011
reviewed by mare on 21 May 2010
Write your review
About this car
| | |
| --- | --- |
| Price | £14,145–£15,870 |
| Road Tax | D–K |
| MPG | 32.8–57.6 mpg |
| Real MPG | 92.0% |
Just reviewed...