Nissan Qashqai+2 (2008 - 2014)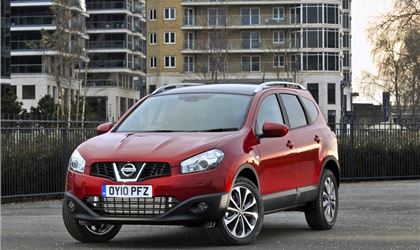 2.0 dCi n-tec+ 4WD Auto 5dr
reviewed by Anonymous on 2 March 2021
3
Tax/Insurance/Warranty costs
4
Cost of maintenance and repairs
5
Experience at the dealership
4
How you rate the manufacturer
Very Practical Family car.
When I retired in 2013, I had to hand back my company car and buy my own car, the first one since the 1980's, which was quite a shock. I drew up a list of what I wanted in a car, with practicality top of the list. The Qashqai+2 ticket just about all the boxes at the time. The 2 litre diesel Automatic is lovely to drive, and the auto box is the old style torque convertor type, which I much prefer to the later Nissan CVT, which I wouldn't touch with a barge pole! For a 2010 car, it has lots of modern features such as Sat Nav, blue tooth, USB sockets, reversing camera, heated folding mirrors, a lovely panoramic glass roof the list goes on. Its roomy inside being slightly larger than the 5 seater Qashqai. The two seats in the boot are really only suitable for children, but we have used them a lot, and they fold in to the floor when not in use, giving a decent sized boot space. There is also a space saver spare wheel under the rear floor, which stays clean as its inside the car. The car is not the most nimble to drive, but then its a medium sized 4X4. It normally runs in 2 wheel drive, and the other options are "auto" and "lock". We also tow a two berth caravan with it, and with its 150bhp, it has no problems at all. I've now owned the car for almost 8 years, and its been totally reliable. Never broken down, never failed to start and apart from routine servicing, has never had an issue. Its now got 100,000 miles on the clock, so I'm pretty pleased with that. As with all vehicles there are downsides, so I'll list them honestly. The engine although it has plenty of power, is not the quietest around. Once up to speed, its OK, but around town its noisy. The steering seems heavy to me, but they are rather fat tyres I guess. Being a 2 litre diesel automatic, fuel consumption is not great. 32mpg around town and I'd guess about 39mpg on a run. This is probably made worse by the automatic gearbox, which although I like it, doesn't seem to get in to 6th gear until you are doing 75mph, which of course is above the legal limit! Bad design by Nissan there. Overall I've loved the car, and its going to be a difficult choice when it comes up for replacement, but for now I'll keep it going and enjoy it.
reviewed by Anonymous on 13 January 2021
reviewed by Aron Nichols on 2 January 2017
reviewed by mainlygrey on 16 April 2014
reviewed by Anonymous on 2 January 2014
reviewed by HIREC on 14 February 2011
Write your review
About this car
| | |
| --- | --- |
| Price | £18,145–£28,850 |
| Road Tax | D–K |
| MPG | 32.8–60.1 mpg |
| Real MPG | 87.0% |
Just reviewed...