Nissan Primera (2002 - 2006)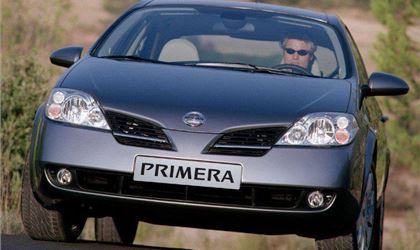 1.6 16v Visia 5dr Hatchback
reviewed by Anonymous on 23 January 2019
4
Tax/Insurance/Warranty costs
3
Cost of maintenance and repairs
3
How you rate the manufacturer
A step backwards from the P11
I own two Nissan Primeras, 1997 P11 1.6 and a 2003 P12 1.6.

The P12 is a spacious and a special car with its whale looks, distinctive dashboard and a reversing camera, but compared to the P11 thats about it.

The P12 lacks the quality and sturdy feel of the P11, the dashboard material are cheap and rattly "bucket plastic," the drivers seat is very uncomfortable you simply cant get a good seating postion and for my back its a hell on longer journeys, whereas the P11 is a joy to sit in even on plus 1000km daily drives.

Another dissapointment with this care is how it drives and handles, while the P11 is an impressive drives car with excllent handling thanks to its multi-link suspension(this car corners very well with next to no body rol) The P12 is a completely different story, it drive OK on smooth highway roads, but it gets very bumpy and shaky at slow speeds, over pot holes and on B roads, there is a lot of body roll when cornering, and the rear end of the car does not feel very well planted to the road.. so to sum things up this car is by no means a drivers car like the P11 is.

Reliability wise i cannot commet much yet since i have purchased this bargain (500£ @172.000km) but the front end makes a squeak when turning left or right, the temp gauge is not very stable (might be a faulty thermostat), the previous owner spent 350£ to get it past the MOT due to high emission, lambda sensor and CAT changed.. Things that have not been changed on my P11 and it has more KM´s on it, actually in 5 yers the P11 has needed only one battery and a set of new tyres(!)

The 109hp 1.6 engine is very gutless in this size of car, but seems to be the most reliable of the 3 gasoline engines (1.8 suffers from very high oil consumption and timing chain issues, 2.0 suffers from timing chain issues).

The P12 is an OK family car if you find a cheap one and you dont care too much about drivability.
But this car along with the Almera & Micra started the downfall of the reliable and sturdy old Nissans, after the renault partnership, reliability whent down as well as quality and drivability, so do not expect too much from this car.
reviewed by Warning on 5 April 2016
reviewed by cameltoe101 on 5 June 2014
reviewed by bobbignose on 18 November 2013
reviewed by Anonymous on 28 October 2013
reviewed by MidnightOil on 22 October 2013
reviewed by roadpilot on 12 November 2010
reviewed by MrTG on 24 July 2010
Write your review
About this car
| | |
| --- | --- |
| Price | £15,495–£19,295 |
| Road Tax | I |
| MPG | 38.2 mpg |
| Real MPG | 92.9% |
Just reviewed...