Ford Galaxy (2015 on)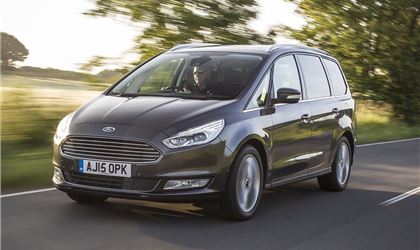 2.0SCTi EcoBoost 240 Titanium X Auto 5dr Large MPV
reviewed by biomag15 on 13 October 2018
4
Tax/Insurance/Warranty costs
4
Cost of maintenance and repairs
3
Experience at the dealership
4
How you rate the manufacturer
Comfortable, luxurious and spacious family car
Bought the car used as a nearly new, an ex-mgmt car with very low milage, still smelled new really. 1.5yrs later we still love it. Lovely beige leather interior is standing up well to three kids (granted we did get seat protectors to put under the kids' car seats). We did look at various other MPV & SUV options, but this was the only car that felt spacious enough with 7 full size comfortable seats, especially its second row with 3 individual seats allowing enough room for larger kids car seats. The sunroof is a must, makes such a difference brightening up the cabin, especially for the middle row. Last year we did some serious renovations to the house and the car came in very handy to lug larger items around. Just so practical. I think design wise it also looks good, granted it's the mini cab mpv of choice around London but in our spec (dark green with beige interior) it does differentiate itself form those.

Gearbox can be a bit hesitant, but you learn to use the paddles to take over when you need to (yes, paddles in an MPV!). The 2.0 liter turbo-petrol has plenty of punch, gives lots of confidence and suits the relaxing nature of the car. We did own an older version with the lower powered 1.6 (now 1.5) liter petrol and that really lacks power IMHO. Plus the pain of constantly changing gears living in busy London. You do feel the weight of the car though. Last summer drove a hybrid Mondeo and that felt like a feather compared to the Galaxy. Weirdly enough I feel it disguises it's size quite well, is nice to drive and dare I say a touch sporty too. Ford has managed to maintain a certain character found in the Focus and Mondeo which is great.

So far it's proven reliable, feels very well put together (way better than the Mondeo we drove) we chose a petrol because we don't do many miles anyway. So here comes the only real downside, mpg... As we live not centrally but still within a busy London area, there's a lot of urban driving and this car loves petrol. We average 20-25mpg but longer motorway journeys have been able to get 39mpg. All in all, suits us perfectly and feels like a premium vehicle in this spec without the cost of a premium badge.
reviewed by ThwartedEfforts on 8 May 2018
Write your review
About this car
| | |
| --- | --- |
| Price | £28,000–£41,195 |
| Road Tax | D–I |
| MPG | 35.8–56.5 mpg |
| Real MPG | 68.8% |
Just reviewed...