Ford Focus ST (2015 - 2018)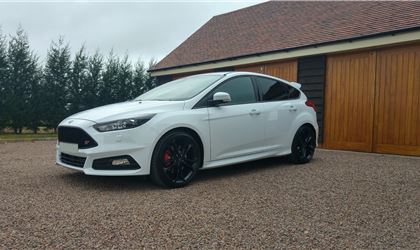 2.0 185ps TDCi Powershift Automatic
reviewed by Captain Splash on 15 September 2016
4
Tax/Insurance/Warranty costs
4
Cost of maintenance and repairs
5
Experience at the dealership
5
How you rate the manufacturer
Simply Excellent, engaging, dynamic and fun
She's a ST3 TDCi in Frozen White with the black style pack (19 inch rims) and looks totally badass, I may be an old guy of 50 but that doesn't mean I don't want a head turning car. Everytime i park up at the local retail park i get comments about how nice she looks. My previous car was a 2015 Mondeo Titanium (178'ish bhp) and the ST3 feels far faster and is much better to drive, the steering is responsive and direct and the sensation of speed is intoxicating.

I was a little nervous "dropping down" to a Focus from the Mondeo but I needed have worried I think the ST3 is a far better car. I miss some of the toys in the Mondeo but once you engage the right foot all of that is forgotten.

I've never been a "Automatic" guy but a problem with my left knee forced the move as using a clutch (especially in traffic) was being coming a problem. Oh boy I'm I glad I bought it. The DCT is a total killer. In normal driving its great, its quick, responsive and smooth. But drop it into Sport Mode and by Christ does it come alive. The already great engine note changes and you feel the engine change its characteristics. It revs higher and it holds on to each gear for longer. Driving purists may scoff but that's their problem not mine. I've timed a 0-62 at about 7.2'ish seconds (Gearbox and ESC in Sport mode.) The wife was timing so that may not be totally F1 standard timing but needless to say it's damn quick. In this mode you can also drive it using the paddles on the wheel to change gears using what Ford call "Select Shift" which is pretty fun. Also having the paddle on the wheel means that even in "D" mode mode i can still drop a couple cogs, get the revs up and nail the overtake. Huge fun.

The 19inch wheels provide a firm ride and on the UK's rubbish roads it can be a little harsh, indeed there are some local roads I avoid totally now because they are simply horrible to drive on, patch works of badly rutted tarmac and potholes you could lose a child in.

While there are a few cheap plastics round the cabin (especially lower down) the overall build quality is better than the Mondeo (which had some strange panel fit issues both inside and out), maybe the German factory is better than the Spanish one? But what people never say (including reviewers) is that all cars are built to a budget and i would rather that Ford spent their budget on the driving dynamics of the car than pointless stuff in the boot and another cup holder. I bought the car to drive it and in those aspects you can't fault it.

Would I recommend the ST3 TDCi auto? I sure would. It's a fantastic car that makes me smile every time I press the start button.
Write your review
About this car
| | |
| --- | --- |
| Price | £22,945–£29,080 |
| Road Tax | B–G |
| MPG | 41.5–67.3 mpg |
| Real MPG | 69.2% |
Just reviewed...