Ford Focus ST (2012 - 2015)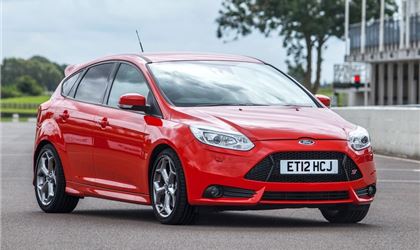 ST3 2.0T 250 5dr Hatchback
reviewed by trevob on 2 January 2015
3
Tax/Insurance/Warranty costs
5
Cost of maintenance and repairs
5
Experience at the dealership
4
How you rate the manufacturer
Subtle boy racer car with family flexibilities marred by poor traction control
Have had my ST3 for 10 months now and I am just coming up to 22,000 miles. For someone who does this sort of mileage there are obvious gripes about fuel economy and the firmness of the ride but let's face it you don't buy an ST for fuel economy or a magic carpet ride.
That said I have averaged just less than 35mpg - my working day consisting of about 50% motorway/dual carriageway and the remainder in traffic or on country A roads - the ride has to be firm but it isn't bone-jarringly so - and it's reasonably quiet when you stay away from the sound symposer. The first service was £180, tyre wear has been very reasonable.
The performance is very strong, overtaking can largely be done without shifting gear due to the substantial amount of torque and this is particularly useful on the motorway - A road overtakes can be undertaken swiftly and safely with complete confidence.
From a practical perspective the 5 doors are very handy as I have two young children (as is the wipe clean windsor leather on the ST3). Ford's Quickclear windscreen is excellent as are the heated front seats.
There are downsides - the much reported traction/stability control issue means that any hard acceleration in first gear sees you bouncing up the road and in wet weather just sitting there whilst you perform some sort of fast and furious style burnout. You get to learn to live with it and modulate your driving but it can be unnerving when it first happens - turning off the system completely makes it much nicer to drive but that in itself is a bit of a faff.
I believe this has been sorted out with the latest face lifted Focus with new software but unfortunately my local dealer was not able to retro-fit the fix, which is a real shame.
I would recommend this car to a friend, but only the fixed version. That said - the savings on buying secondhand are really quite substantial.
Write your review
About this car
| | |
| --- | --- |
| Price | £22,295–£25,795 |
| Road Tax | H |
| MPG | 39.2 mpg |
| Real MPG | 77.1% |
Just reviewed...