Ferrari 612 Scaglietti (2004 - 2011)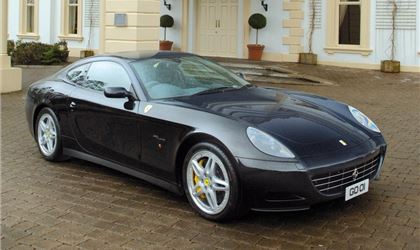 Scaglietti 2dr Auto Coupe
reviewed by PeterAG on 14 December 2013
1
Tax/Insurance/Warranty costs
1
Cost of maintenance and repairs
3
Experience at the dealership
4
How you rate the manufacturer
Owning this car is like having a torrid romance with a tempestuous woman
This car is rewarding and frustrating in equal measure.

It has magnificent lines and an absolutely stunning presence, especially in the all black version I have. It is low slung, sleek and long (and wide!). The sound of the engine at high revs is magnificent and the sports exhaust is outrageously noisy, especially fun when driving through tunnels or down high streets dropping down a gear!

Its performance is absolutely jaw dropping. Despite weighing in at 2 tonnes, this car handles like a sports car half of its size; it is truly amazing how they have engineered a car of this size to handle like it does. They achieve a near perfect weight distribution by placing the gear box in the rear of the car and mounting the engine about 2 feet back from the front, where it sits over the front axle.

If I had a complaint about the handling it would be that the steering is a bit lighter than needed for this car: great for long distance driving (which is what the GTs are all about), but needing a little bit more feedback through the wheel if you are driving it like a sportscar. You get used to it, though.

Its acceleration is mind numbing and quite difficult to get used to if you have never owned a supercar before. But, once you are used to it, it can transport your driving experience to another level. Braking is no problem at all - I cannot see how the carbon ceramic brakes are a good option for everyday driving.

Opening the bonnet up to reveal the V12 is one of the most enjoyable things to do with the car! Seeing that red-trimmed engine sitting there is a sight to behold.

The rear end is nicely styled, with a small lip on the boot lid acting as the rear spoiler. But the boot itself, an electrically operated mechanism, is a pain because it regularly does not work. Boot space is okay, especially if you buy the absurdly priced fitted luggage. But soft bags work just as well as these!

Inside, the cabin is elegantly understated with an aluminium fascia and leather everywhere. Yes, you can bling this car out terribly so that it looks blowsy, but why spend all that money for a car to look like a dog's dinner? It is a very comfortable living space and, whilst the back seats will accommodate adults, it would be better to rotate passengers if on a long journey. I found the seats tapered off to the top, which meant they were quite narrow.

The Bose music system is unparalleled. You are absolutely immersed in sound, although it is a crime to have the music on with the symphony of sound emanating from the front and rear of the car!!

Now the negatives: a car this expensive should not be so unreliable. There is so much computer wizardry going on that something is bound to go wrong regularly and it does. Then, on comes the warning light, which does not help you differentiate from minor problems and major issues. You are just constantly nagged to go to the nearest dealer and get it sorted out, even if it is not a major fault.

The major problem I faced was that the engine was losing compression. Eventually, Ferrari replaced it under my (thankfully) extended warranty, as they had never experienced that problem with one of these engines before. The new engine is fine, but that fear of the car's unreliability has never left me.

Replacement parts are horrendously expensive. I replaced the suspension arms and was faced with a bill that amounted to the same cost as a small new car.

Owning these cars is truly a love affair. They intoxicate you and frustrate you at the same time. I love mine and can never contemplate getting rid of it. Its ridiculously low second hand value is completely out of kilter with the value the car has to me personally.

These are a great buy when most of the depreciation has been incurred by others! To drop from 220k to 60k in 4-5 years is astonishing. For that money, you get a true super car for the price of a top end Audi. I know which one I prefer.
reviewed by mdg on 16 March 2013
Write your review
About this car
| | |
| --- | --- |
| Price | £222,387 |
| Road Tax | M |
| MPG | 13.8 mpg |
| Real MPG | - |