Citroen C4 2011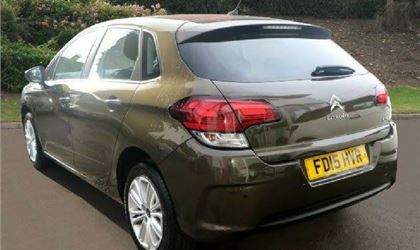 1.6 BlueHDi 100 Feel 5dr Hatchback
reviewed by Les Norman on 9 May 2017
5
Tax/Insurance/Warranty costs
4
Cost of maintenance and repairs
4
Experience at the dealership
4
How you rate the manufacturer
Amazing value for money as a used car
I think the Citroen C4 is an excellent choice for people who do not want to pay a premium for 'cool,' so for example they buy a quality Android phone instead of an i-Phone and find that it does everything they want, and does it only milliseconds slower than the Apple model. They save hundreds of pounds.

In the same way the Citroen C4 is for drivers like me who don't wish to pay a premium of thousands of pounds more for the latest model Golf, Focus or Astra. With the Citroen C4 we find that we have almost got everything we would want from the latest models from Ford, VW and Vauxhall and perhaps a little more as well and spent a lot less cash.

I wanted the latest clean engine, some performance, a lot of economy, low mileage, a private owner and not pay any road tax. After a lot of research and then quite a lot of looking and road-testing, I found a Citroen C4 1.6 HDI Feel at a price that made me look twice.

The professional road-testers unfavourably compare the C4 with the Golf, the Astra and the Focus, which is perhaps fair comment if comparing like for like at new list prices. However they fail to take into account that the market-leading models cost many thousands of pounds more new and more importantly for me, used as well. The truth is that the majority of normal road drivers and commuters like me have little concern for ultimate cornering power and a second less or more in reaching 62 mph is never an issue. Getting up to 30 or 40 mph on congested roads is much more of achievement for most of us. However, if you read the owners reviews, the story is quite different with almost universal scores of four and five star comments.

I found my Citroen C4 Hatchback with 11,000 miles on the clock, just over 18 months old with one private owner, full service history and totally unmarked. The price reflected a massive more than 50% saving on the £18,600 list price although that would be discounted by a couple of thousand in most Citroen dealers. Still a huge saving and thousands of pounds less than any comparable used 1.6 clean diesel Golf, Focus or Astra.

The car comes with air conditioning, climate control, cruise control, metalescent paint, a DAB radio, alloy wheels, and a huge boot that will take my camping equipment or my grandson's pram with ease. It is very comfortable, quiet and smooth at motorway speeds and the lower gearing is pretty good for town driving as well.

I am getting an average 61.3 mpg without even trying.

On the downside, the driving position is typically French and it takes a week or so to get used to. The rear suspension is not the latest design and will make itself heard over serious holes or humps in the road and this is where the latest Focus, VW and Astra will win. Leg room in the rear would be lacking if both the driver and the passengers were long-legged tall people, but for people of average height and for ladies there is no problem at all. I am talking about the rear seats only, there is massive space in the front.

OK, the car is not 'cool,' and turns no heads, except mine which nods up and down to myself, saying, "Yes, I made the right choice." I can have a nearly new car, pay no road tax, get 61.3 mpg, travel in silence and comfort and still have a holiday this year as well.

Have I done OK ? What do you think ?
reviewed by Dacul on 28 December 2016

reviewed by ciaran1602 on 22 July 2016

reviewed by Anonymous on 7 April 2016

reviewed by OllyCiroen on 21 July 2015

reviewed by legionnaire on 14 April 2015

reviewed by Anonymous on 29 January 2015

reviewed by JDM on 20 June 2014

reviewed by BigJohnD on 28 May 2014

reviewed by gallivanting guy on 17 March 2013

reviewed by stefanpanzer on 17 October 2012

reviewed by alz69er on 14 September 2012
Write your review
About this car
| | |
| --- | --- |
| Price | £15,595–£21,550 |
| Road Tax | A–G |
| MPG | 40.9–85.6 mpg |
| Real MPG | 78.4% |
Just reviewed...