Citroen C4 (2004 - 2010)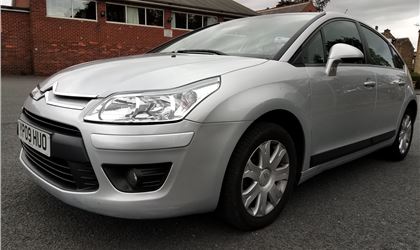 1.6hdi 90 airdream plus hatchback.
reviewed by Anonymous on 27 July 2018
4
Tax/Insurance/Warranty costs
2
Cost of maintenance and repairs
3
How you rate the manufacturer
Brilliant engine, rubbish suspension and in-car electrics.
The car has now done 162000 miles ,it had 118000 on when I bought it and the engine hasn't been a minute's bother,pulls well very economical 47mpg around town and up to 72 MPG on the motorway.and very smooth and quiet for a diesel. The gearbox isn't too bad either the only criticism I can make is that fourth year can be a bit hard to engage sometimes when changing down from fifth.
The bodywork and finish are very good too, only problem being the paintwork on the front edge of the bonnet is bubbling up a bit, otherwise excellent, still cleans up like new..
Suspension wise it's a different story,too hard and bang's and jolt's over pot-holes , feels like the engine's going to drop out, the only way to improve things is to reduce the front tyre pressure by three pounds per side which helps but then the tyres wear unevenly.
Inside the car the trim's ok but the front seats need more padding, can get very uncomfortable on long journeys.
The cruise control seems to have a mind of its own,you can set it and it will cut out for no apparent reason sometimes you can reset it on the move sometimes it won't reset until you turn the engine off and on again sometimes it sticks on pause, weird.speed limiter works perfectly. Drivers side switch for passenger window has a mind of its own as well.
Excellent brake's but the pedals are too close together for my big feet.
Overall,not too bad.
reviewed by C4 owners on 27 March 2015
reviewed by Anonymous on 23 February 2015
reviewed by witchcraft on 10 January 2013
reviewed by Ben G on 7 November 2011
reviewed by nikosc4 on 10 March 2011
reviewed by BigJohnD on 1 September 2010
Write your review
About this car
| | |
| --- | --- |
| Price | £12,050–£19,295 |
| Road Tax | C–J |
| MPG | 31.7–64.2 mpg |
| Real MPG | 85.4% |
Just reviewed...