Citroen C1 (2014 on)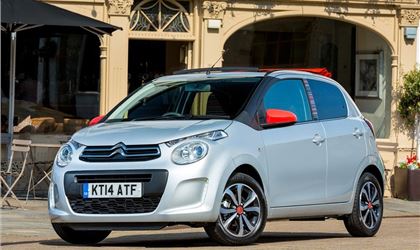 1.2 Puretech 82 Feel 3dr Hatchback
reviewed by Dovile on 10 May 2018
5
Tax/Insurance/Warranty costs
4
Cost of maintenance and repairs
4
Experience at the dealership
4
How you rate the manufacturer
highly recommended to those of you after an a-segment microcar.
please find a review for april 2016/'16' reg mk2 citroen c1, with 1.2 82ps euro 6 engine. i initially posted a review in august 2017....unfortunately our little car was written off in a hefty accident in may 2018, so i think it's a good time to recollect and summarise the (sadly, brief) ownership experience.

* psa 1.2 82 engine, 5 speed manual
* scarlet red; the only no-cost option paint colour at the time.
* 3 door hatch bodyshape
* length of ownership: april 2016 to may 2018
* mileage in the 25 months: from 10 miles on clock to 63,408 miles


PROS
* no faults, mechanical or electronic - good for high mileage user like us, relying heavily on car for work purposes
* easy lifetime fuel economy of 55mpg calculated, despite 'eager' driving style of two primary users
* very nippy - 10.9sec 0-62mph, according to the brochure. surely feels plenty sufficient.
* £7,000 for pre-reg car, with the bigger 1.2 engine, bought at less than a month old.
* small car, at under 3.5m long and a smidgen over 1.6m wide.... comfortably fits in our double garage which is stuffed with other household toot.
* being a tall female driver at 1.93m (6'4), i found comfort perfectly acceptable.
* feels more robust inside and out, than previous generation of c1/107/aygo.
* tech - touchscreen works well with my husband's iphone 4s, though he isn't one to be distracted by the touchscreens or music systems anyway. it won't link up with my samsung s7, but no big issue, as i too do not appreciate such distractions when driving.
* just an honest, uncomplicated machine.


CONS
* mid-level 'feel' level c1s like ours come with garish/brightly coloured 'ZEBRA SUNRISE RED' theme seats trim.
* awful looking blackened a-pillar styling treatment that seems to be applied to more citroens these days. PLEASE STOP!, IT LOOKS TERRIBLE! on the c1 it's mostly flat black vinyl, and a small amount on black plastic at around the wingmirror height level. we'd peeled all said vinyl off and had the remaining plastic corners 'colourcoded' (smoothed over and refinished in body's colour paint). looked all the better for it.
* boot space is.... 'modest' compared to most rivals, such as suzuki celerio, kia picanto, hyundai i10 etc. however i won't be too critical on this point- we knew what we were getting into when buying this car. husband also owns a 2013/13 previous generation peugeot 107, which is even smaller in this regard.
* tyres! not so much choice for 165/60/15. also, suprisingly short durability despite little 15 inch wheels on such a lightweight (~865kg) car; particularly on the front axle!..... 23,000 miles for fronts, and rears almost gone after just over 41,000.....
* recommended servicing intervals at 1 year/16,000 mile for the psa 1.2 puretech. compared with toyota-sourced 1.0 engine variant at 10,000 mile intervals. we prefer fresh oil + filters a little more often than 16,000 miles, thank you very much. maybe something to look out for to those considering a second-hand example as a long-term bet.
* insurance group 10 for this particular engine/model combination; this reads quite high for a microcar....maybe something to be wary off a young driver without much no-claims discount. it still costs us around £250 for a year's cover for 2 drivers both under 30 years of age.


to be honest, i was really happy with this cheeky little car. for us it is a pity it was written off after barely 2 years of age. it was been a positive purchase and ownership experience for my family to date. i also make a note that after june 2018 model upgrade, the 1.2 engine option will be dropped for both this car + the peugeot 108.



i thank you for reading.
Write your review
About this car
| | |
| --- | --- |
| Price | £14,340 |
| Road Tax | A–B |
| MPG | 52.2–74.3 mpg |
| Real MPG | 77.9% |
Just reviewed...