Audi A7 Sportback (2018 on)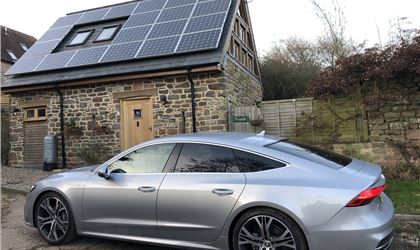 50 TDI 286 Quattro S Line Tiptronic 5dr
reviewed by Anonymous on 24 August 2020
1
Tax/Insurance/Warranty costs
2
Cost of maintenance and repairs
1
Experience at the dealership
1
How you rate the manufacturer
Worst £62,000 car ever. Avoid like COVID-19. Seriously.
This is honestly 'the' worst car we've ever owned. We bought it brand new at £62,000 on a 68 plate including extras making it also the most expensive car we've ever owned.
The car is riddled with faults to a point myself & my wife actually hated driving the car.
Positives -
1 - From most angles it was a stunning looking car. We opted for 21" wheels. See photo.
2 - The Bang & Olufsen sound system (when it worked) was immensely brilliant. Massively improved from the Bose Sound system in the Audi A6.
3 - The full interior light pack look pretty good when it was dark.
Negatives - The list of faults is so long. It's depressing me writing this as it's bringing back memories of the car.
1 - Awful build quality around the dashboard area causing constant rattles, the noise of plastics / materials rubbing together, rattling noise from behind the drivers steering wheel display.
2 - the front & rear parking sensors constantly falsely beeping at you when there's nothing nearby. It's scary and alarms causing you to unnecessarily brake you because you're about to hit something when in fact there's nothing nearby the car.
3 - B&O sound system mid range & bass intermittently doesn't work. I'd settle in for a long motorway drive and the sound system just would not work correctly. So annoying.
4 - The lane keep assist is dangerous. Seriously. On certain roads it would literally drive you into parked cars if you didn't steer the car in the opposite direction to avoid a crash.
5 - Constant fault messages when you use the indicators. You get out of the car to check and there is nothing wrong, all indicators are working perfectly yet there is a fault message on the dashboard.
6 - Absolutely awful gearbox. The worst I've ever driven in any car ever. It jolts the whole car. For example setting off from a standstill you'd expect it to be nice and smooth, Quite often instead of that you'll get a jolt and there's nothing you can do about it that is the awful gearbox. Driving along the road in fourth gear coming up to roundabout, smoothly brake down to around 20 miles an hour without stopping to go around the roundabout you'd expect the car to go into third gear but no it chooses first gear causing a huge joint to the car and a high revving noisy engine. Awful & embarrassing if you carrying passengers.
7 - Rearview camera intermittently just wouldn't activate.
8 - The emergency braking system falsely activates & honestly makes you scared. It feels like you've run over somebody or something. Hated driving that car around country lanes in case it falsely went off.
9 - In very low gears it was an incredibly noisy engine from inside and outside the vehicle.
10 - even putting all the above negatives to one side, the car is not a good drive. It really is like driving a limousine rather than an s-line Audi. There is no real positive driving experience for the driver. Considering the car cost £62,000 brand-new you'd expect a lot more from Audi. Awful car. Complete waste of our money. Never again.
reviewed by Anonymous on 24 August 2020
reviewed by Anonymous on 30 April 2020
reviewed by Anonymous on 30 April 2020
reviewed by Anonymous on 29 July 2019
Write your review
About this car
| | |
| --- | --- |
| Price | £51,700–£86,680 |
| Road Tax | Alternative fuel, C–Alternative fuel, H |
| MPG | 37.7–62.8 mpg |
| Real MPG | 73.7% |
Just reviewed...