Audi A6 Allroad (2012 - 2018)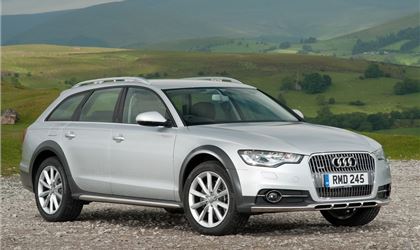 3.0 BiTDI 320 Quattro Sport Tiptronic 5dr Estate
reviewed by Anonymous on 23 January 2019
4
Tax/Insurance/Warranty costs
5
Cost of maintenance and repairs
5
Experience at the dealership
5
How you rate the manufacturer
This car with this engine is a masterpiece
I have owned two Audi A6 allroads in the last 2 years - my previous car going back after 40,000 miles and the 2 year lease was up. This car with the Bi-Turbo engine is a masterpiece. It is supremely smooth and powerful, in dynamic mode the car hunkers down and the noise that gets blasted through the cabin puts a smile on your face even if it is cheating slightly - equally you can leave it in auto and let it do its thing. I have used this car for going skiing to the Alps and for family holidays along with day-to-day business use and it performs completely as you would expect. I had zero issues with the previous car but my latest one has had a slight fault with the suspension and it had to go in for a new compressor with only 9000 miles on the clock which is slightly disappointing but it all comes under Audi's excellent warranty scheme and is dealt with quickly and efficiently.

The quality of the cabin and infotainment is excellent and is everything i need - the sports seats are supremely comfortable for long journeys. The Quattro all wheel drive tackles snow and ice with ease along with the odd muddy lane or track. I have always bought my car used with a few thousand miles on the clock to avoid the initial depreciation hit and I will be doing the same in 18 months or so, hopefully i will be able to get my hands on the new model by then. I would 100% recommend to anyone looking for a capable estate car with off road credentials but who doesn't necessarily want to follow the crowd into the SUV market.
reviewed by TETLEY on 29 September 2018
reviewed by Anonymous on 2 June 2018
reviewed by Anonymous on 1 November 2017
reviewed by Tom Craig on 29 October 2017
reviewed by ealing.pete on 28 February 2016
reviewed by Allroad driver on 6 February 2016
reviewed by DuncanEd on 14 December 2015
reviewed by ocsine on 4 September 2012
Write your review
About this car
| | |
| --- | --- |
| Price | £43,810–£58,340 |
| Road Tax | F–K |
| MPG | 31.7–50.4 mpg |
| Real MPG | 83.7% |
Just reviewed...