Alfa Romeo 159 Sportwagon (2006 - 2011)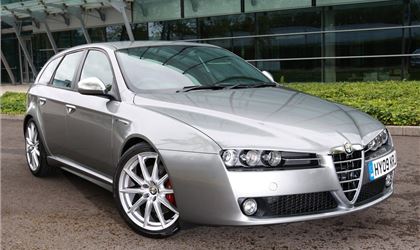 2.4 JTDm Lusso Estate
reviewed by Anonymous on 5 November 2018
3
Tax/Insurance/Warranty costs
4
Cost of maintenance and repairs
5
How you rate the manufacturer
An absolute joy!
It was a choice between something sensible (Volvo), something French (C5 estate) and the Alfa. But who said owning an estate can't be a bit of fun so I thought I'd be brave. I'm very glad I did. The last Alfa I owned was an Alfa Sud ti back in the 1970's and I loved it - it always put a smile on my face. The 159 took a bit longer to get used to but it now puts a definite smile on my face - the 2.4 200 BHP diesel is a motor of beauty - powerful and loads of torque. This car is fast, handles like an Alfa and looks like an Alfa, but it's an estate so I can get my dogs on board too.

CONS:
The Alfa is smaller than the other, and feels relatively cramped inside
The back seats don't really fold down flat and the loading sill is high for my golden retriever.
Rear 3/4 vision is simply terrible.
Not being able to open the boot without the key fob is a truly terrible idea - it really really annoys me badly
Switchgear is the normal Italian mess.
Gearchange is notchy
Air filter in a stupid location
Swirl flaps are a nightmare - remove if possible.


PROS:
Front Seats are confortable, driving position is good
2.4 is rapid for a diesel
Given the low profiles I found the road noise and ride reasonable
Handles well - weight distribution good
It really is quite fun to throw around country roads
Economical - 40+ MPG from the 2.4
Most of the electrics are still working after 10 years (good for an Alfa)
Bose sound system is a good feature

Above all it's fun - more fun than the Volvo or the Audi or the Passat - Live a little!
reviewed by The_old_pilchard on 3 August 2010
Write your review
About this car
| | |
| --- | --- |
| Price | £19,600–£30,350 |
| Road Tax | E–M |
| MPG | 24.6–54.3 mpg |
| Real MPG | 83.6% |
Just reviewed...