Our Cars: Volkswagen e-Golf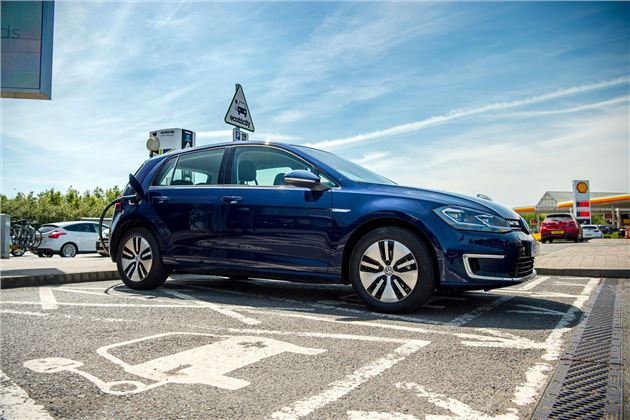 18 September 2018: How good is the charging infrastructure?
The Details
| | |
| --- | --- |
| Current mileage | 3111 miles |
| Claimed range | 124 miles |
| Actual range | 158 miles |
We've established that I can cover 160 miles from a single charge in the e-Golf, and most of the time that's plenty. I rarely drive more than that in one day but, occasionally, I need to use public charge points to top up the Golf so I'm not left stranded.
If you haven't used a public charge point, in theory it's fairly simple. You can use an app such as Zap-Map (or even the car's own in-built navigation system) to find suitable charge points. There's quite a few of them, so finding one shouldn't be an issue unless you're somewhere particularly rural.
One of the biggest problems is that there are numerous different companies operating different chargers. This means they all work in different ways, with many needing you to download the appropriate phone app to operate them.
I recently visited Peterborough city centre where, for the first time, I planned to use a Pod Point charger. Finding it was easy - close to the centre with free parking, perfect - and it wasn't being used (or, even worse, blocked by a diesel or petrol vehicle). I downloaded the app, filled in my details and plugged the car in. It looked like it was working so I locked the car and walked away for a spot of sightseeing.
Different chargers require different apps to use them. Which is a faff.
On my return, I found that the range hadn't increased at all. The car hadn't been charging. The app said it was, so I'm not quite sure what went wrong. I sent Pod Point a message on Twitter to find out why it hadn't worked, but I didn't get a response.
Pod Point's not alone in leaving me without charge. During a visit to Peterborough services, I planned to use an Ecotricity charger but it was out of order. Fortunately I was close enough to the office to limp back for a charge, but I could have been in serious trouble if I was attempting to complete a long journey.
While I'm enjoying my time with the e-Golf, the UK's charging infrastructure does sour it somewhat. It would be much better if one (reliable) company looked after all public charge points, meaning you didn't have to download various apps every time you wanted to charge your car in a new location, but that's what's happened with chargers at motorway service stations. Ecotricity operates them all and, because there's no competition, the cost of using them it extortionate.
That said, Ecotricity did come to my aid during a recent return trip to London City Airport. Bizarrely for such a central airport, there are no provisions for electric car charging while you're away for a couple of days. On my way home, I got as far as South Mimms services where an Ecotricity charge point awaited. I plugged in and went off for a Burger King, returning to find the Golf charged up to 80 per cent. The downside? The charge cost £6.93, not including burger...
« Earlier: Cracking times for the Volkswagen e-Golf Later: How can you maximise the range of an electric car? »
Updates

It's the end of our time with the Volkswagen e-Golf.

If only the Volkswagen e-Golf could be charged using Tesla's Supercharger network.

Can pedestrians hear the e-Golf? Should electric cars make an artificial noise? Andy investigates.

Andrew hasn't seen another e-Golf on the roads. Is ours a one-off?

We take the Volkswagen e-Golf on a road trip but somebody forgets to charge it first...

18 September 2018: How good is the charging infrastructure?
We love the Volkswagen e-Golf but the infrastructure isn't quite there yet.

How easy is it to find a replacement windscreen for the Volkswagen e-Golf? Andrew was all too keen to find out.

The e-Golf undertakes its longer single-charge drive. How far can it go? Andrew finds out.

So which option boxes should you tick when speccing an e-Golf? Andy has a look at what he'd spend all his imaginary money on.

If you want to buy a Volkswagen e-Golf like mine, it will cost you a whopping £37,040. Or will it..?

Andrew's getting all defensive about the Volkswagen e-Golf. You'd probably be better asking him about Brexit...

A convenient test of the new Nissan Leaf represented to perfect opportunity for us to compare it with our Volkswagen e-Golf.

Andrew attempts a longer journey in the electric Volkswagen e-Golf. It all goes surprisingly swimmingly.

Just how usable is an electric car every day? Andy's getting to grips with the UK's EV charging infrastructure.