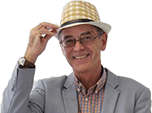 Our Cars: Renault Captur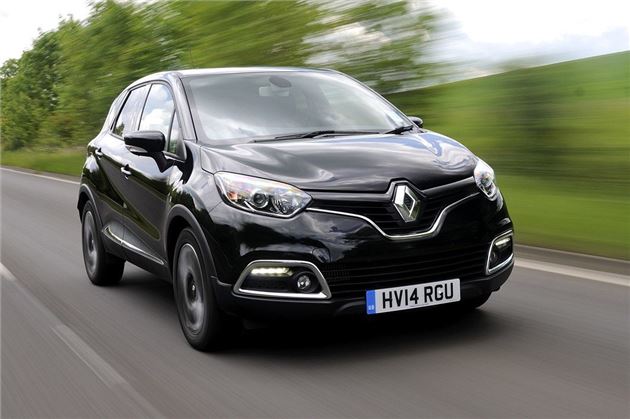 18 July 2014: Driven mad, at exactly 50mph.
The Details
| | |
| --- | --- |
| Current mileage | 5135 |
| Claimed economy | 76.4mpg |
| Actual economy | 52.1mpg |
I know I keep banging on about it, but my relationship with the Captur is still defined by this one thing: the multimedia system. Whenever I'm asked about it, my answer is always the same: "It's good, but the sat nav does my 'ead right in."

Take my last trip up to Newcastle, which is where I'm from but about 250 miles from where I live at the moment. Presently the M1 and A1(M) are enhanced by some gloriously lengthy stretches of necessary road enhancement. Mile-after-mile of skinny lanes, traffic cones, concrete boundaries, near-death experiences with inattentive lorry drivers, 15-minute overtaking maneouvres at 51mph, and despairing at people who still cannot grasp the concept of the average speed check zone. You know the type: screech to 49mph from 70-odd at every single camera. 

Anyway, these places are stressful enough without my car's INSISTENCE that it must remind me, every 30 seconds or so, that I'm driving through a temporary speed restriction zone. And the problem is, this warning cannot be switched off. It can be muted, by waiting until it's happening then turning the volume dial down during that exact two-second window of opportunity, but it cannot be removed entirely.

That's because, having turned down the volume, the system still momentarily drops the volume of whatever you're listening to in order to facilitate the now nonexistent bong. It's especially prevalent with an iPod connected, and it will do this for every last mile you're driving through any speed-restricted zone. Every gap is like being poked in the side.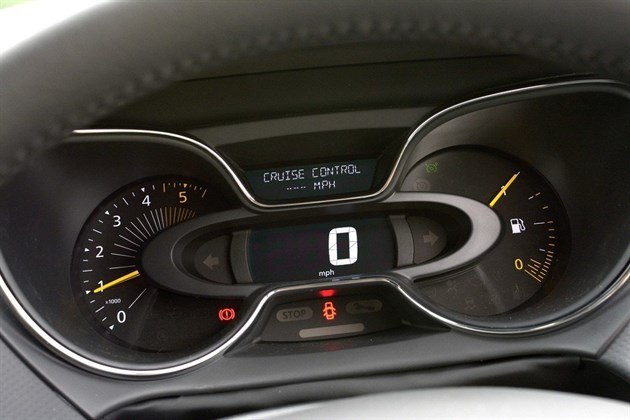 One of the few times the Captur isn't making a noise....
The only way it can be stopped is by switching the system off, and in the context of a 250-mile drive, a 20-mile silence is an unacceptable solution. Anyway, rant over. I'll stop talking about this now. Please come back.

The "it's good" part of "it's good but the sat nav does my 'ead in" is absolutely genuine. I like this car. I think Renault has, largely, done a good job with the Captur. The cabin might be too hollow and hard and monochrome for some tastes, but the flashes of gloss black – especially those in the steering wheel – are lovely and really lift it.

It's also very good fun to drive – a victory for the collective over the sum of its parts. This is, after all, a small, heavy, front-wheel drive car that's disproportionately tall and is powered by a 1.5-litre diesel engine. It should be no more suited to enjoyable driving than a pair of knee-high Dr. Marten's are to doing a marathon. But it is. Its handling is predictable, its steering light but accurate, and its grip levels generally high – a couple of minor anomalies during wet weather aside. It has that 'can be thrashed' quality that the Clio (on which it's based) always has, albeit with an obviously higher centre of gravity.

In conclusion then, the Captur is far, far more enjoyable when you're looking out of the windscreen than into the touchscreen. And that's all I have to say about that.
« Earlier: A design for life? Later: No maps found! »
Updates

Mark's time with the Captur is up. Here's the end-of-term report, including the strange disappearance of a heavy goods vehicle.

Mark gets an exclusive chat with Anthony Lo, Vice President of Exterior Design for Renault. And gets some interesting insights.

Mark has been driving several other small crossovers - like the Nissan Juke - and comparing them to the Captur.

After almost six months with the Captur things were going so well. But then a switch broke, creating a build quality storm in a teacup.

Mark is finding that overtaking National Express coaches in the Captur can be a long, drawn-out affair.

Mark is trying to improve the fuel economy of the Captur dCi engine. But without much success so far.

Mark's suspicions about a gammy SD card were correct. It had corrupted itself. And so he had to use something called a 'map'.

Our Captur has thrown its toys out of the pram and decided it doesn't want the navigation to work anymore.

18 July 2014: Driven mad, at exactly 50mph.
Mark's relationship with the Renault Captur is still defined by one thing: the multimedia system.

For a supposed family car, our Captur is lacking in cabin storage, which when you have children, is not ideal...

Mark is having a right beeping good time with the Renault Captur which is determined to remind him of everything. Always.

Our newest contributor Mark takes delivery of our newest arrival, the Renault Captur. But is it really just a new Modus?