Our Cars: Peugeot Rifter GT Line BlueHDi 100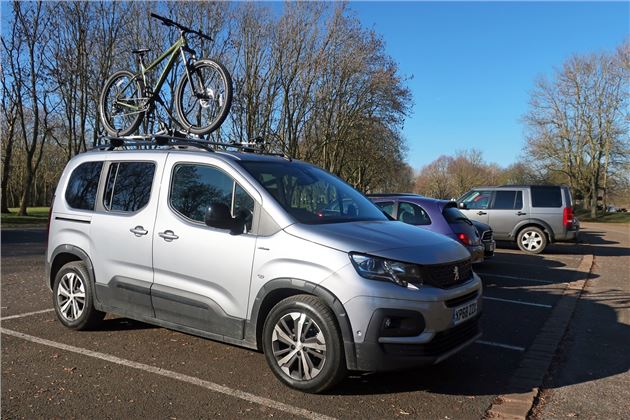 4 March 2019: The 'loser cruiser' gets an upgrade
The Details
| | |
| --- | --- |
| Current mileage | 1335 miles |
| Claimed fuel economy | tbc |
| Actual fuel economy | 49.3mpg |
The Rifter has rather cruelly been dubbed the 'loser cruiser' by some of my friends. While I love its relaxed nature, versatility and even how it looks, it doesn't appeal to everyone. And while Peugeot's attempting to market it as a Leisure Activity Vehicle, there's no denying that it's the kind of car that appeals to those of an older demographic.
In attempt to tell the world that I'm a recreational Rifter driver (and not wanting to be outdone by David's roof box), I've fitted a roof rack to the Rifter. It's the sort that'll carry bikes, meaning I can sling my mountain bike on the roof and head to the hills without compromising luggage space inside.
It's not just because I've been taken in by Peugeot's marketing material. I'm chief bike reviewer over on Honest John Kit (yes, I've given myself that job title), and that means carrying bikes around. So being able to carry bikes on the roof of the Rifter is genuinely useful.
Except, in all my excitement, there's one thing I overlooked. The Rifter's roof is quite a long way off the ground. I'm not very tall and bikes can be quite awkward (and heavy) things to lift.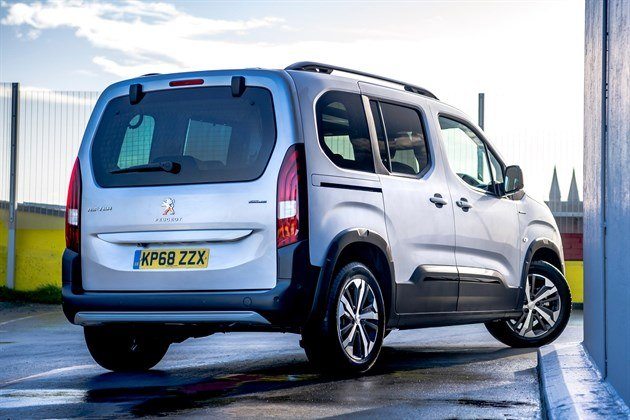 Rifter, without roof bars.
I'm not quite sure how my first attempt to attach a bike to my new roof rack didn't end with one falling through the Rifter's panoramic sunroof. It's easier with two people, but you still need to open the sliding doors and cling awkwardly to the side of the car and you attempt to lift up a bike.
If I bought the Rifter solely to carry bikes, I'd probably be calling on Peugeot to offer a ladder as part of its accessories list. The standard model is not really long enough to carry one inside (even with the rear seats dropped), and it'd be far easier to attach bikes to a roof rack fitted to a much lower car.
An estate like the Peugeot 508 SW would probably be better suited to this purpose, and is also less likely to earn a nasty nickname like the loser cruiser - not to mention be nicer to drive, have a better interior... you get the idea.
It's not all bad news, though. The Rifter's fuel economy is getting more impressive the more I drive it, now returning close to 50mpg on a run - even with the roof bars doing their best to interfere with its aerodynamics.
« Earlier: Should I have got a longer Rifter? Later: In praise of the sliding door »
Updates

Our Rifter heads to A&E after dodgy sensor causes a broken door.

Andrew drives the Peugeot 508 SW and thinks it emphasises how good value for money the Rifter is...

It's almost as slow as a Nissan Serena diesel. And that's saying something.

You'd think that the Peugeot Rifter would be a very practical family car. Not if you like coffee...

The Peugeot Rifter has a fancy way of cleaning its windscreen... but it could end up costly in the long run.

Andy looks into the meaning behind the name 'Rifter'. And thankfully it's nothing to do with plumbers...

Irritating speed camera alerts and a buggy infotainment system are spoiling our time with the Peugeot Rifter.

Remember the Peugeot 1007? Yeah, us too...

4 March 2019: The 'loser cruiser' gets an upgrade
The Peugeot Rifter is cool, insists Andy. He's even attached a mountain bike to the roof to prove this.

Andrew's Rifter is marginally too small for a Billy Bookcase...

HJ made some bold claims about the Rifter when he first drove it last year. Now Andrew's finding out how true they are...