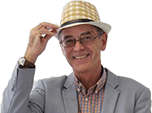 Our Cars: Volvo XC60 T5 R-Design Pro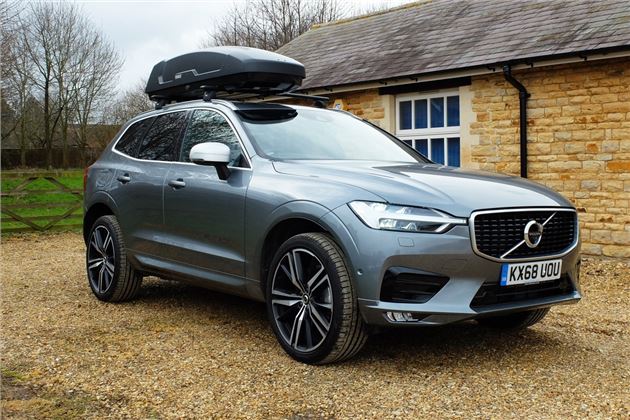 28 February 2019: It's not a true Volvo unless it has a roofbox...
The Details
| | |
| --- | --- |
| Current mileage | 3336 |
| Claimed economy | 36.8mpg |
| Actual economy | 25.2mpg |
| | |
I'm not sure quite when it happened but it appears that I'm now officially getting old. It didn't seem that long ago I was worried about turning 30, but here I am now, driving a grey Volvo and getting excited about having a new allotment. The other day I actually Googled 'best men's slippers'.
Not that there's anything wrong with a Volvo. Its traditional image of sensible estates driven by antiques dealers and retirees is fast disappearing, helped in no small part by the latest generation of cars. Volvo is now a genuine rival for the likes of BMW and Mercedes-Benz, both in terms of quality and image.
But it's fair to say that it still has a reputation for being a practical choice rather than a car you'd buy for its handling prowess. Comfort and space are what big Volvos still do best. It's one of the reasons I'm very happy to be running an XC60 for six months.
But even with that big 468-litre boot, we do find ourselves short of space at times - the load space quickly fills up with stuff when we're on a weekend away. So the obvious solution here is a roof box. For that classic Volvo look.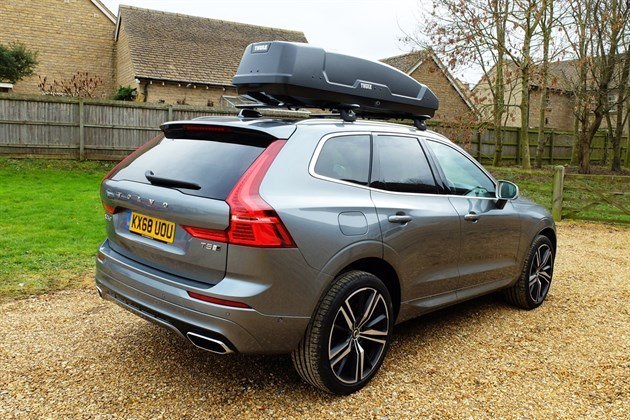 We've gone for a Thule, who for me, are the only company when it comes to roofboxes. It is of course a fellow Swedish brand to go with our Volvo. The box fitted to our car is a new Force XT Sport which gives us an extra 300 litres of carrying space on top.
We could have gone for a bigger box, but the Force XT Sport is more than big enough for what we need and means it takes up less space when stored in the garage. It's really easy to remove, taking only a few minutes to unscrew from the roof bars. Handily this means I don't have to carry it around all the time - saving a bit of fuel and meaning I can actually get into multi-storey car parks.
And talking of fuel economy, having the roofbox has seen it fall over the past few weeks. It wasn't great before, struggling to get above 25mpg, but this has fallen to just 23mpg with it fitted. While I love the XC60, the fuel economy of the T5 is the one big disappointment.
Aside from that, our XC60 continues to be the comfortable, relaxed and refined SUV we expected. We've now covered 3500 faultless miles and it continues to impress. Next up, we'll be getting the Polestar upgrade fitted. 
« Earlier: Remote start - the best thing ever Later: Can 21-inch alloys ever give a comfortable ride? »
Updates

After six months it's time to say goodbye to the Volvo XC60. So did it fill its brief as upmarket family transport?

As part of Volvo's electrification plans, the XC60 is getting mild hybrid power with B4 and B5 versions.

We didn't choose a petrol Volvo XC60 for its fuel economy, but how is the T5 performing?

The GLC is one of our favourite crossovers so how does the petrol version compare with our XC60?

While our XC60 is not short of performance, we couldn't resist getting the Polestar upgrade fitted. So is it worth it?

Our XC60 R Design Pro comes with big 21-inch alloys and low profile Pirelli P-Zero tyres as standard. Surely this is a recipe for ride quality disaster?

28 February 2019: It's not a true Volvo unless it has a roofbox...
David now drives a Volvo and has an allotment. So what better way to confirm middle aged status than the addition of a roofbox to our XC60.

Fed up of scraping ice off your car on those cold mornings? Well, the Volvo On Call app means you no longer have to...

The XC60 comes with not just parking sensors, but also a 360 degree surround view camera. However, it can be a little inconsistent.

The most annoying feature of our Volvo XC60 may seem something simple to fix, but that's what makes it all the more frustrating...

David has gone for a T5 petrol version of the XC60 rather than a diesel. And you're probably asking why...

The XC60 is a car we've enthused about since we first drove it so we're really looking forward to the next six months with one as a daily driver.