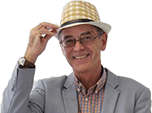 Our Cars: Nissan Qashqai 1.5 dCi n-tec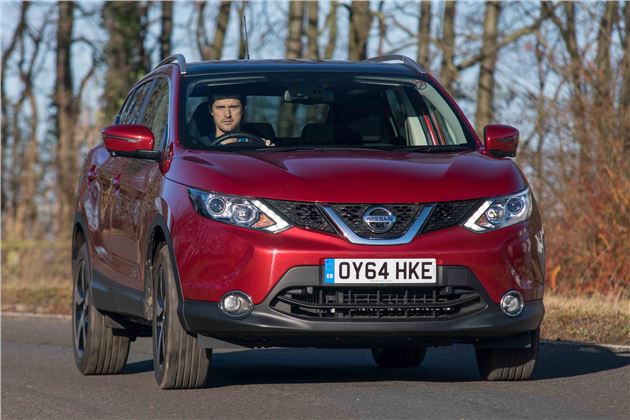 13 February 2015: This product works just fine
The Details
| | |
| --- | --- |
| Current mileage | 4750 |
| Claimed economy | 74.3mpg |
| Actual economy | 49.9mpg |
My last Qashqai update was about trying, in vain, to achieve fuel economy approaching the car's official combined figure. Until recently I was perservering, but keeping the digital mpg display close to 50mpg is so deflating (and borderline distracting) that I've stopped bothering. It's not worth the hassle for the sake of a few pounds saved.
I'm perfectly happy to accept that I'm partly to blame for this surprisingly below-par economy performance – the Qashqai's economy rating does tend to jump up a little whenever my other half drives it – but I do draw comfort from the car's Honest John Real MPG rating. It shows that you lot are only mustering a few miles per gallon more than me: 53.1mpg.
That's just 71 per cent of the claimed figure, and only five mpg short of the Real MPG figure for the last generation Qashqai's 1.5-litre dCi engine – an engine whose official claimed average is a full 20mpg lower than this one's.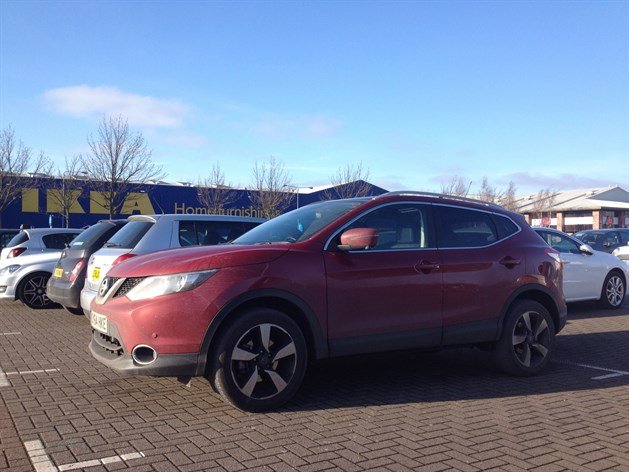 A Qashqai outside Ikea. Standard. 
Other than that gripe there's little to report on the Qashqai at the moment, which is a good thing because it means it's just going about doing a cracking job. We've even been to Ikea in it, which is the equivalent of playing Wonderwall on a brand new acoustic guitar, or drinking your own urine through a jockstrap after joining a new rugby team – it's the standard initiation test. The mucky photo above is the fascinating proof.
Usually, the road test trip to Ikea is used to demonstrate a long-termer's unyielding and henceforth useful ability to carry large, everyday household items – massive pictures of Audrey Hepburn and such like. However, I didn't buy anything (we went to take advantage of the one hour of free childcare – it's worth knowing that, parents), but the trip did make me realise something about the Qashqai.
Nobody in Ikea really wants to be in Ikea. Deep down, most of us would rather be in a furniture store at the more comfortable end of middle class. Next Home or somewhere like that. But Ikea does everything, and everything it does does everything it needs to do in perfectly adequate fashion, and for a reasonable price. So we just go there, zombie-like.
I'm not saying that zombies buy Qashqais (Zombies buy cars that fall apart. Make up your own joke), but more than any car I've driven recently the Qashqai feels like a consumer good, in the sense that a Billy bookcase or a Shplurgentoyt shower curtain is. It's all at once one of the best and dullest cars I've ever driven. Maybe I'll grow to love it. 
« Earlier: I've got a big problem with hitting 50 Later: Parking sensor meltdown »
Updates

The Qashqai has gone, so it's time to look back at what impact it's made over the last six months...

A stint with a BMW hybrid supercar got Mark all worked up about how short the Qashqai is falling in the economy stakes.

Part two of last month's cliffhanger, in which a rogue hand car wash emporium tried to classify the Qashqai as an SUV.

An errant door seal demonstrates just how well built the functional Nissan Qashqai generally is.

When you're in the North East of England with a Qashqai, a football analogy is inevitable. Here it is...

A trip to the hand car wash place prompts us to question the very nature of our family hatchback.

Finally our parking sensor issue has been resolved, as is another of the Qashqai's frustrating quirks.

Bad cars don't really exist any more. Bad in-car media systems still do. Luckily, the Qashqai responds well to being touched.

We have a bit of a problem with our Qashqai. The parking sensors keep screaming at us. And we don't like it....

13 February 2015: This product works just fine
Our Qashqai is marvellous family transport but it's not proving emotional. Which is a bit of a shame.

Mark may be advancing in years but he's having more than a few problems approaching 50 in his Nissan Qashqai.

Mark picks up the new Nissan Qashqai, making him feel right at home in his native North East.