Our Cars: Hyundai i30 1.6 CRDi Sport-Nav 3dr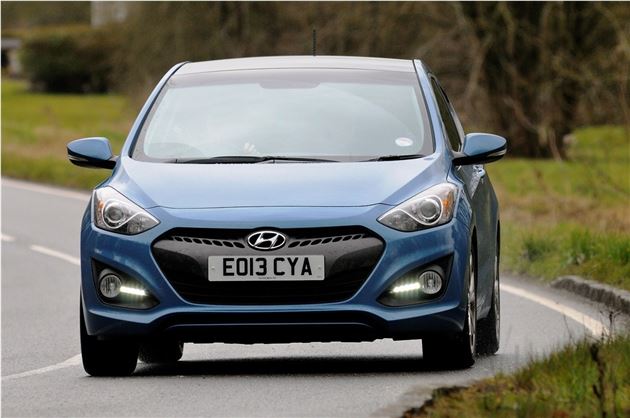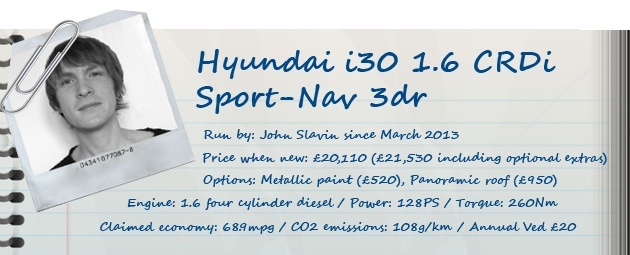 19 July 2013: Where has the i30 been?
The Details
| | |
| --- | --- |
| Current mileage | 3936 |
| Claimed economy | 68.9mpg |
| Actual economy | 48.4mpg |
I've covered a few thousand miles in the i30 now, over a good mixture of roads. It's generally pretty competent at whatever I ask it to do, with the odd irritation here and there. To show how the car performs over a variety of routes I've created a map, which shows the routes and outlines how the car performed.
It's interactive, so click the colours to find out more, or scroll down for more in depth route information. 
Around London (Red)

The i30 has covered a lot of distance in the capital and it manages OK - but an auto would be easier to live with and the addition of stop/start would save fuel - only 'Blue' models come with stop/start as standard and when you're constantly stopping at red lights it'd be nice to stop burning diesel. 
To the north (Green)
On a big trek up the motorway and the i30 is perfectly at home - it's quiet, comfortable and refined. There's a speed limiter, which takes the pain out of 50mph average speed zones, along with cruise control that makes big, empty stretches of motorway completely painless - but there's no DAB radio to keep you company, just FM.  
A mixed route (Blue)
This was the route to a Renault/Dacia event, which mixed up motorway and countryside driving. The i30 is surprisingly capable on twisting routes, with neat steering and excellent road holding thanks to a well engineered suspension set up, which blends the best of stable, grippy handling and 
A typical test route (Pink) 
When testing other cars I tend to take them over this route, along with a few others, to see how they perform in a mixture of conditions and on a mixture of roads. The i30 us up there with the best for comfort and refinement in all kinds of conditions.
To the Goodwood Festival of Speed (Turquoise)
Heading to the Goodwood Festival of Speed meant a run down the motorway followed by a good lump of time in traffic. Forever stopping and starting is never really pleasant in a manual car and the i30 is no different - if you're always stuck in jams you're better off getting an automatic. That said, the controls aren't heavy at all on the i30 so if it's just the occasional traffic problem you'll manage.
 To Stansted Airport (Orange)

The launch of the Chevrolet Trax took the i30 to be valet parked at Stansted Airport - and it quickly became obvious the car needed a wash! Nonetheless it came back with a sheet of blue paper in the footwell to keep muddy footprints at bay. Driving the Trax also revealed how well Hyundai is doing - the Korean-built Chevrolet doesn't have a cabin that's nearly as plush or well made. 
Sat nav test (Purple)
A day trip to Brighton clashed with a bicycle race, which meant a lot of slow-moving traffic on the way to the seaside. The sat nav couldn't calculate a quicker route when it detected the jam, so we turned towards Hove and gradually it pointed us in the right direction, saving some time. It'd have been nice if it did that automatically - but at least it kept correcting itself as we made our own progress.
We also had to drive around in an overpriced underground car park with spaces designed Little Tikes Cozy Coupes. That's always a stressful experience but, thanks to folding mirrors and a reversing camera it wasn't the end of the world - though slightly better over-shoulder visibility wouldn't go amiss. 
« Earlier: Tested for durability Later: Extra precaution »
Updates

After six months with the Hyundai i30 Sport Nav 1.6 diesel it's time to say goodbye and generally it's been a good car.

During my time driving the i30 I haven't seen another three door model which is quite surprising. So is this an exclusive model?

When our i30 arrived it wasn't delivering particularly good fuel economy – which could have been down to the low mileage. Sadly, it hasn't much improved.

Driving a big mixture of petrol and diesel cars means there's a higher chance of misfuelling, so we've fitted a device to prevent it.

19 July 2013: Where has the i30 been?
We've some of the routes over which our i30 has travelled on a map so you can see how it performs over a variety of road types.

Hyundai handed an i30 over to 25 kids, armed with sand, juice and muddy wellies to see how durable it is.

Our i30 is certainly an impressive car – but anyone seeking a new family hatch will have the Volkswagen Golf on their shopping list. How does it stack up?

The Hyundai i30 is well-equipped as standard, particularly in the top trim level – but there are a few irritating omissions.

Hyundai doesn't have the long-running lineage of many brands but it's interesting to see how the i30 has evolved from the Pony.

You wouldn't usually buy a diesel car to get around town – but that's what our i30 has been doing recently - does it still make sense?

After six months with a two-seat coupe I'm really starting to appreciate the space in our new Hyundai, but I'm still getting used to some of the niggles.

We welcome the three-door Hyundai i30 in top-spec Sport-Nav trim. How will it stand up to London life and long motorway trips?