Our Cars: Hyundai i30 1.6 CRDi Sport-Nav 3dr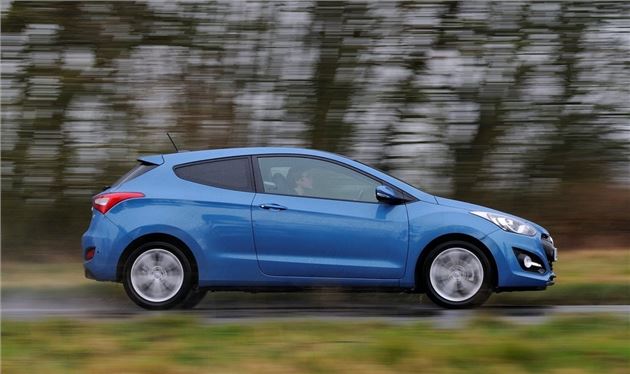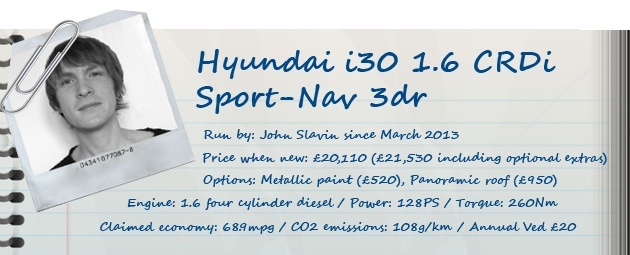 11 September 2013: Three doors or five?
The Details
| | |
| --- | --- |
| Current mileage | 6321 |
| Claimed economy | 68.9mpg |
| Actual economy | 48.1mpg |
| | |
Buying a car shouldn't be a process that is upset by listening to your heart but that's never how it works. A two-seat sports car is never going to work well if you have a family of four and a dog, however the idea will always appeal. The i30 is offered in both three and five-door forms – so why would you buy the smaller three-door?
Styling wise the differences aren't abundantly obvious. There are, of course, no rear doors on a three-door and in their place there's an attractive window design that makes the roofline appear to slope, giving a sportier profile. Additionally, at the front there's a black grille rather than a chrome one and there are different LED lights.
Aside from that there's little to differentiate the two and if you don't have children to carry that's about where it stops – the lack of rear doors will probably be irrelevant. If you do have kids then you might think the sportier design must be sacrificed for the greater legroom and better access of a five-door – but with the i30 that's not the case.
Typically there's not much legroom in the back of a three door car but I recently spent a week driving a teenager around and she fit perfectly comfortably into the back seats of the three-door i30 and she didn't have a horrible time getting in and out thanks to good sized doors and seats that are easy to adjust.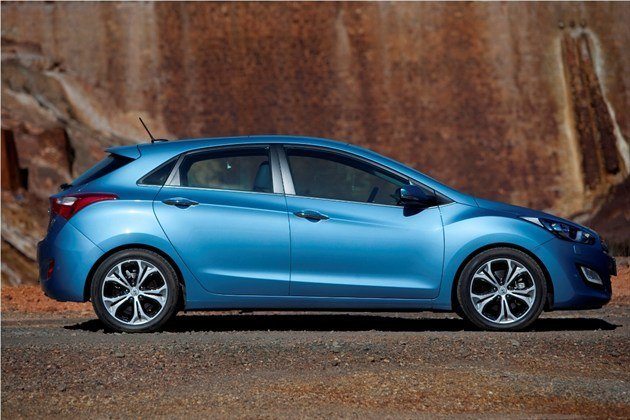 The five-door doesn't look hugely different from the three-door
However there is one irritation when letting someone in and out of the back row – the front seat doesn't automatically return back to its original position on the seat runner. That's irritating if you have a very specific driving position and it'll mean the first five minutes of a trip are spent getting the seat in the right spot.
Teenagers are obviously less of a pain to get in and out of a three-door car than younger children – providing they fit – so perhaps the five-door would suit families with young children and babies a little more. That said if the only thing that keeps you from buying the sportier looking three-door is a worry about its practicality then don't let it put you off – it's not as tiny as you might think.
Of course if practicality is at the very top of your agenda the i30 Tourer is the most sensible choice and it still looks pretty good – it's not too bulky and it maintains the lines of the three and five-door cars, with the benefit of a giant boot with space for dogs, holiday luggage or trips to Ikea.
But for me the three-door is the best choice – which makes the lack of them seen on the road all the more confusing. Indeed I've never seen another three-door model in the past six months – just loads of five-doors and tourers. Maybe Hyundai buyers tend to use their heads not their hearts.
« Earlier: Disappointing fuel economy hasn't improved Later: Waving off the i30 »
Updates

After six months with the Hyundai i30 Sport Nav 1.6 diesel it's time to say goodbye and generally it's been a good car.

11 September 2013: Three doors or five?
During my time driving the i30 I haven't seen another three door model which is quite surprising. So is this an exclusive model?

When our i30 arrived it wasn't delivering particularly good fuel economy – which could have been down to the low mileage. Sadly, it hasn't much improved.

Driving a big mixture of petrol and diesel cars means there's a higher chance of misfuelling, so we've fitted a device to prevent it.

We've some of the routes over which our i30 has travelled on a map so you can see how it performs over a variety of road types.

Hyundai handed an i30 over to 25 kids, armed with sand, juice and muddy wellies to see how durable it is.

Our i30 is certainly an impressive car – but anyone seeking a new family hatch will have the Volkswagen Golf on their shopping list. How does it stack up?

The Hyundai i30 is well-equipped as standard, particularly in the top trim level – but there are a few irritating omissions.

Hyundai doesn't have the long-running lineage of many brands but it's interesting to see how the i30 has evolved from the Pony.

You wouldn't usually buy a diesel car to get around town – but that's what our i30 has been doing recently - does it still make sense?

After six months with a two-seat coupe I'm really starting to appreciate the space in our new Hyundai, but I'm still getting used to some of the niggles.

We welcome the three-door Hyundai i30 in top-spec Sport-Nav trim. How will it stand up to London life and long motorway trips?