Our Cars: Hyundai i30 1.6 CRDi Sport-Nav 3dr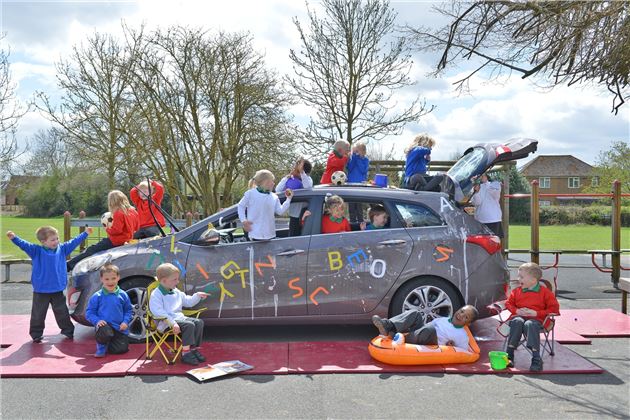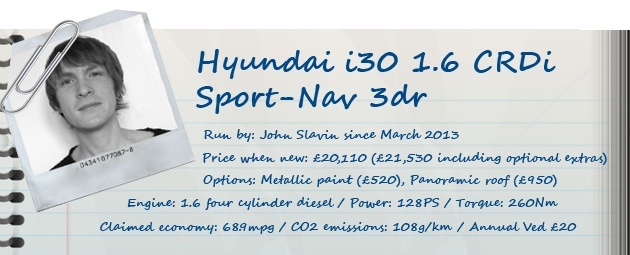 5 July 2013: Tested for durability
The Details
| | |
| --- | --- |
| Current mileage | 3763 |
| Claimed economy | 68.9mpg |
| Actual economy | 48.6mpg |
To keep up with the competition, car manufacturers have to build very durable vehicles - but it's a fine art. Creating something that's durable yet manages to remain plush and luxurious is far from easy – and it's harder still to prove to buyers that something brand new and shiny will stand the test of time and look good in years to come.
It's fair to say that we've been a little bit unfriendly to our i30– it wasn't washed between April and July but it did manage to shine like new after a quick buff. But how will you know just how durable the paint finish and interior upholstery is if you're looking a spotless, brand new car in the showroom?
Well Hyundai has thought of that – by letting a classroom of school kids loose on an i30 Tourer. You might not expect a manufacturer to be so daring with one of its cars, but obviously the company was confident it'd withstand paint, sand, yoghurt and whatever else could be chucked at it.
25 kids spent the day testing how durable the i30 really is, smearing mud on the exterior panels, bouncing on the seats in muddy wellies, fiddling with windows, mashing bananas into the seats and spilling juice all over the place. They also had the chance to make the boot floor into a 'beach,' complete with sand castles.
Generally they made the most of their time doing things they'd otherwise get a thorough telling off for – but this time around they got away with it. After 'testing' was completed the car  was washed inside out and polished – surviving with just a few scratches.  Watch the video below to see just how much of a beating the i30 survived or click here to see all the updates on our i30. 
« Earlier: Golf or i30? Later: Where has the i30 been? »
Updates

After six months with the Hyundai i30 Sport Nav 1.6 diesel it's time to say goodbye and generally it's been a good car.

During my time driving the i30 I haven't seen another three door model which is quite surprising. So is this an exclusive model?

When our i30 arrived it wasn't delivering particularly good fuel economy – which could have been down to the low mileage. Sadly, it hasn't much improved.

Driving a big mixture of petrol and diesel cars means there's a higher chance of misfuelling, so we've fitted a device to prevent it.

We've some of the routes over which our i30 has travelled on a map so you can see how it performs over a variety of road types.

5 July 2013: Tested for durability
Hyundai handed an i30 over to 25 kids, armed with sand, juice and muddy wellies to see how durable it is.

Our i30 is certainly an impressive car – but anyone seeking a new family hatch will have the Volkswagen Golf on their shopping list. How does it stack up?

The Hyundai i30 is well-equipped as standard, particularly in the top trim level – but there are a few irritating omissions.

Hyundai doesn't have the long-running lineage of many brands but it's interesting to see how the i30 has evolved from the Pony.

You wouldn't usually buy a diesel car to get around town – but that's what our i30 has been doing recently - does it still make sense?

After six months with a two-seat coupe I'm really starting to appreciate the space in our new Hyundai, but I'm still getting used to some of the niggles.

We welcome the three-door Hyundai i30 in top-spec Sport-Nav trim. How will it stand up to London life and long motorway trips?