Our Cars: Hyundai i30 1.6 CRDi Sport-Nav 3dr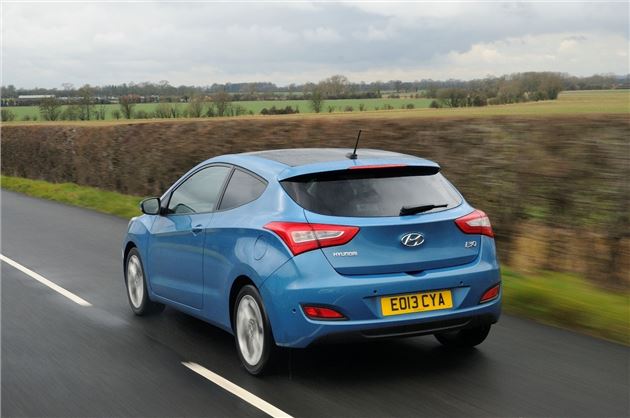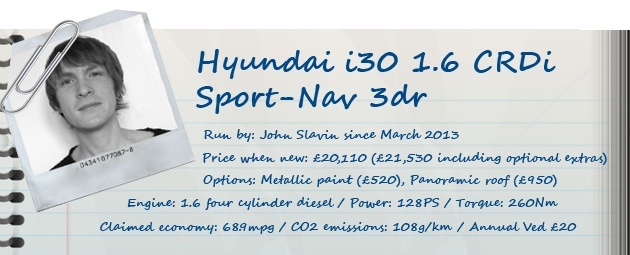 10 May 2013: Petrol or diesel?
The Details
| | |
| --- | --- |
| Current mileage | 2014 |
| Claimed economy | 68.9mpg |
| Actual economy | 49.1mpg |
The usual advice if you're buying a car is to avoid diesel engines if you tend to do a lot of short trips. Initially that was the idea with our i30 – most of my journeys were 100+ miles at the weekend to visit family, but following a change in circumstances most of those high-mile trips are no longer necessary. 
Instead I'm tending to cover three or four miles at a time every few days – but so far the i30 is coping perfectly well. Thanks to the gearing it'll more or less drive itself at 30mph in fifth gear, just chugging along at tickover. Obviously that's not much use in traffic, but if the streets are clear it makes urban trips fairly painless.
In fact there are some touches that make the i30 a genuinely great car for town – parking in tight spaces is a doddle thanks to parking sensors, a reversing camera and a 'light' steering setting, plus the soft suspension makes speed bumps and potholes bearable – and there are plenty of those in London.
There are some other niceties, too. Having made a trip to Richmond I found myself stranded in a one-way street, trapped by an HGV that was quite clearly far too big to be parked where it was. I worried that the car wouldn't fit through the gap, but thanks to electrically folding door mirrors I manage to squeeze through.
Those door mirrors are folded by a button in the car, so you can operate them when on the move to get through tight gaps or to get into a small garage. Unlike some, though, they don't automatically fold when you lock the car - not that it really matters.  
There's also a really nifty little holder in the sun visor so you can store your parking tickets, which means when you get to the barrier to get out of the car park you don't have to spend five minutes looking for the card, because it's right in front of your face. Clever.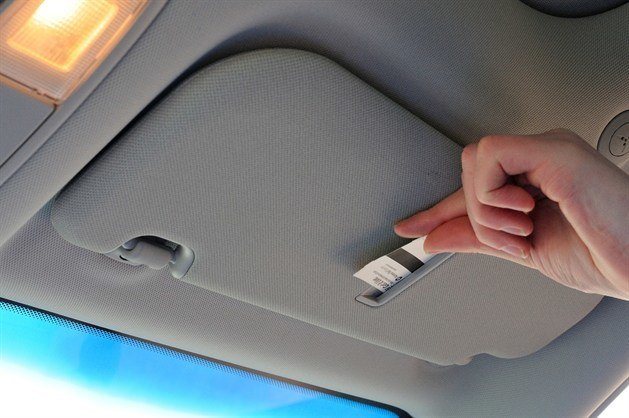 Perhaps the biggest concern with making a lot of short trips in a modern diesel car is the affect it has on the diesel particulate filter (DPF). DPFs are designed to 'store' hydrocarbons (soot, to you and I) which are then burnt off when the DPF reaches the required temperature.
The problem with short runs is that the DPF doesn't ever get to the required temperature and so it gets clogged up with all the soot and then fails - and it's not a cheap repair. Thankfully I still get to make enough long trips on the motorway to allow the i30's DPF to do its job properly, so it shouldn't pose a problem.
Hopefully it wouldn't be a problem anyway – in Ask HJ we've had no serious reports of DPF issues with i30s. That said, if you tend to drive short distances it'd take a very long time for the diesel model to pay itself off, since it costs £1995 more to buy over the petrol version in the first place.
Based on the Real MPG figures for the petrol engine (41.7mpg) and the 128PS diesel (56.1) at an average petrol cost of £1.31 per litre and an average diesel cost of £1.38 per litre it would take eight and a half years to pay the extra £1995 off, based on an annual mileage of 7500 miles. So do some maths before you buy unless you do some serious annual mileage!
« Earlier: Space, man Later: Evolution of the i30 »
Updates

After six months with the Hyundai i30 Sport Nav 1.6 diesel it's time to say goodbye and generally it's been a good car.

During my time driving the i30 I haven't seen another three door model which is quite surprising. So is this an exclusive model?

When our i30 arrived it wasn't delivering particularly good fuel economy – which could have been down to the low mileage. Sadly, it hasn't much improved.

Driving a big mixture of petrol and diesel cars means there's a higher chance of misfuelling, so we've fitted a device to prevent it.

We've some of the routes over which our i30 has travelled on a map so you can see how it performs over a variety of road types.

Hyundai handed an i30 over to 25 kids, armed with sand, juice and muddy wellies to see how durable it is.

Our i30 is certainly an impressive car – but anyone seeking a new family hatch will have the Volkswagen Golf on their shopping list. How does it stack up?

The Hyundai i30 is well-equipped as standard, particularly in the top trim level – but there are a few irritating omissions.

Hyundai doesn't have the long-running lineage of many brands but it's interesting to see how the i30 has evolved from the Pony.

10 May 2013: Petrol or diesel?
You wouldn't usually buy a diesel car to get around town – but that's what our i30 has been doing recently - does it still make sense?

After six months with a two-seat coupe I'm really starting to appreciate the space in our new Hyundai, but I'm still getting used to some of the niggles.

We welcome the three-door Hyundai i30 in top-spec Sport-Nav trim. How will it stand up to London life and long motorway trips?