Our Cars: Hyundai i30 1.6 CRDi Sport-Nav 3dr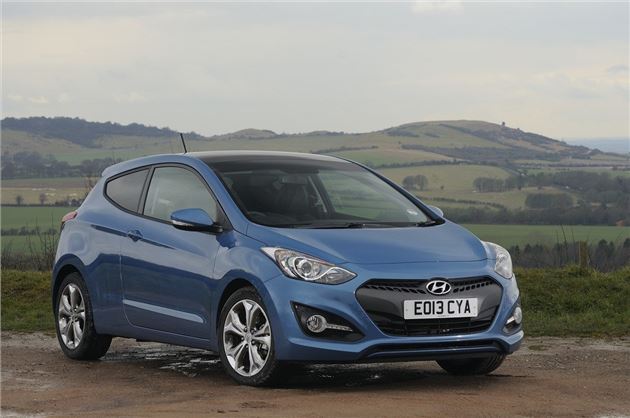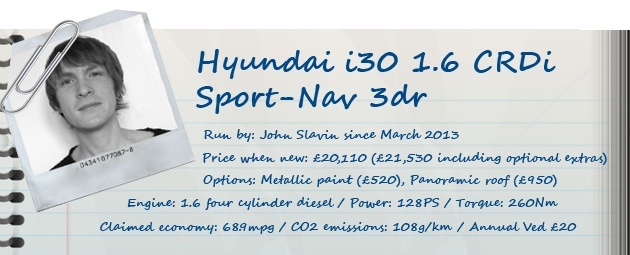 12 April 2013: Our latest arrival - the Hyundai i30
The Details
| | |
| --- | --- |
| Current mileage | 1123 |
| Claimed economy | 68.9mpg |
| Actual economy | 49.7mpg |
After living with the sporty MINI Coupe SD for six months it's time to move back to something a little more mundane – the Hyundai i30. It's not quite as mundane as the i10, though, another Hyundai model I've spent six months with, and one that left a positive impression. It'll certainly be interesting to see how well the South Korean company performs at the more premium end of the market.
Our i30 is a three-door with the 1.6 CRDi engine in its most powerful 128PS form. We've gone for the very top trim level, too – Sport-Nav. The only optional extras on top-trim cars are a panoramic sun roof and metallic paint – boxes we ticked. The result is a very handsome car which it really suits the metallic Aqua Blue paintwork, and the contrast of the panoramic roof makes it all the more striking.
Going for a top model with optional extras means a pretty steep price tag though - £21,530 in fact. At that price, many will ask why you wouldn't pick a Volkswagen Golf instead. But rather than producing a budget alternative Hyundai has decided to offer a car that competes on value, rather than price. That means a very impressive array of standard equipment.
Key features include Bluetooth connectivity, automatic wipers and lights, touch-screen sat nav and infotainment screen, cruise control with speed limiter, electrically folding door mirrors, half-leather upholstery and a reversing camera. Spec a Golf up to that level and you'll be paying at least £1000 more for a less powerful 105PS car, and you'll miss out on the nice panoramic roof. Which is better? That's an argument for another day.
First impressions are good, though. The cabin is spacious and neatly styled and it took no time at all to get comfortable behind the multi-function wheel. There's even space in the back for a six-foot passenger, despite this being a three-door model – that's excellent news after spending so long with a two-seater coupe!
There's plenty of storage space in the cabin, too – the glove compartment is large, there's a big centre storage bin behind the handbrake and the door pockets have space for bottles. There are also plenty of little trays for parking change and there are two drinks holders. That's all good news for someone like me, who spends all their time driving up and down the motorway and needs to be able to keep things within reach.
In fact, the only thing that didn't manage to impress on first inspection was the wheels. They're 17-inch, which is good for road comfort, and they fill the wheel arches nicely and they have some pretty nifty looking chrome inlays, but they show the dirt terribly and on closer inspection they're not chrome at all, they're plastic!
That's a small niggle though. The overall impression left by my first few days with the new i30 is one of solidity and quality, which hopefully bodes well for the next six months. And fingers crossed the summer is warm enough to make the most of that panoramic sunroof!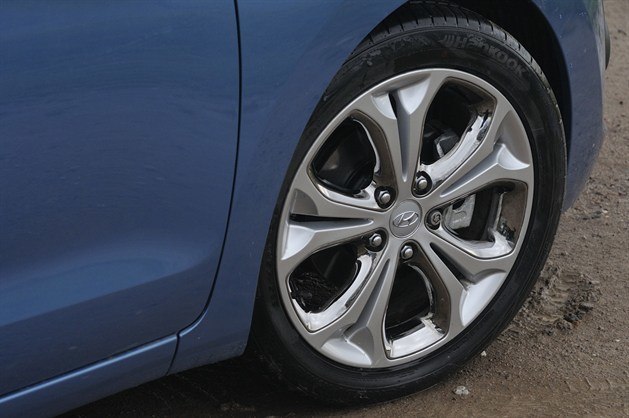 Updates

After six months with the Hyundai i30 Sport Nav 1.6 diesel it's time to say goodbye and generally it's been a good car.

During my time driving the i30 I haven't seen another three door model which is quite surprising. So is this an exclusive model?

When our i30 arrived it wasn't delivering particularly good fuel economy – which could have been down to the low mileage. Sadly, it hasn't much improved.

Driving a big mixture of petrol and diesel cars means there's a higher chance of misfuelling, so we've fitted a device to prevent it.

We've some of the routes over which our i30 has travelled on a map so you can see how it performs over a variety of road types.

Hyundai handed an i30 over to 25 kids, armed with sand, juice and muddy wellies to see how durable it is.

Our i30 is certainly an impressive car – but anyone seeking a new family hatch will have the Volkswagen Golf on their shopping list. How does it stack up?

The Hyundai i30 is well-equipped as standard, particularly in the top trim level – but there are a few irritating omissions.

Hyundai doesn't have the long-running lineage of many brands but it's interesting to see how the i30 has evolved from the Pony.

You wouldn't usually buy a diesel car to get around town – but that's what our i30 has been doing recently - does it still make sense?

After six months with a two-seat coupe I'm really starting to appreciate the space in our new Hyundai, but I'm still getting used to some of the niggles.

12 April 2013: Our latest arrival - the Hyundai i30
We welcome the three-door Hyundai i30 in top-spec Sport-Nav trim. How will it stand up to London life and long motorway trips?