Our Cars: Hyundai i30 1.6 CRDi Sport-Nav 3dr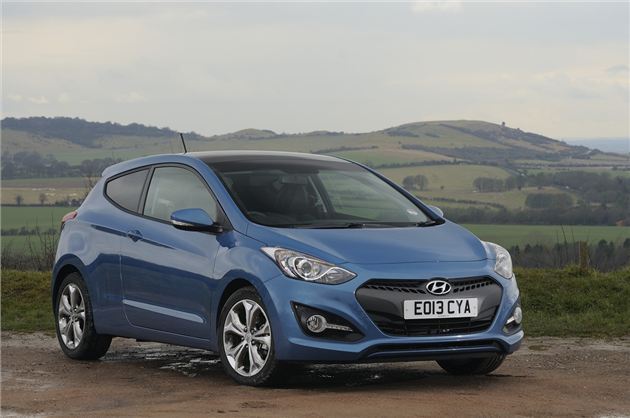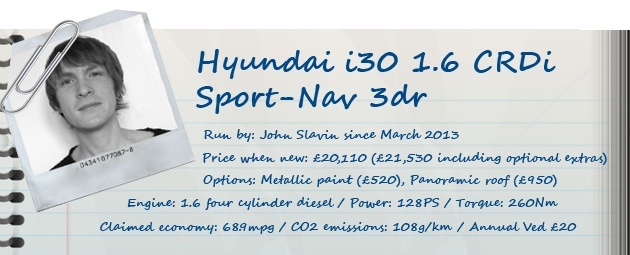 7 June 2013: Missing features
The Details
| | |
| --- | --- |
| Current mileage | 3068 |
| Claimed economy | 68.9mpg |
| Actual economy | 50.1mpg |
One of the biggest selling points of the Hyundai i30 is its generous standard specification. Our car is a top-of-the-range Sport Nav which comes with more or less everything you could need, including sat nav, automatic lights and rain sensitive wipers.
In fact there aren't many optional extras available to choose from – just metallic paint and a panoramic sunroof, both of which are fitted to our car. There are, however, a few things that Hyundai doesn't offer, whether as standard equipment or as an optional extra.
First of all there is no DAB radio – something that is becoming increasingly common and popular with car manufacturers. Having experienced the improved audio quality and better choice of radio stations on offer while driving other cars it seems surprising that Hyundai doesn't even offer it as a cost option.
Secondly there is no option of active safety technologies like active cruise control, blind spot monitoring or collision mitigating braking – features available on the likes of the Ford Focus and Volkswagen Golf. It'd be nice to see them as optional extras if not as standard gear. 
It's not the end of the world, though. Euro NCAP still awarded the i30 a five-star safety rating and it managed to score 90% for adult and child occupant safety, which is laudable. Additionally, active safety technologies are still fairly new – they're currently only offered by the minority of car manufacturers. Watch the NCAP tests below.
One thing that is less forgivable is the way Hyundai offers its stop/start technology. It's only fitted to 'Blue Drive' 110PS models, rather than as standard across the range – and if you ever drive in town you'll understand how useful it is to save fuel in heavy, slow moving traffic.
On balance I suppose some people genuinely don't want it and it does cost money, which would make the top models less competitive on price. But the fact it's not even available above the mid-range Active trim level is confusing and it means our 128PS top model can't be bought with stop/start.
Given the type of trips I've been making recently – mostly fewer than 20 miles with at least half spent in traffic-light heavy West London – I imagine I'd get a few extra mpg with stop/start installed. In fact, you can actually see the average fuel economy figure slowly dropping the longer you spend in town!
The only other omissions are niggling and unimportant – there's no option of full-leather, for example, and there aren't that many colours in the palette. It'd look good in a green or brown, if you like that kind of thing. There are a few nice shades, though, like our optional metallic blue.
To be fair to the Hyundai, though, it does offer most of the equipment people need, and the stop-start issue wouldn't affect someone who had the foresight to realise they'd probably need it in the future and so would specify the correct engine. 
« Earlier: Evolution of the i30 Later: Golf or i30? »
Updates

After six months with the Hyundai i30 Sport Nav 1.6 diesel it's time to say goodbye and generally it's been a good car.

During my time driving the i30 I haven't seen another three door model which is quite surprising. So is this an exclusive model?

When our i30 arrived it wasn't delivering particularly good fuel economy – which could have been down to the low mileage. Sadly, it hasn't much improved.

Driving a big mixture of petrol and diesel cars means there's a higher chance of misfuelling, so we've fitted a device to prevent it.

We've some of the routes over which our i30 has travelled on a map so you can see how it performs over a variety of road types.

Hyundai handed an i30 over to 25 kids, armed with sand, juice and muddy wellies to see how durable it is.

Our i30 is certainly an impressive car – but anyone seeking a new family hatch will have the Volkswagen Golf on their shopping list. How does it stack up?

7 June 2013: Missing features
The Hyundai i30 is well-equipped as standard, particularly in the top trim level – but there are a few irritating omissions.

Hyundai doesn't have the long-running lineage of many brands but it's interesting to see how the i30 has evolved from the Pony.

You wouldn't usually buy a diesel car to get around town – but that's what our i30 has been doing recently - does it still make sense?

After six months with a two-seat coupe I'm really starting to appreciate the space in our new Hyundai, but I'm still getting used to some of the niggles.

We welcome the three-door Hyundai i30 in top-spec Sport-Nav trim. How will it stand up to London life and long motorway trips?