Our Cars: Hyundai i30 1.6 CRDi Sport-Nav 3dr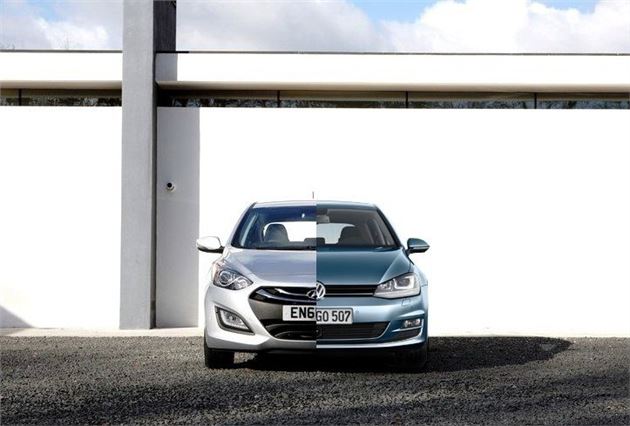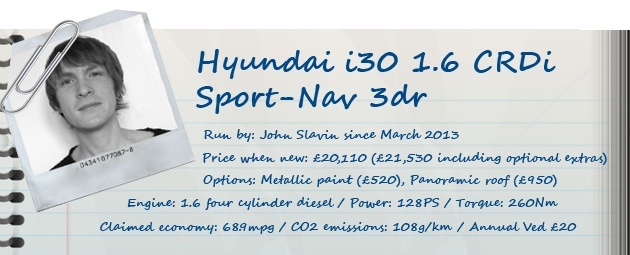 21 June 2013: Golf or i30?
The Details
| | |
| --- | --- |
| Current mileage | 3189 |
| Claimed economy | 68.9mpg |
| Actual economy | 49.7mpg |
If you're in the market for a family hatchback there are a few cars aside from the Hyundai i30 that will almost certainly be on your test drive list, including the Ford Focus and the critically lauded seventh generation Volkswagen Golf.
The Golf is arguably the benchmark car in its class – it sets the bar other manufacturers strive to match when building their family cars. Now we've driven both cars back to back we can find out exactly how well the i30 fares alongside its arch-rival.
For the same £20,410 as you'd pay for our fully kitted-out i30 you can get a Golf SE BlueMotion diesel. On paper you get better fuel economy from the Volkswagen at 74.3mpg, versus 68.9mpg for the i30 – but the i30 has more power at 128PS, 23PS more than the Golf. Evens.
That said, the Golf doesn't feel any worse for it. In fact, the Golf is a nicer car to drive despite a performance deficit. The steering is neater and smoother, the ride is better damped (though firmer) and the gear change is neater and more precise. On top of that you get better refinement from the Volkswagen.
That's not to suggest the i30 is poor to drive, however. Indeed it, too, is smooth to drive with light controls – but it doesn't feel quite as well-judged or complete as its German rival. The i30 does have the Golf trumped in one area, though – standard equipment.
£20,410 pays for a top trim i30 including all of the optional extras. That means our car has a panoramic roof, metallic paint, sat-nav, LED running lights, electrically folding door mirrors, half leather seat trim, and dual-zone climate control – all of which cost more on the Golf.
Once again, though (there's a trend developing here), that's not the full picture. The Golf has some nice touches unavailable on the i30, including DAB radio and electric parking brake with hill-hold assist. Importantly there's also an excellent adaptive cruise control system that isn't offered on the i30.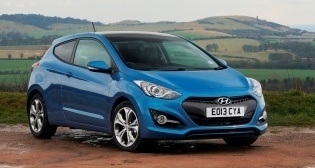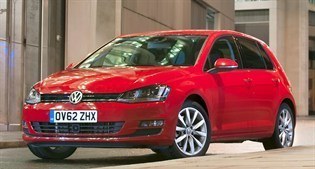 Volkswagen has built a reputation for quality, so when you sit in the Golf it's no surprise that everything is tactile and robust. The surfaces are  trimmed with a soft-touch plastic that manages to feel both hard-wearing and plush, plus all of the controls feel perfectly weighted.
It's something Hyundai has tried very hard to match with the i30. For the most part it has succeeded, but it isn't quite all the way there. The centre stack, for example, isn't as neatly laid out as it is in the Golf, nor does the selection of materials manage to feel so solid.
But it's very important to remember that just a few years ago no Hyundai model would even come close to giving a Volkswagen a run for its money. Hyundai might not quite match Volkswagen for material quality or prestige, but the gap has closed tremendously quickly and it continues to close with every new car the Korean firm produces.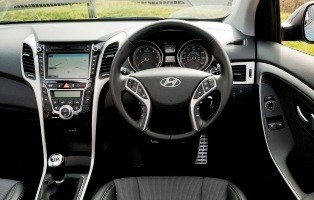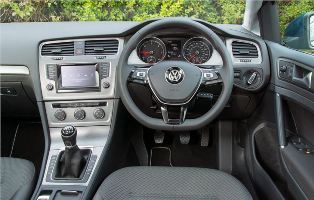 So if you're looking for a family hatchback then check around. The i30 might not be as polished as the Golf but it's very close – and what it lacks in polish it makes up in value. Ten years ago you'd never have expected to hear that about a Hyundai. 
To read a full review of the Volkswagen Golf, click here. 
« Earlier: Missing features Later: Tested for durability »
Updates

After six months with the Hyundai i30 Sport Nav 1.6 diesel it's time to say goodbye and generally it's been a good car.

During my time driving the i30 I haven't seen another three door model which is quite surprising. So is this an exclusive model?

When our i30 arrived it wasn't delivering particularly good fuel economy – which could have been down to the low mileage. Sadly, it hasn't much improved.

Driving a big mixture of petrol and diesel cars means there's a higher chance of misfuelling, so we've fitted a device to prevent it.

We've some of the routes over which our i30 has travelled on a map so you can see how it performs over a variety of road types.

Hyundai handed an i30 over to 25 kids, armed with sand, juice and muddy wellies to see how durable it is.

21 June 2013: Golf or i30?
Our i30 is certainly an impressive car – but anyone seeking a new family hatch will have the Volkswagen Golf on their shopping list. How does it stack up?

The Hyundai i30 is well-equipped as standard, particularly in the top trim level – but there are a few irritating omissions.

Hyundai doesn't have the long-running lineage of many brands but it's interesting to see how the i30 has evolved from the Pony.

You wouldn't usually buy a diesel car to get around town – but that's what our i30 has been doing recently - does it still make sense?

After six months with a two-seat coupe I'm really starting to appreciate the space in our new Hyundai, but I'm still getting used to some of the niggles.

We welcome the three-door Hyundai i30 in top-spec Sport-Nav trim. How will it stand up to London life and long motorway trips?