Our Cars: Hyundai i30 1.6 CRDi Sport-Nav 3dr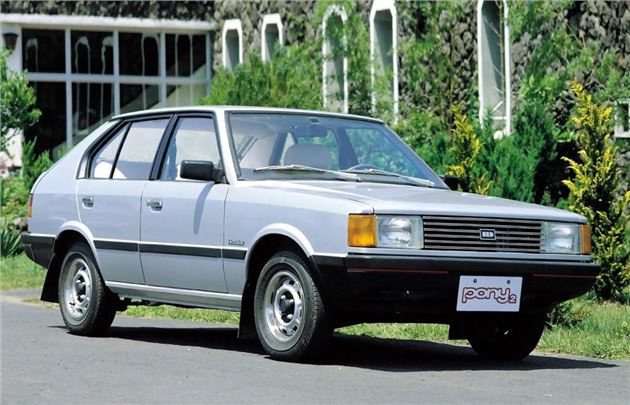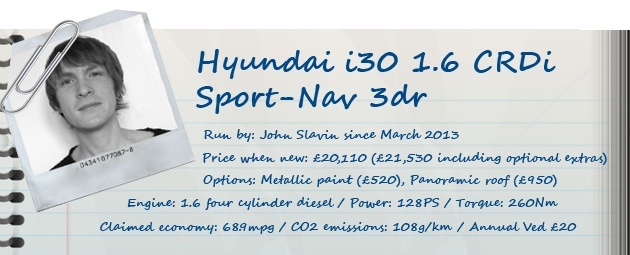 24 May 2013: Evolution of the i30
The Details
| | |
| --- | --- |
| Current mileage | 2651 |
| Claimed economy | 68.9mpg |
| Actual economy | 51.1mpg |
Most European car manufacturers are long established, with a lineage that stretches back decades. Take Ford – if you follow the evolution of its current Focus through time you'll be able to trace it back over 100 years through cars like the Escort and Prefect to the Model T.
Hyundai isn't as well established, though. The company was formed in 1947 but didn't delve into the world of cars until 1967 when it started production of the Cortina, which was built under licence from Ford. It wasn't long until Hyundai decided to build its own model, though.
But you can't just dive in and start welding metal together, so the Korean company hired some old-hands from Austin in Britain. The result, in 1975, was the Pony – a five-door hatchback with a mishmash of components from brands like Mitsubishi and Ford. It was built until the mid 1980s and then replaced by the Pony X2.
The Pony was a low-price car – a budget alternative to more established vehicles. That was reflected in the way it looked and the way it drove, because it wasn't particularly good in either regard. As transport it managed fine, but it was unsophisticated and hardly a machine to aspire towards.
Both the Pony and Pony X2 were sold in the UK, but fewer than 1000 are left on the road. Interestingly it took the ten years from 1975-1985 for Hyundai to produce its first 1m cars – it now builds more than 1.6m a year in its Ulsan plant alone.
By the 1990s Hyundai was building several models including the Scoupe, a two-door 'sports' car and the Sonata – a large saloon. There was no direct 1990s equivalent of the i30, but the nearest thing was the Lantra. It was far from the last word in quality, but it was reasonably popular as budget cars go.
It wasn't, however, as popular as its successor. The first generation i30 was introduced in 2007 and was a huge step forward for Hyundai. Rather than a budget alternative it was a genuine contender, offering good quality and value for money, thanks to a decent level of standard equipment.
Its rise in popularity coincided with the scrappage scheme, which saw hundreds of people moving into a new car – often a Hyundai because of competitive offers – for the very first time. It wasn't, however, the most stylish car. Rivals like the Ford Focus and Vauxhall Astra had more attractive cabins and more interesting exterior styling.
That's something Hyundai designers set to work in fairly promptly – the current i30 manages to match most rivals in all of the important areas. It features up-to-date technology wrapped in infinitely more stylish bodywork, and even comes with some luxurious touches – like the glass roof fitted to our car.
It's a far cry from the Pony. Track the Volkswagen Golf back to the 1970s and you'll see a steady, slow evolution from the boxy original to the current model with its smooth, understated styling. The evolution of Hyundai's models has been much more radical.
It had to be, really. A new brand company has to work hard to compete with the establishment – but it seems Hyundai has managed, given how popular its cars are with visitors to honestjohn.co.uk. In fact its ix35 is the most popular car in terms of page views of any car on the whole site – which makes it our Car of the Year 2013.
« Earlier: Petrol or diesel? Later: Missing features »
Updates

After six months with the Hyundai i30 Sport Nav 1.6 diesel it's time to say goodbye and generally it's been a good car.

During my time driving the i30 I haven't seen another three door model which is quite surprising. So is this an exclusive model?

When our i30 arrived it wasn't delivering particularly good fuel economy – which could have been down to the low mileage. Sadly, it hasn't much improved.

Driving a big mixture of petrol and diesel cars means there's a higher chance of misfuelling, so we've fitted a device to prevent it.

We've some of the routes over which our i30 has travelled on a map so you can see how it performs over a variety of road types.

Hyundai handed an i30 over to 25 kids, armed with sand, juice and muddy wellies to see how durable it is.

Our i30 is certainly an impressive car – but anyone seeking a new family hatch will have the Volkswagen Golf on their shopping list. How does it stack up?

The Hyundai i30 is well-equipped as standard, particularly in the top trim level – but there are a few irritating omissions.

24 May 2013: Evolution of the i30
Hyundai doesn't have the long-running lineage of many brands but it's interesting to see how the i30 has evolved from the Pony.

You wouldn't usually buy a diesel car to get around town – but that's what our i30 has been doing recently - does it still make sense?

After six months with a two-seat coupe I'm really starting to appreciate the space in our new Hyundai, but I'm still getting used to some of the niggles.

We welcome the three-door Hyundai i30 in top-spec Sport-Nav trim. How will it stand up to London life and long motorway trips?