Our Cars: Hyundai i30 1.6 CRDi Sport-Nav 3dr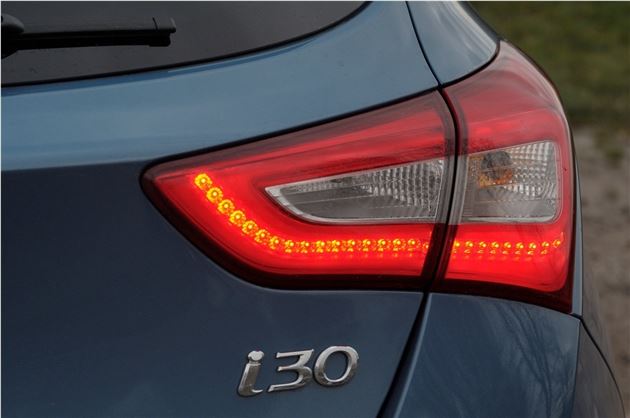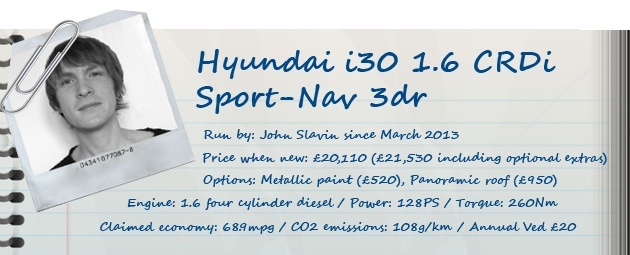 23 August 2013: Disappointing economy hasn't improved
The Details
| | |
| --- | --- |
| Current mileage | 5362 |
| Claimed economy | 68.9mpg |
| Actual economy | 47.9mpg |
| | |
Car manufacturers have to jump through quite a few hoops to get their cars in show rooms. EU regulations cover everything from airbags to the height of headlights, but the rules that affect car owners most are those covering fuel economy and emissions.
The only figure a car manufacturer can quote for fuel economy comes from the combined cycle test, which covers a set of distances at set speeds. The result is, often, a disparity between the lab economy and real world economy – you can't buy a new car and really expect to match the quoted figure.
Nonetheless, I'd have expected a bit more from the i30. When it arrived I was pleased to read the official figure of 68.9mpg – with my realistic head on I thought it ought to manage around 54 or 55mpg. Initially it was typically returning 48-49 but I wasn't too alarmed – the engine was still tight having only covered around 500 miles.
Now, though, it's still delivering about the same average economy. That is partly my fault – I do a lot of short trips of less than 10 miles – but there are still plenty of long motorway trips to theoretically improve the average but it's not working – perhaps it's because the Sport Nav model has standard tyres and lacks a stop/start function.
Based on 12,000 miles per year a 55mpg car would cost about £1390 in diesel at a cost of £1.40 per litre – at 48.1mpg the same mileage costs £190 more. Over a few years that can really add up. That said, the i30 is still fairly efficient and the rest of the models in the range seems to do reasonably well in our Real MPG section.
So the message, really, is to make sure you buy the right model. If you're going to do a lot of mixed driving a diesel might be fine, but if you're spending a lot of time in town then you might need the less powerful model with its fuel saving technology.
For my driving a petrol-powered model would probably be better. When the car arrived I tended to cover nothing but motorway miles so it all made sense. Now, though, I drive in London almost every day and the stopping, starting and short trips are taking their toll on my average economy. The cheaper cost of unleaded might would probably work in my favour.  
« Earlier: Extra precaution Later: Three doors or five? »
Updates

After six months with the Hyundai i30 Sport Nav 1.6 diesel it's time to say goodbye and generally it's been a good car.

During my time driving the i30 I haven't seen another three door model which is quite surprising. So is this an exclusive model?

23 August 2013: Disappointing economy hasn't improved
When our i30 arrived it wasn't delivering particularly good fuel economy – which could have been down to the low mileage. Sadly, it hasn't much improved.

Driving a big mixture of petrol and diesel cars means there's a higher chance of misfuelling, so we've fitted a device to prevent it.

We've some of the routes over which our i30 has travelled on a map so you can see how it performs over a variety of road types.

Hyundai handed an i30 over to 25 kids, armed with sand, juice and muddy wellies to see how durable it is.

Our i30 is certainly an impressive car – but anyone seeking a new family hatch will have the Volkswagen Golf on their shopping list. How does it stack up?

The Hyundai i30 is well-equipped as standard, particularly in the top trim level – but there are a few irritating omissions.

Hyundai doesn't have the long-running lineage of many brands but it's interesting to see how the i30 has evolved from the Pony.

You wouldn't usually buy a diesel car to get around town – but that's what our i30 has been doing recently - does it still make sense?

After six months with a two-seat coupe I'm really starting to appreciate the space in our new Hyundai, but I'm still getting used to some of the niggles.

We welcome the three-door Hyundai i30 in top-spec Sport-Nav trim. How will it stand up to London life and long motorway trips?