Our Cars: Ford Kuga ST-Line 2.0 TDCi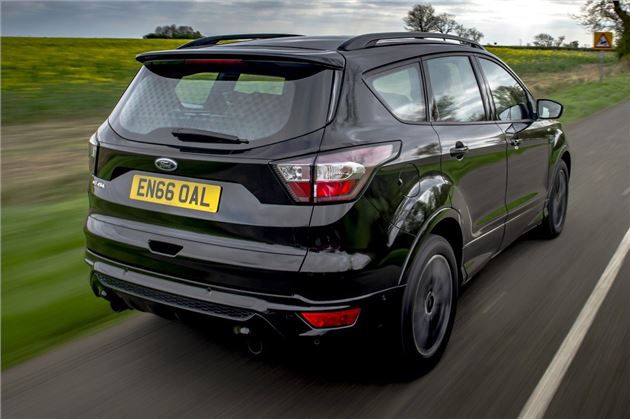 1 June 2017: Park assist proves a useful option on our Kuga
The Details
| | |
| --- | --- |
| Current mileage | 3799 |
| Claimed economy | 60mpg |
| Actual economy | 40mpg |
Our long-term Ford Kuga has a couple of neat tricks up its, er, wheelarches. So we thought we'd take a closer look at one of them – it's ability to park itself. Actually, the Kuga doesn't really park itself – yes, it's a 'hands off' system, but you still need a driver.
Engaging the system is done by the push of a button letting the car know you'd like park up. You then choose between parallel or perpendicular parking, before using your indicator to tell the system on which side of the road you'd like it to look for a space.
The car alerts you once a space is found, and the parking procedure begins. The driver is asked to follow the on-screen directions (drive forward, stop, engage reverse). You can take your hands off the wheel to scare your passengers, but you'll need to be in control of the forward, backward, and stop bits.
I'll admit that it's a bit daunting taking your hands off the wheel, but at least you're in control of linear movement so you can stop the car if there's a problem, like a football bouncing out from the parking space behind you… followed by a child.
We've driven a few cars with these systems. With our long-term Citroen C4 Grand Picasso, you never knew if the system would work or not – it was a gamble. When it did work, it would often leave you in a bit of a jam. Parallel parking wasn't too bad, but perpendicular parking created a few 'exit via the sunroof' moments.
So how does the Ford compare? Well so far, it's 100% reliable – no pressing the button only to be ignored. It's also sensible – willing to take sharper angles that most drivers would be prepared, but nothing drastic. In fact, our only complaint is that when the manoeuvre is finished, the car is too far from the curb. This wouldn't matter in a Fiesta but the Kuga is a bit of a wide boy.
Having looked through the menus, it doesn't seem that there's any way to adjust this. Which makes us quite grateful that the door mirrors tuck in when you lock the car - otherwise they'd probably get taken off. Another niggle, is the parking sensors - which seem to go from green to red in the blink of an eye. One second you think you've got loads of space, the next the car's warning you to brace for impact.
Because the Kuga is such a big car, we've found the park assist useful. It gets us into those spaces that you're 70% sure the car would fit in, but 100% sure you would never attempt it (especially if there's a stack of cars behind). Park assist is standard on our ST-Line but if you want to add it as an option its £450. That's the price of being a parking hero.
« Earlier: Niggles nibble at our long-term Ford Kuga Later: Kuga is full of Ford's fun factor »
Updates

After six months, it's time to say goodbye to the big Ford. But will it be missed?

Flimsy controls and a poor infotainment system let our long-termer down

With six trim levels to choose from, how do you know which Ford Kuga is right for you?

Electronic parking brake problems and poor seats mar the Kuga experience.

We look at the real-life fuel economy of Ford's popular crossover

We road test the Ford's infotainment system, including Apple CarPlay connectivity

We get behind the wheel of the Kuga's competition to see how it compares

Keith finds out that, despite its size, the Kuga is pretty decent to drive

1 June 2017: Park assist proves a useful option on our Kuga
The Kuga might be a big car, but parking it is no drama thanks to some handy tech

After a month of living with our Kuga, we've uncovered a few gremlins. Keith explains all...

Just weeks into its tenure, our long-term Ford faces a tough task

Old car nut Keith gets excited when he hears he's getting a Kuga. No, not that one...